Corona virus – Stay indoors, but stay busy by making your home stand out
We are all staying indoors to keep ourselves, everyone else, and the NHS safe. This can be a massively boring, negative experience, or we can turn it into a positive one by doing things that will brighten our lives for many years to come.
Here is one idea, sent to us by the lovely Samantha from Basingstoke. It is absolutely ideal for keeping the kids busy and having huge amounts of fun, they will probably need some help though!
How would you like to have a go at decorating a wall like this in your house! Or even, with school holidays around the corner, let the kids loose in their bedroom with this idea?
All you need is a roll of frog tape and your imagination. This particular Frog tape is a low tack painter's tape which works best when applied to new, clean emulsion.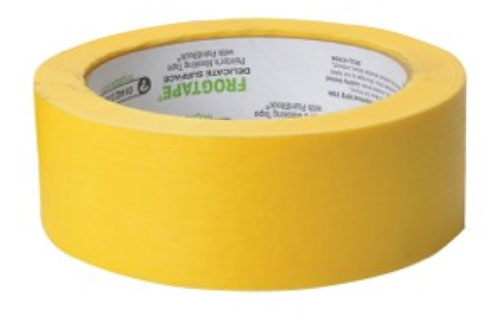 It forms a gentle bond right along its edges which stops any paint bleed, leaving nice, crisp lines when peeled off. Click on the image above if you would like to know more.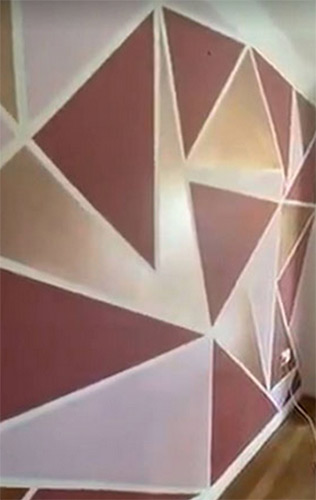 Firstly prepare and clean the wall you want to jazz up. Clean it down with a gentle wipe with warm water. For best results when preparing anything for decoration, see our project page on preparation for painting. Then apply your emulsion base coat.
The colour of this base coat is really important as, when the masking tape is pulled off, it will be the "thread" that holds it all together.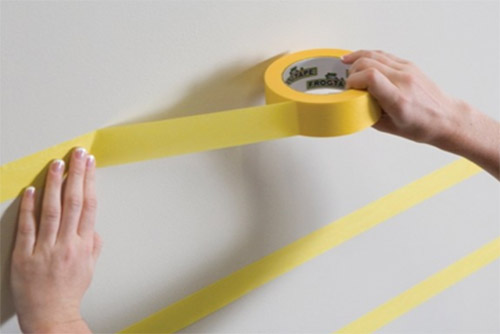 It's usually a good idea, rather than just going "freehand" on the wall, to get some paper, pencil and a ruler to draw out your design. If you are familiar with, and/or own a scale rule (about £2.50 from eBay) this makes the whole job a lot more accurate.
Grab a piece of A4 paper then measure the size of the wall you would like to paint, lets say its 4m wide x 2.2m high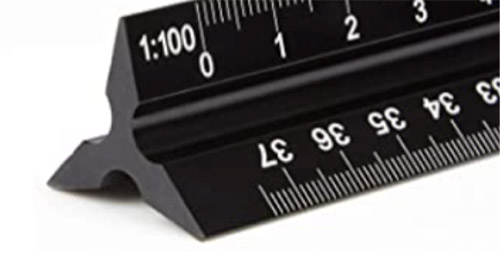 For this exercise a scale of 1:20 is good. This is a very standard scale and will be on all scale rules. Each line on the scale rule represents 1/20th of "real life" measurement or, for those who don't like fractions, its 0.05 x real life.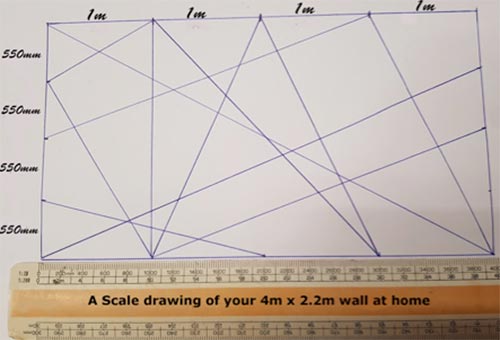 Don't limit yourself to triangles, and certainly don't think you need to follow our plan! Also don't think you have to cover the whole wall.Whats the worst that can happen? Any mistakes can be simply painted over !!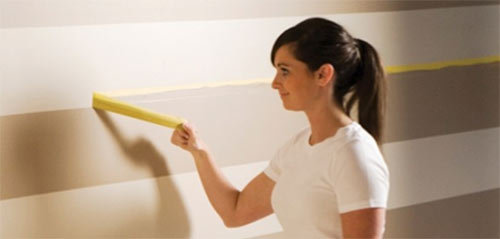 Forget the scale rule and maths if you want. The main thing is to get a pattern, in light pencil, on the wall. Then you can start putting the tape on.
It's pretty rare to be able to follow the lines with one complete strip of tape; far easier to do it in two or three strips. Just make sure the sides line up so when it's all peeled off your paint line is straight.

Where two lines intersect each other, but one of them is not continuous, make sure the end of the tape does not "hang" over the line it meets.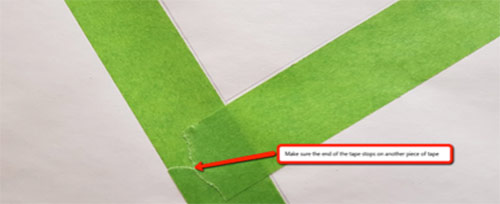 When the whole wall is taped out and you're happy with your pattern it's time to get out the paint. Make sure the floor is well protected with dust sheets, or even better, sticky backed floor and carpet protector.
We use something called Roll and Stroll for this operation. It's really easy to lay and it protects the floor better than anything else we have used as it stops any kind of tripping or slipping, which can happen with dust sheets, and it won't tear either.
When you're done, you simply pull it up and discard it. You can use it to protect the carpet or flooring, other walls, furniture or, if you're particularly messy, you can wrap the kids in it too.
Roll and Stroll is particularly effective when decorating stair walls. It's non slip qualities make it totally safe, even when you have to put ladders on it to reach really high stair wells.

Now it's time for some paint! In this demo we have only used one colour, and obviously it's on a piece of wood rather than a wall.
The idea is to demonstrate that the masking tape, when peeled off leaves a nice, crisp line to make your pattern stand out really well.
For this to happen, obviously the paint has to initially go onto the masking tape and, when you are using more than one colour, they could easily touch on the tape which, when if unnoticed on your brush, could spoil the next segment.
Our advice is to do every segment which you plan to be in the same colour, at the same time. Start with the darker colours. Let them dry and then do the next batch. This is so much easier than doing a whole lot of touching-up at the end.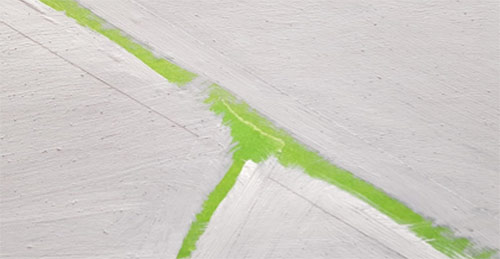 Another piece of advice is to paint along, or away from, the masking tape. Painting towards it, no matter how good the tape is, always allows for the possibility of forcing a little paint under the edge of the tape. This, if it happens, might make you very angry indeed!
Finally, take your time near the tape. Use the same "cutting in" method that you will use for the junction between funky wall and ceiling and funky wall and other walls. Try and leave some tape showing as it gives you a little more room for mistakes with the next colour.
While we have used an offcut of board to demonstrate how this effect is created, it's not a bad idea to find a piece of board, or cardboard, yourself and have a practice before the "main event". Practice breeds confidence and confidence, with practice, will give you the drive to try more and more things.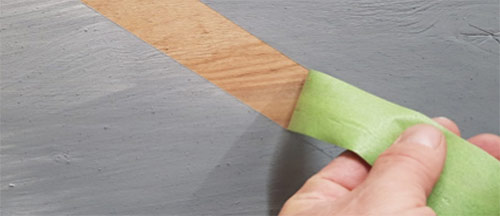 When all the segments are dry, peel the painters tape off. Take it nice and easy and you should end up with a wall you want to photograph and video to put on Twitter, Facebook, Instagram and send to every person in your contacts!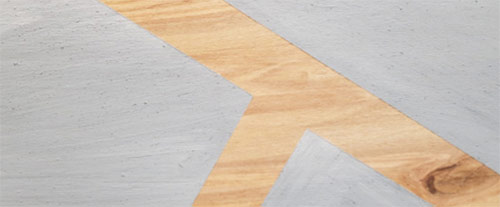 Peel the tape off one piece at a time. Where they are joined, peel the top one first. It would sure be a shame to spoil it now all the hard work is done.
Thanks again Samantha from Basingstoke and I understand your lovely Mum Jayne helped you out. For some more ideas of how to get a funky wall or two at home, in any number of really simple, but artistic ways, go to our project page on how to get some great paint effects.
You can even see a video on how the pattern above looks on the whole wall.
DIY Doctor would love to hear from you if this idea has worked for you. Please post photos of your work on our Facebook page and we will be sure to check them out!