Hi everyone
I live in South London and was burgled quite badly (During the day!) - the thieves cut/ kicked a hole in my front door (This door goes directly on to the street)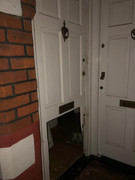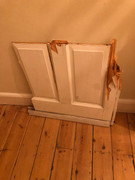 So - needless to say, I am in the market for a replacement.
I have a decent carpenter who can fit it for me, and has given me advice on a couple of brands, but they seem to have long lead times. I want to get this sorted within a week or so. I live in an Edwardian house I want a door that is in-keeping.
Options I have seen so far:
- B&Q (Utter rubbish)
- Wickes (Seems better but they don't stock a lot of them so need to buy blind - not willing to do this)
- Travis Perkins (Not open til Monday but given the prices I would hope they are decent!!)
Where else in London could I look that is not going to be thousands and have a turn around time of around a week?
I also went to a reclamation place that specialises in doors. They had a few 44mm doors they could sell me for the £150-£200 range but they said what they normally do is take these old doors, and replace the panels with 18mm ply (integrated into the main part of the door so they rout it out around the panels to take the thicker ply sheet) and add some decorative beading which creates a very secure door that is in-keeping with the building.
The style of door they offered me was like this.
They showed me a 44mm/12mm one they were part way through and it seemed pretty solid but they said they will do 18mm for my one.
They quoted £750 to do this by Friday. The base door was pine but seems pretty solid from what I could see.
I wonder if this is a good option??
Thank you!