Who are Gerber?
Established in 1939 by Pete Gerber, Gerber Legendary Blades have had almost 80 years to perfect their latest Multi-Tool and my goodness it shows. The quality of Gerber knives and Multi-Tools is indeed legendary and this new Centre-Drive is no exception
On site Test of the Gerber Centre-Drive Multi-Tool
DIY Doctor does not do half-hearted reviews. Each test we do is on site wherever possible and real jobs are used to test the tools to their limits.
We took the tool to site to help with the installation of a new garage strip light and it was put through it's paces. It took the place of a number of tools as you will see from the following descriptions.
Centre-Drive Screwdriver
The Gerber Centre-Drive Multi-Tool gets it's name from the unique screwdriver blade which has a shaped blade shaft which puts the point of the screwdriver directly in line with the centre of the handle.
This means that no effort is wasted when turning the screwdriver and the blade stays firmly in the cross head or slot of the screw.
The screwdriver bit holder is magnetic and by adding a slot head driver bit (in a tight driver bit holder) the tool becomes a very versatile screwdriver indeed. The easily interchangeable bits all add up to a very useful screwdriver and, with this job, totally removed the need for carrying two screwdrivers.
Centre-Drive Multi-Tool Pliers
Hidden nicely on the shaped body of the Centre-Drive Multi-Tool and released with a simple, single handed slide action, the pliers are an extremely useful, very strong tool on their own! The long nose and brilliantly forged grip teeth mean these pliers will hold anything firmly while at the same tile allowing the most delicate items to be picked up safely.
Gerber Centre-Drive Wire Strippers
We were stunned by the effectiveness of these strippers! Tucked neatly away at the base end of the pliers, and with a 3-sided, interchangeable variety of stripping sizes, the strippers stripped our 1.5mm lighting cable as effectively as a purpose made set of electrical wire strippers.
Grip the cable, one simple turn to score the cable and a quick pull up and the cable is stripped to the required length.
The Knife Blade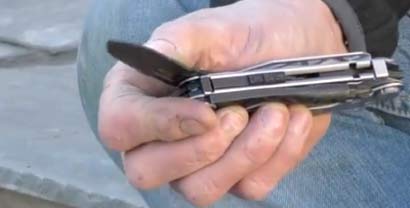 Gerber tell us that this blade is 30% longer than it's competitors knife blades and we believe them! Once again, a simple one handed flick of the thumb opens this huge blade to get it ready for action and, once again, this tool fulfilled it's objective perfectly.
We used the knife to strip the outer insulation cable cover and it sliced through without a hitch. Off film, we also used the blade to trim the moulding defects off the plastic junction box we were using and it did not baulk one little bit.
A very very good knife which would be a great buy even if it was the only tool in the Centre-Drive!
Gerber Centre-Drive Pry Bar
This pry bar was our favourite of all the Centre-Drive tools. It looked so tiny when we opened it out of the handle but a close inspection shows ribs on either side of the bar which you would have to be superman to bend.
This great little bar is made greater by it's small size because it can get into the tiniest spaces and then excerpt it's huge pulling power to superb effect.
Cable clips are not easy to get out of any surface, as any electrician will tell you….. Gerber have just changed that!
Centre-Drive File
Then something happened that we did not expect! We wanted to demonstrate the file by filing down the point of a screw which was slightly too long for the timber it had been screwed into but, as we went to fit the light cover to it's bracket, we realised the bracket was a little out of true…..enter the file to save the day.
At about 75mm long, this file has no business being useful for very much at all, but as we found out ten minutes later, as files go, this one really is the business! We would place this file as a second cut file with very sharp teeth and a very useful tool to have in the box.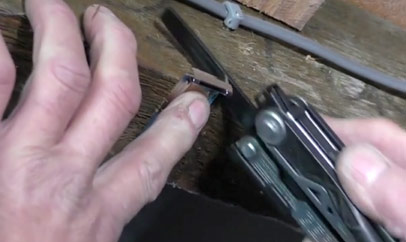 Centre-Drive Multi-Tool Awl
So, once again we are presented with a tiny tool which, by rights, should not be capable of the expectations the title "awl" puts on it. The reality is however, that this small, but wonderfully crafted blade, is more than capable of doing the job of the most expensive carpenters awl.
It's sharp, it's accurate and it tucks away tightly into the multi-tools body ready for use just when you need it.
The Gerber Centre-Drive Serrated Edge Saw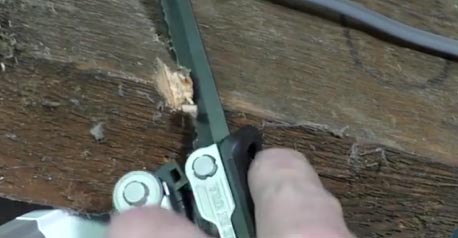 Wow! There's not much more to say. A 3-inch blade with the punching power of a much larger beast! The saw is really sharp, really well set and took no time in notching out our joists to take the cable underneath in very neat, tidy grooves.
We loved this. It works very well, it folds beautifully into the body and all in all it adds a lot to the versatility of the whole kit.
The Centre-Drive Tape Measures
Lets face it, the Gerber Centre-Drive Multi-Tool is not made to build houses. It is made as a very handy set of tools to help with maintenance of all kinds.
It does not need a 5m tape measure, but it comes fully equipped with a brilliant gauge rod tape for both metric and imperial measurements on the workshop bench.
Laying the Centre-Drive on the bench will tell you what size and diameter of bolts and screws you are using and will measure the diameter of the holes you are going to put them in.
A fantastic piece of innovation from Gerber and very handy indeed.
And Finally, the Gerber Multi-Tool Bottle Opener!
No multi-tool, however it is constructed, is complete without a bottle opener! Most of the time it is completely unnecessary but with this marvellous tool it is absolutely vital……….Why? Because when you have used the Gerber Centre-Drive, you will most definitely want to toast Gerber!
Doctor's Opinion of The Gerber Centre-Drive Multi-Tool
Top marks, no question. We did the whole job (except the actual electrical connections for which we used a VDE screwdriver) with the Gerber Centre-Drive.
It completed every task well, there was nothing we could fault with a this little beauty, wrapped in it's very strong nylon carry case, is most definitely staying in our tool box.
The one handed action makes opening each tool easy, the spring loaded pliers are a joy to use and the locking mechanism on all the blades means each tool can be used safely without slipping.
In our opinion it is a marvellous piece of engineering and we feel privileged to have been asked to review it. Well done Gerber
The Doctor's Rating
Reviewed by: Mike Edwards

(5 out of 5 stars)