Product Review of the Irwin Carpenters Gloves
There are many different work gloves but few are made to the standard of this Irwin carpenters glove. With the thumb and two fingers free to pick up and align small nails, etc these gloves give great protection where it is needed. Very strong stitching, superb flexibility with a neoprene padding ensures protection in all carpentry situations. The knuckles are padded to give additional protection and the very slick hook and loop wrist fastener prevents them slipping down while working.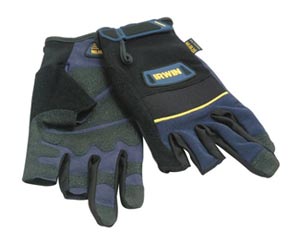 How the Irwin Carpenters Gloves are Used
Protecting your hands, while at the same time maintaining great grip, flexibility and dexterity is where these gloves score well. The half-finger construction allows the feel a tradesman needs when working with smaller objects or adjusting gauges and other tricky operations.
The well fitted shape gives the flexibility required when operating tools of all kinds and the sheer strength of the glove stops accidents happening easily. One big problem with work gloves is the ″baggy finger″ problem when the glove slips down the hand. It does not have to move a lot before there is no feel at all in the end of the glove because it is empty of finger! The tight, yet very adjustable hook and loop fastener keeps the glove in place even under the most vigorous circumstances.
The final touch is a built in Terry cloth wiper on the back of the glove to keep your sweating brow clean.
Features and Benefits of Irwin Carpenters Gloves
Really strong well made construction
Fingerless (3 fingers) for the fiddly jobs
Well padded at knuckles
Great hook and loop adjustment
Strong palm protection
Stitched in Terry cloth brow wiper
The Doctor's Rating
Reviewed by: Mike Edwards

(5 out of 5 stars)