How to use the Irwin Lock n Load System as Part of Their Quick Change Extension Bit Holder
Lock n load is a system which allows the user, with one hand, to change a drill bit or a screwdriver bit when using them in any hexagonal bit holding appliance. This includes screwdrivers, power drills and battery drills and we have to say, as the video shows, it really works.
Using the Load n Lock System
The holder is easily opened by pulling back on the spring-loaded holder and the bit is dropped in. This can be done one-handed with no problem at all. The holder snaps shut on the bit and it is held as tightly as can be for drilling or screwing even the toughest job.
The lock n load extension pieces come in a variety of lengths and allow you to reach the most inaccessible of screws, or drill the most difficult holes, with ease.
A big drawback with many screwdriver bits, when placed into a normal bit holder, is that (should the screwdriver bit fit really snugly into the screw as it should) then the driver bit can often stay in the head of the screw when the screwdriver (be it hand-held or battery power) is withdrawn. This can be a real pain if the screw had been driven below the surface of the timber without a countersink. Even a lot of magnetic bit holders will suffer from this problem.
If you are unsure about drilling pilot holes and countersinking screw heads, see our project page on pilot holes and coutersinking to understand more about this.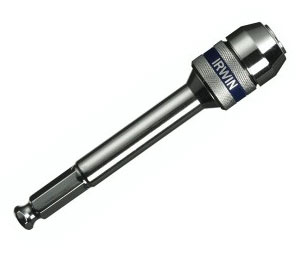 Special Features of the Irwin Load n Lock Bit Holder
It is also a worthy point to note that this bit holder has a few special features, they are as follows:
Can be used for anything with a hex bit holder
Locking holder to securely hold screwdriver bits
Hex fit that can be used in any hand or power tool with hex bit holder
Comes in a range of lengths
The Irwin Lock n load quick change extension passed our tests with flying colours and earned its 4 stars. Although not hugely different in features from other locking bit holders available on the market you can tell that the Irwin Load n Lock Bit Holder is a quality product just by holding it and that time and care has been put into both it's construction and development. If you would like to find out more or purchase you can do so from our superstore.
The Doctor's Rating
Reviewed by: Mike Edwards

(4 out of 5 stars)