On Site Test of Kneezy Kneeling and Protection Pad
We trialled the Kneezy in a few situations. Firstly, the job was to clean down 60m of PVCu facia board and gutters. This was 5-hours work and 4 of them were spent up the ladder kneeling against the rungs for more comfort and stability while rubbing hard with a detergent soaked cloth.
The Kneezy clipped easily to the ladder rungs at whatever height required and provided a really nice soft resting area for knees and shins for what was a long half-day. Kneezy passed this test with flying colours.
During the very rare few minutes we were getting a cup of tea, the Kneezy clipped onto the lower rungs of the ladder providing a highly visible caution sign to stop any passer by using the ladder.
We then took Kneezy to the guy that organises all our carpet fitting and laminate flooring. He had been given a couple of Kneezys to trial 2-weeks earlier. The verdict from his laminate fitters was a big thumbs up.
Knee pads are a pain! They either dig in to the back of the knees or drop out of the purpose made pouches provided in tradesmen's trouser. Not so with the Kneezy. It's so light you can shuffle it along the floor with your knees as you go said our guys. For it's thickness and weight it provides every bit as much comfort as the most expensive Gel knee pads.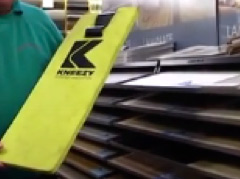 This verdict was returned by our floor screeders who though it was fantastic. One said that historically all screeders had and in most cases were still using an old sofa cushion. The kneezy is ten times better than this, it's more comfortable, lighter and much easier to work with.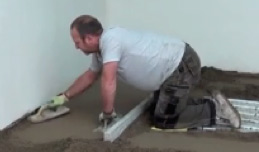 Typically, cushions are fairly big and cumbersome as you can see in the video and they get caked with screed very quickly indeed as the material is so porous. The Kneezy however, just sits nicely on the floor, provides more comfort in less space and hangs up out of the way in the van when done.
Our painters loved it, the mechanic loved it, our electrician loved it and the old boy who lives next to the office would not let us have it back after he had worked on his weeding…. All in all it was received in a very positive way!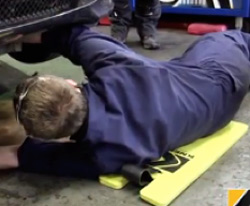 Benefits of Using the Kneezy Kneeling and Protection Pad
From the comments above it's pretty clear the Kneezy went down well. We can only list the benefits on a like-for-like basis and we could even find any decent knee pads within the price paid for the Kneezy…..So there's one benefit right away – cost!
The Kneezy is so thin, so light and yet so strong it outstrips the usefulness of the current alternatives in the most important area, versatility.
It benefits the user by saving knee and shin pains which nothing else on the market can do. It doubles, or even trebles, up as a caution sign for overhanging ladders and step ladders and a caution sign at the foot of unattended ladders. It clips easily onto both ladders and step-ladders allowing it to be used indoors and outdoors with great flexibility.
It is just as useful on a building site as it is at home and hangs flat against the wall or van when not in use.
Docs Opinion of the Kneezy Kneeling and Protection Pad
What's not to like?
For all the reasons above we now have a Kneezy in every van and will continue to use them on a daily basis. What is more, we want everyone to know about the Kneezy as one of the most simple but versatile things to hit the home improvement market for years. Five stars from us!
The Doctor's Rating
Reviewed by: Mike Edwards

(5 out of 5 stars)