Why do we Need to Seal Patios and Paths?
There are any number of sealers for paths and paving. Some say they are only for use on, say, Indian Sandstone and there is no doubt whatever that many sealers will manage the task a great deal better when used on a proprietary surface.
The difference in the sealers is largely because of their chemical composition and these can be mixed and matched to an infinitesimal degree to produce a huge variation in possibilities.
To categorise the different sealers in ways which put them against the various chemicals available would take a month of Sundays so, as this is a product review for a single product we will leave the research to you but make sure the surface you wish to seal is on the list of surfaces recommended for the sealer you choose.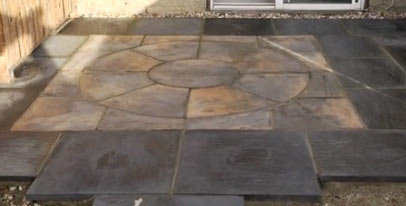 Broadly speaking we seal the surface of paving and patios to either enhance the visual appearance or to give a lasting protection to the surface. Or both.
We seal them against oil spillage, water ingress, pet fouling odours and stains, dust proofing, protection from UV, protection against slipping, protection from lichen and algae's and sometimes to colour-match them to nearby surfaces.
What Types of Paving Sealer are There?
There are two three types of sealer. One which soaks into the surface, one which sits on the top and one which does a bit of both. These are called Impregnators, Coatings and-all-in-one sealers respectively.
There is a third type of coating applied to paving called a colour enhancer. This is not really a sealant, just, as it says, a colour enhancer. Some sealers do contain colour enhancers and these, generally are the all-in-one-sealers.
DIY Doctor would generally stay away from the all-in-one sealers of this type but we were asked to try it and we were very pleased we did.
Coating Sealers
These sit on top of the paving like a paint and because they do this they can be removed. Either deliberately with the use of strippers such as Eco Solutions Home Strip varnish remover or by wear and tear from foot, or other traffic.
Most are quite hard wearing and it is usually the coating type sealers that will have the biggest effect on the visual aspect of the patio. Coatings are also widely used to stop oil spillages etc from staining the patio as they seal all the surface pores not allowing penetration by the offending substance.
Impregnators
An impregnator will soak into the slab or surface and coat not only the top of the surface but each grain of the make-up of the top segment of the slab.
They tend to take a while to soak in and when saturation is complete seal the whole slab for longer than the coating sealers as the coating sealers surface can be broken down as explained above.
So What About the All-In-One Sealer from Rizistal
The all-in-one sealer from Rizistal has an acrylic base which soaks into the slab to a depth of 5-8mm and fills all the capillaries within that top surface.
When the slab is soaked, the sealer sits on the surface and, when carefully brushed, rolled of squeegeed, will not puddle, providing great protection against all kinds of nasties.
While it does not repel the oil, fuel and water because it's composition does not seal the slab 100%, it offers a really great resistance with plenty of time before the stain can soak in deep enough to do any damage.
It is important to note that with sealers that actually repel materials like oil and fuel the surface is completely blocked against any form of "breathing" so any damp from the sub base cannot evaporate through the slab at all.
This can cause its own problems when the winter sets in and the damp in the underneath of the slab freezes to become ice. The ice expands and cracks the slab a little which lets in more water and so on and so forth until the slab is irreparably damaged from underneath.
On Site Test of the All-In-One Sealer from Rizistal
The patio, because of the nature of the slabs, was not the flattest of surfaces so we decided to apply the sealer by brush. While it is not ideal, there were sections of the patio which were slightly damp.
This sealer can deal with this easily where other sealers need a completely dry surface (including patio and brick joints) to work properly.
Because the Rizistal sealer is an all-in-one sealer it soaks in very slowly and, in most cases, will soak down through the same capillaries as the damp without causing staining…… You must however test a small area of your patio first to make sure the substrate is suitable for the sealer itself.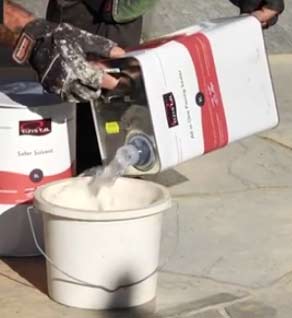 The Rizistal sealer does not need stirring and can be used directly from the container.
For this patio, as it was not very large, we decanted some sealer into a small paint kettle. For larger patios or driveways it would probably be better to use a Rizistal paint kettle, roller and extendable roller handle. All of the Rizistal kit is superb quality, even the brush they gave us to seal this tiny patio!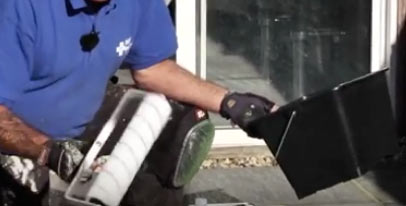 The sealer went on well. We could visibly see it soaking into the slabs as we applied it and in this case the impregnation was so good we knew another coat would be necessary. This is a really good thing as it means much more of the patio will be sealed giving an increasing resistance to the dog wee, we were asked to seal against.
Brushing was easy, it has a great consistency and it took no time at all to apply.
Drying Time of the Paving Sealer
The sealer is touch dry after only 2 hors and reaches the full cure after 24 hours. We waited 3 hours before applying the second coat which went on just as easily as the first really bringing out the colours of the slab as it sat on the surface.
We made sure it did not pool and again watched it dry to a lovely glossy sheen. Very impressed!
Surface Preparation Before Applying Rizistal Paving Sealer
The surface should be brushed thoroughly and all lichen, moss, algae and stains should be removed. As mentioned earlier, the sealer can be applied to a damp surface but not a wet one so mop up all surface water.
We always carry a small wire brush and a small brush to remove any small marks or stains as we go and this ensures the integrity of the paving sealer is not compromised and you dont get any unwanted marks under the finished surface. This is worth looking at closely as once you have covered a mark with paving sealer it will stand out more.
Docs Opinion of the All-In-One-Paving Sealer from Rizistal
Excellent! I have not found a Rizistal product yet I do not like.
As a rule I would stay away from sealers that say they are all-in-one, preferring to use proprietary products on different types of surfaces but this product has changed my mind.
With just the right amount of penetration and the right amount of coating I am very impressed with the resistance this product is capable of. Would most definitely use again and, more importantly, recommend!
Cleaning tools and brushes was once again done with the Safer Solvent from Rizistal which is so much kinder to the skin that white spirit and thinners.
The Doctor's Rating
Reviewed by: Mike Edwards

(5 out of 5 stars)