Cutting Timber in a Straight Line
When cutting and sawing timber it is easy to mark a right angle across the timber, but when cutting down, it is even easier to have the saw tilted slightly to one side. This is almost impossible to detect as you saw, but by the end of the cut, just one degree out of plumb can mean a very untidy cut such as the one shown in the image above.
We took Studhawk into our workshop to cut a few joints. Not just square cuts in big pieces of wood, but tricky mitres in skirtings and architrave and really fine cuts in timber mouldings. We even tested Studhawk on a piece of pipe to see if it solved the problem of getting a square end on a piece of waste pipe.
How to use the Studhawk Saw Guide
There are two saw guides in each pack. One guide lets you cut a perfect 90 Degree angle, while the other allows for both internal and external mitre cuts at 45 degrees.
The guides are placed onto the workpiece and the saw placed alongside the guide fence. A slow cutting motion with very gently pressure against the fence will ensure an accurate cut right through the timber.
The Studhawk is made of incredibly durable material which will not twist as you cut and the built in palm plate allows you to hold the Studhawk firmly against the timber so there is absolutely no movement whatever as you cut.
This cannot be said of the time honoured mitre block. After only a few uses the slot in the mitre block tends to get cut and enlarged allowing the saw to move about and producing cuts which are neither square, nor accurate to the measurements required.
As the image below shows, the 45 degree Studhawk is placed on the workpiece showing a fully upright saw guide to lay the saw against for the perfect mitre cut. It is impossible really for the saw to go anywhere else other than straight down which is what is required for pretty much every joint used in carpentry.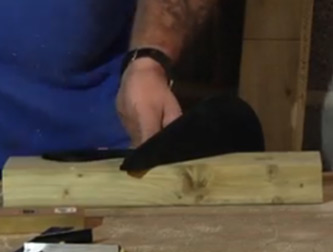 The Features of the Studhawk Saw Guide
When you buy a Studhawk saw guide kit you get a well presented package of two guides. One guide is for producing 90 degree or right-angle cuts and the other is a 45 degree guide designed to cut mitres. Each piece is really well cast in a very durable plastic which will stay true to it's form through hundreds and hundreds of cuts.
We even took the Studhawk out onto site and gave it to a couple of chippies who (although sceptical at the start) realised this was a great little tool for training their apprentices and other novice carpenters.
DIY Doctor Opinion of the Studhawk Saw Guide Kit
An outstanding piece of innovation. There are not many people, outside of professional carpenters that will be able to cut a perfectly square and plumb piece of timber by instinct alone.
Sawing timber is seen to be an easy task until one tries to form a joint which is to be on show! Then it is absolutely obvious that, even if the cut is only one millimetre out of line, the bad joint shows up like a saw thumb!
Before Studhawk, joiners shops everywhere have mitre blocks, chop saws, Tri-Squares, Combination squares, Carpenters squares and while we are not saying that these tools are now obsolete, we are saying that no joiners shop, carpenters shop or even carpenters toolbag should be without a Studhawk.
They are light as a feather, easy to slot in your pocket or in your belt, can be used on the workbench or on in-situ work pieces and are a great help when quick, accurate cuts are required. Needless to say, all of our lads now own one!! Most certainly worth its 5 stars!
The Doctor's Rating
Reviewed by: Mike Edwards

(5 out of 5 stars)