Many Landlords use an estate agent to rent their home rather than 'doing it themselves' and there are plenty of reasons for doing so.
However some landlords want to know how to rent their property themselves and if you are one of them, this guide will help you.
This guide is written by a team of knowledgeable Estate Agents at Riley Marshall. They are an established and well-respected London Estate Agency with many years' experience in the rental market.
They are sharing their expertise with you so you have the benefit of their years of experience to improve your chances of letting your property quickly and efficiently.
Part 2 – Understanding the rental market
If you are going to rent out a property you should know the market and your target audience. We look at ways you can do this without using a letting agent
Once you understand the rental market you can answer the question 'how much rent should I charge?' By researching property in the area where your own property is located, you will know the correct marketing rent vlaues.
Property portals – Rightmove and Zoopla
The internet is the single most powerful selling and marketing tool in the UK market. Once you have mastere how to use it you will find it invaluable.
Rightmove – Right move lists over 300,000 properties to rent across the UK. It is very easy to search properties similar to yours by setting the number of bedrooms, area or postcode and click search. Visit the Right Move website and try it for yourself www.rightmove.co.uk/property-to-rent.html
The next screen will take you to further choices – you can click on 'in this area only' or, if you don't get enough information first time around, widen the area.
Leave the price range at 'any' so you capture the full range. Leave 'anytime' in the added box as this will let you see properties that are on the market for a long time and you can judge why this is by doing further research.
We suggest changing to non-retirement properties (unless yours is this type of property).
Tick the box to 'include let agreed properties' as this will give you valuable information about what is renting.
Zoopla – Zoopla works in the same way as Rightmove, and they also have around 300,000 properties to rent listed in the UK. Visit the Zoopla site and find out what properties are available www.zoopla.co.uk
The search facility has a useful keyword filter which you can fill in if your property has valuable features such as a garden, study, or parking. There is also a box to tick if you are going to rent a room or part of a house.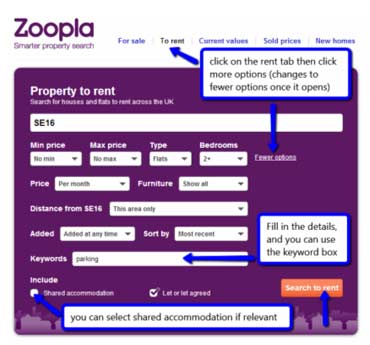 You will then get a list of properties to rent in your area or have a rental offer agreed. You can organise the search by value – lowest to highest for instance, to see where your property is likely to sit in the price range available.
Understanding the information
Most letting and estate agents will post pictures which are useful for you to judge the condition of the property offered, and the size of the rooms (there may also be floorplans). The property portals also feature maps with streetviews so you can see the exact location of these properties.
Tenants could be looking for property features like parking or concierge or gym facilities, and other selling points would be proximity to public transport, schools and shopping and these will all influence the price.
Once you have your list of similar properties to rent (and with lets agreed), you have what are called 'comparables' be Estate Agents. You use these comparables to decide on a marketing price. Use the higher end if your property is the best available on the market, or your preference is for high income over speed of let. Set it lower if you want to ensure a quick let or have more choice of prospective tenants.
Target your ideal tenant
Just as you should do market research on the property market you should also find out what sort of people rent properties like yours and what they want.
Speak to local agents, other landlords and use social media to engage with tenant groups to find out what will make your property stand out in the market.
Furnished or unfurnished – different areas have different demand so check which is most popular. If you are able to be flexible on what you will provide or remove then this increases your market.
Professional tenant or benefit claimant – some landlords will only deal with tenants in full-time employment while others are happy to accept tenants on benefits because they may stay on long term.
Ideal
Acceptable
Unsuitable

Working couple
Non smokers
no pets
long term tenants

Couple with 1 child
1 partner working
Short term tenants
1 cat or other small pet
Smokers who undertake not to smoke in the property

Family with more than 2 children
Anyone under 25
Benefit claimants
Lets under 6 months
Dogs or more than one pet
Smokers
Effective Marketing of your rental property
Before you advertise it and get tenants round to look at your rental property you should ensure you are presenting it in the best light.
Tidy up the garden – if you have a garden for the tenants use, mow the lawns and reseed any damaged lawn, weed borders, trim hedges, add some new plants if necessary, clear any dead or unsightly plants.
Repairs – Make sure the property looks well cared for. Fill any cracks, holes or blemishes in ceilings, walls or in the driveway. Fix leaky taps, replace broken or crooked tiles, replace burned-out light bulbs. Make sure everything works
Paint – freshen up the external paintwork, and clean any UPVc fixtures. Internal decoration should be neutral and fresh.
Help tenants find it – put up a 'To Let' board, with your mobile number on it. Search online for companies who make and deliver your board, some marketing sites offer a free board if you subscribe with them. Look at the area with fresh eyes – make sure the road name and house number are clearly visible.
Tidy up and clean – by cleaning the property it will look more attractive, bigger and fresher. It costs little more than time, and will pay for itself. Even if you have current tenants it may be worth you doing some work, or negotiating with them to get it done, while you are marketing.

Pick up any litter outside
Keep rubbish bins out of sight
De-clutter

Clean thoroughly – especially kitchen, bathroom and windows as these will have the most impact.

Eradicate unpleasant odours, like pet smells and cigarette smoke

Photographs – These are the single best way of representing your property to the widest audience so make sure they work for you.

Pick a fine day, with a blue sky if possible.
Take photographs of the outside, including any garden and views
Take lots of internal shots. It is better to have too many shots and discard them later.
Think about what is in shot – Don't take photos with laundry, rubbish or damaged and dirty fittings in sight.
Review your photographs. Pick the ones that best 'sell' your property to upload. You can offer to share extra photos on a sharing site like Flickr.
You are allowed to brighten, crop and resize your photos – but be careful not to alter any material facts. Removing a Pylon using Photoshop is illegal!

Advertising – make sure you give your property plenty of exposure to ensure the widest possible audience
Property portals online – many private landlords use Gumtree but there are lots available. Use a search engine to find them. www.gumtree.com

Local newspapers
Local shops
Notice boards in local large employers
Set up your own Facebook page, it is free and simple to do. Then invite everyone you know and ask them to spread the word.
Use other social networks to spread the word. For instance Twitter, Pinterest, Tumblr, your own blog if you have one, Facebook, Instagram and Google+, and any others you engage with

Contact details – supply as many different ways as possible for prospective tenants to get hold of you. Landline, mobile, work, email, even social media. Don't miss out on a chance to engage with a prospective tenant especially when your property is new to the rental market, as this is when it is likely to generate the most interest. Tenants are soon put off, or find alternative rental accommodation, if they can't get hold of you.
Highlight the positives
When you are advertising your property make sure you are making the most of it by pointing out the benefits of living there. Even if these are obvious to you it is worth highlighting them to people who don't know the area.
Condition – if it is a new property say so, if it is refurbished mention this, if you put in a new bathroom or shower tell prospective tenants.
Benefits – Does your property have a shed, parking, residents parking available, double glazing, stylish wooden floors, a designer kitchen, then shout about this in your advert.
What facilities are around – Transport links, shopping and leisure facilities. Measure timings in your car, and on foot, to give accurate times of getting to these facilities.
Good schools – many tenants choose where they will (or won't) live because of local schools.
Hospitals – If you have a hospital within easy travelling distance you can advertise your rental property to doctors, nurses and ancillary staff. There is often a staff notice board in the hospital which accepts 'To Let' adverts.
University – if there is a University locally students and lecturers are both possible tenants for you, and you can often advertise on campus.
Local employers – if there are prominent large employers locally mention the proximity in your advertising and check to see if their HR department has a list of properties to let that you can add yours to.
If this is too much for you – call your local agent
Marketing your property is a bit of work, but that is the way that your property stands out from all the others being offered on the market
The agents fees you pay help to get you property the best exposure through effective advertising and marketing. The benefits of using an estate agent to let your property include the following:
Knowledge of the market trends
A database full of potential tenants
Understanding of tenants requirements
Marketing photographs and details
Experience of the local market
National and local advertising presence