Choices of Boiler
The boiler is one of the most important appliances in the home. In most home setups it provides central heating and hot water, 2 key ingredients in the successful running of a home.
When choosing your new boiler, the base standard today is that it has to be a condensing boiler whenever possible. Sometimes it is impossible to fit a condensing boiler but please seek advice from a Gas Safety Registered engineer before making this decision as it is a legal requirement to fit a condensing boiler wherever possible. This is due to energy saving regulations and the reduction of carbon footprint.
This is a requirement of Part L1 of the Building Regulations and is concerned with the conservation of fuel and power. There is more about the regulations for installing condensing boilers below.
The condensing boiler takes heat that would normally be lost and recycles it back through the system, reheating water and reducing the amount of fuel needed to run your heating or hot water.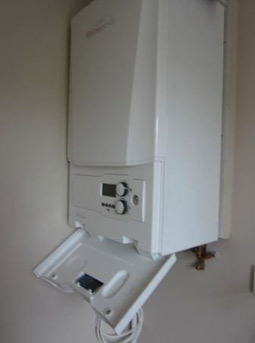 Condensing boilers come in a variety of flavours that include the following:
System boiler – Great for homes with more than 1 bathroom as the system boiler also supplies a sealed hot water tank that then provides hot water to taps, showers etc….
Combi-boiler – All hot water and heating provided by the same unit, very compact and efficient
Heat-only boiler – This type of system setup usually comprises 2 water tanks, 1 storage tank and 1 feed and expansion tank. Cold water is fed to the hot water cylinder that is then heated by the boiler. This is an open-vented system
Any given boiler can also be fired by a variety of different fuels depending on where your home is situated. These can be summed up as follows:
Mains gas
LPG or bottled gas
Oil
Wood pellets
Wood and timber
Coal
However, you also have to be aware, not all gas boilers can use bottled gas, so you will need to take advice on this from the manufacturer or a qualified heating engineer.
In terms of supply, if you are not on mains gas this isn't a problem. You can use oil, LPG or bottled gas, wood, coal etc…. The majority of modern oil fired, LPG fired, fossil fuel (or biomass as they are known) etc…. boilers can be as efficient as gas boilers.
Aside from the different fuels that a boiler can burn and the different systems available there are also several different places your boiler can be mounted in:
Floor Mounted: Ideal where wall space is limited, this type of boiler is positioned on the floor in a cupboard, utility room or in a garage

Floor mounted boiler in kitchen – Image courtesy of heatandplumb.com

Wall Mounted: As the name states, this type is fixed to a wall, normally in a kitchen, loft, cupboard or other area. Again, a great solution where space is limited

Worcester-Bosch wall mounted boiler
Can I Just Replace an Existing Boiler with a New One?
The answer to this question is a bit of an open ended one really and will ultimately depend on the age and condition of your existing heating system.
If your existing heating system is quite old (pre 1980's) it will most probably be a single pipe system with single panel radiators meaning that essentially there is one pipe that supplies both the feed and return for the radiators on a circuit.
Although this type of system will heat your home, it's not efficient so it is well worth the time and money to invest in dual pipework and dual panel radiators as coupled with a new boiler, this will heat your home more efficiently and save you money on heating bills.
Talk to your chosen engineer and see what they suggest in terms of the best type of system with the best levels of efficiency.
Calculate the of Size Boiler you Need
When it comes to the size of boiler you need it is very important that you get the right sized boiler. We found this really handy calculator for working out the size of boiler you need.
Check out the boiler size calculator on the Institute of Domestic Heating and Environmental Engineers website.
This ensures you get adequate heating, and don't be tempted to buy a boiler that is overpowered as this will just waste money. Any heat that is generated by the boiler will just be lost up the boilers flue by convection, wasting huge amounts of energy and money.
Boiler Safety
Any work carried out on a gas system or any gas appliances must be carried out and checked by a Gas Safe Register engineer – This is the law! This also includes LPG (bottled gas).
The obvious danger of attempting any gas work without the correct knowledge, skills or qualifications is that of leaks, fires and explosions but there is another danger that quite often gets overlooked – Carbon Monoxide!
By its nature, carbon monoxide is colourless, tasteless and has no smell so it is almost impossible to detect by humans so a suitable carbon monoxide alarm is essential if you have a gas boiler or indeed, any gas appliances in your home.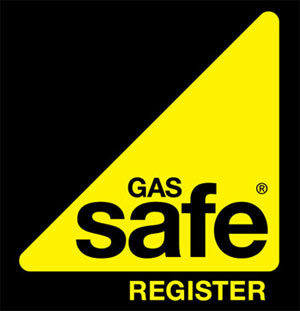 Carbon monoxide is produced when gas or solid fuels such as timber, coal or oil are not burnt correctly. This issue is normally caused when a given appliance is not fitted or maintained correctly and also if the ventilation mechanism (chimney or flue) is blocked or restricted.
To these ends it is essential that you use a Gas Safe engineer and check that their membership is valid and up-to-date. Before you employ an engineer, ask for their registration number. Then go to the Check an Engineer page on the Gas Safe Register site. If they're not on the site or their registration has expired, walk away!
If you are having an oil boiler replaced or installed you can look for and engineer who is OFTEC (Oil Fired Technical Association) registered, but this is not a legal requirement in the same way as the Gas Safety Register. The rules regarding condensing boilers above still apply however.
Avoid the Cowboys
As we have outlined above, we cannot emphasise how important it is to get a reliable, registered and competent tradesman to carry out this work for you.
Bad workmanship when dealing with replacing a boiler will not just be irritating, it could be fatal. We recommend you go to our Find a Tradesman section to find a qualified, registered Gas Safe and vetted tradesman to quote for replacing your boiler.
By using a non-registered engineer, not only could you be putting your life at risk but in the event that anything did happen and damage was caused to your property, it could also invalidate your home insurance. This means that any repair costs will be coming out of your pocket and you could be liable for a criminal damage claim from those, or the property of those who are injured!
Any good heating engineers will be happy to supply a Gas Safe registration number and also come and discuss your situation and provide a quotation free of charge.
With this in mind it is also a good idea to get a list of questions ready to ask them. Ensure that you cover all and any items that you want to know or would like a little more insight into.
More information on gas installation and gas safety for home owners and landlords can be found in our gas safety project here.
Where to Fit Your Boiler
Usually it's cheaper to just swap over old for new in the same location. If this doesn't work for you, or you want to have a choice then talk to the engineer about your requirements and ask for advice on what's possible.
More modern boilers are often smaller, so you might be able to move it somewhere your current boiler wouldn't fit.
As gas regulations and guidelines change over the years your heating engineer may suggest some changes to ensure you comply with current safety standards.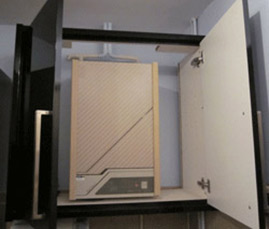 When considering where to put your new boiler it's a good idea to keep the following points in mind:
Close to most used taps: If you can place your boiler close to the most used hot tap (normally kitchen or bathroom) then this will reduce the amount of time that you will have to wait for the hot water to come from the boiler to the tap. A small draw back with combi boilers is, as they heat the water on demand, it can take a while for the water to heat, travel along any pipework and get to the tap
Do you have neighbours nearby: It is also a good idea to place your boiler so that the flue exits your property away from any of your own upstairs windows or those of your neighbour's When running, the boiler will emit fumes and steam from the flue that could travel back into your property if near a window or even into your neighbour's property causing unnecessary discomfort
Noise created by boiler: Most modern boilers generally tend to run quite quietly but this is not always the case. When firing up, some models do make a bit of noise. With this in mind it's a good idea not to place them in or near bedrooms etc….
Potential freezing of condensate pipe: If you can position your boiler near an internal waste pipe this is ideal. This will mean that you can run the condensate pipe (pipe that allows condensation generated by the boiler to run off) into an internal waste e.g. sink waste. Normally these would run outside and into a drain but in cold conditions these can freeze causing your boiler to turn off
Will the flue be near a window: As mentioned above, ensure that the flue does not popup near any windows as you don't want steam and fumes pouring back into your property
Will the installation get cold: Similar to the condensate pipe issues mentioned above, if your boiler is installed in any areas that could potentially reach freezing conditions such as an outbuilding, garage, porch or loft space it could indeed freeze, causing the boiler to shut down and potentially a nice fat bill to go with it
Buying Your New Boiler
We recommend that you buy a recognised brand of boiler, but it can still pay you to shop around. Discuss the cost with your chosen installer they may be able to suggest a discount or special offer or a recommended brand (think reliability and fulfilment of your needs).
Quite often, an installer will specialise in the installation of a particular brand e.g Vaillant, Worcester-Bosch etc…. so will be well versed in their installation and all that is involved. Experienced engineers may choose to fit a particular brand as they know them to be of a decent build quality and standard of reliability. This relieves them of any call-backs which are expensive for tradesmen.
Many manufacturers and installers have deals and special offers on buying and installing boilers. These will vary from supplier to supplier and may include pricing offers or incentive vouchers, service plans, installation reductions. Some of the bigger companies have financing options if you need to spread the cost of the work over a period of time.
Why Does it Have to be a Condensing Boiler?
Regulations state that gas-fired boilers fitted after 1 April 2005, and oil-fired boilers installed after 1st April 2007, must be condensing boilers. This is the case if they are both a replacement and a new installation.
Condensing boilers are more efficient than ordinary boilers because they:
Reduce the amount of heat that is lost through the flue, compared with ordinary boilers
Produce less carbon dioxide while still meeting heating needs
Convert over 85% of the fuel they use into useful heat compared to some of the older boilers which struggle to convert over 55%
Check with a local heating engineer as to the requirement to fit a condensing boiler as, in some rare cases, this is not a requirement.
Warranty on new Boilers
In most cases, your new boiler will come with its own manufacturer's warranty, this will normally cover the boiler for 12 months, in most cases, against manufacturing faults.
The terms of this warranty will, again in most cases, depend on its installation. If it fails due to the fact that it has not been installed correctly or inline with set guidelines then the warranty will most probably be void.
Check with your installer before they begin to ensure that they are proficient in the installation of your chosen brand of boiler and that they will be installing it following the set guidelines.
If your installer or chosen installation company is affiliated with a certain brand then in most cases they will have received training in how to install the brands range of boilers correctly, but don't just rely on the fact they have a sticker on their van saying so, ask them and then check with the relevant brand or governing body.
The warranty period offer will ultimately depend on the manufacturer.
Setting up Your new Boiler
Once your new boiler has been installed it will need to be setup (commissioned). The initial setup will most probably be done by the installer, using common settings but you may want to fine tune these yourself, these include:
Times that the heating and hot water come on in the morning, afternoon and evening
What temperature the heating and hot water should be
Room thermostat temperature
TRV (thermostatic radiator valve) temperature settings
You should also receive an operator's manual for your boiler, thermostat and also the programmer – read these thoroughly and understand them as they will inform you on how to make any changes to the stock settings.
New Boiler Pipework
If you have had a completely new boiler or if it has been repositioned then there may have been some pipework changes during the fitting so you may now have some new pipework on display or indeed, the entire boiler.
If you would like to find out how you can box in the pipework to hide it, check out our boxing in pipework project here or if you want to box in your boiler, see our boiler housing project here.
Boiler Installation Paperwork
On completion of your boiler installation, the installing engineer should then notify your local authority (this is part of the Building Regulations).
Once the engineer has given notice you should then be sent a Building Regulation Compliance Certificate, confirming that the appliance has been fitted by a gas safe register engineer. You should receive this around 15 days after initial notification by the engineer.
This certificate should then remain with the property should you sell your home. The new owners will need it as a means of confirmation that all was above board during the fitting and all items comply with the building regulations code of practice.
If you do not receive this certificate then you should chase up the engineer asap. If you get no response then see the Gas Safe Register suggestions here on what you should do.
If you would like to find out more about boilers, heating systems or other central heating related items that you might like to know before choosing your new boiler then check out our other projects here.