Before choosing a shower, it is important that you understand the way the hot water is already heated in your house. Some showers cannot be used with some heating systems. Our project on domestic hot water will help you identify your system. Once you have done that, you can choose your shower.
Electric Showers
Electric showers can be used within any domestic water system. They, in most cases, are connected to the mains cold water and an element within the shower heats the water as it passes through the unit. If you can arrange a clearance of 10 metres from your shower spray to the underside of the cold water tank, you can fit an electric shower to this. In this situation the shower must have an independent cold supply from the tank.
The water at your mains entry must have a running pressure of min 1 bar, must flow at a rate of 8 litres per minute and have a maximum static pressure of 10 bar. Most electric showers will be configured for these water bye law stipulations but it is as well to check with the manufactures instructions.
Your shower must be connected to the mains via a 15mm water pipe and it is just as well to install an isolation valve in this run. The valve can be turned off if and when maintenance is required to the shower and this removes the need for water to be turned off at the mains, disrupting all other water uses. A description and installation of isolating valves can be found in our bathroom project page.
The electrical connections to an electric shower are covered by many regulations. An electric shower must be installed on its own circuit and not spurred from any other connections or appliance. First you must check that your fuseboard is capable of providing the current necessary and must be rated above 60 amps. An RCD (residual current device) must be installed as, either part of your existing fuseboard, or separately, interrupting the circuit to the shower. Connection to the fuseboard should be by means of a MCB (miniature circuit breaker). Fuse, switch and cable ratings are also vital and we would suggest that 10mm cable is used for all installations. This makes upgrading your shower much easier in the future.
Showers up to 7kw may carry a 6mm cable as long as the shower unit is within 18 metres of the fuseboard. Fuses and switches should be rated at 32 amps.
Showers up to 8.5kw may carry a 6mm cable as long as the shower unit is within 18 meters of the fuseboard. Fuses and switches should be rated at 40 amps.
Showers up to 9.5kw carry a 10mm cable to units within 35 metres of the fuseboard. Fuses and switches should be rated at 45amp
Showers up to 12.5kw should carry a 10mm cable to units within 35 metres of the fuseboard. Fuses and switches should be rated at 50 amps.
In all cases the circuit should be interrupted by a double pole pull cord switch with a neon on/off indicator and a mechanical indicator should the neon fail.
It is essential, in all cases, that the shower supply pipes are independently cross bonded to earth.
Please see our earth bonding project.
Mixer Showers:
Mixer showers are so called because they will mix the existing hot and cold water, in a special valve, before it is available at the shower head. They are suitable for either low or high pressure (check with your supplier that the mixer valve you buy is suitable for the system you have). They are available as surface mounted fixtures, where the pipework is easily installed on the top of your existing surface, or flush mounted, where the valve is seen, but the pipework is hidden behind the surface. They are then ideal to install in a new shower cubicle construction where the pipes can be built into a wall.
To operate correctly both the hot and the cold water need to come from a source operating at the same pressure. Both can come from a mains fed system, (combi boiler or multi point water heater and cold mains) or both can come from tank fed water (immersion and cold storage tank). If one supply must come from high pressure and one from low pressure, a pressure balanced mixer valve can be installed.
A mixer shower will not increase the flow of water to your system. If your water flows from your taps at a poor rate, this is the rate it will feed the shower.
A drawback to installing a mixer shower is the fact that it will usually be connected to pipes which supply water to other points. When the other points are used (taps, toilet cistern etc) the flow rate to the shower will be affected. This in turn will affect the temperature of the water coming out of the shower and, in the case of the cold being drawn off elsewhere, could lead to scalding. This can be overcome, with a low pressure system, by laying separate pipes to the valve from both hot and cold supplies and making the shower water independent. You may need to contact a plumber for this as it will mean installing a special flange in the top of your hot water cylinder. In the case of a mains fed mixer a thermostatic valve is recommended. Mixer showers cannot be pumped from a mains pressure system (combination boilers, multi point heaters) but they can from low pressure systems. There are mixer shower valves especially designed for combination boilers, (pressure balanced mixer shower) please see your local plumbing retailer for details.
Thermostatic Mixer Showers:
A thermostatic mixer shower incorporates a pre-set thermostat that will sense a dramatic change in temperature and rectify the situation. Some advanced thermostatic mixers will even cut the water off when a failure in flow is detected. Most thermostatic mixers also a have a temperature limiting device to stop very high temperatures being selected by the user.
To find out how to replace or install a thermostatic mixer shower, see our project here.
Shower Valves
Shower valves come in various shapes, sizes and designs and perform the task of opening up or shutting off a given water supply e.g. a hot or cold supply. Some examples of shower valves can be seen below.
Power Showers:
Power showers are mixer showers with integral pumps which increase the rate of flow from the shower head. They can only be installed on low pressure, tank fed systems. The cold water tank should be no less than 50 gallons if it supplies many outlets, a 25 gallon cold tank is acceptable for the shower alone. A dedicated hot and cold supply is necessary. The water supply must always be above the unit to ensure that the pump is always primed and does not have to suck any air.
Shower Pumps:
There are two types of shower pump. The first is a single impeller pump, with one driving blade which pumps the water, as it is mixed, to the shower head. This means of course it must go between the mixer valve and the head. The easiest place therefore to install the single pump is in the loft as it must be above the mixer valve. This can lead to problems with the cold temperatures in the loft freezing the water and it cannot be insulated because it needs a free air flow. For this reason a twin impeller pump was introduced. This is connected to both the hot and cold water before they reach the mixer valve and can be sited, ideally, in the airing cupboard. Most pump manufacturers will specify that the pump must be within 4 metres of the hot water cylinder and at least 30mm below the cold tank. Pumps, as with power showers, must have a dedicated water supply that serves no other outlets. They must also be connected to the hot supply with an anti aeration flange such as an Essex or Warix…In general a Surrey flange should not be used as it can restrict flow to the pump inlet. An electrical connection is needed and should be taken from a switched, fused spur on a ring main outside the bathroom. It will be rated at 5 amps.
Shower Cubicles
Most should be familiar with the humble shower cubicle. Again, these can come in a vast range of shapes, sizes, colours, materials and designs to suit pretty much any given taste.
They're main function is to keep all the water and moisture generated in a shower within the cubicle and away from surfaces that may otherwise be damaged. Some examples can be found below: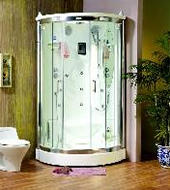 Drainage:
Drainage for the shower water can be provided by an existing bath or shower tray waste, but must be via a 40mm diameter waste pipe and discharge into a foul water drain. This pipe, in this diameter, must travel no further than 3 metres before entering the soil stack or discharge gulley. It cannot be mixed with the rain (surface) water drainage. Above the ground floor, to comply with building regulations, a deep trap (75mm) needs to be installed. Below that a shallow trap of 38mm may be used. This is to stop the water in the trap being siphoned out by water running quickly through another section of the waste pipe. This drainage detail applies to all makes of shower.
Click on any of the images below for a tour of the Bathroom Heaven Showroom.