What is a Composite Door?
Composite (meaning made up of various parts especially of a synthetic building material) doors can be made from Aluminium, uPVC or Fibreglass. The most common, and attractive of these types of door are those made mainly of fibreglass.
Fibreglass is a very strong material also known as GRP or Glass Reinforced Plastic where plastic is reinforced by very strong strands, or fibres, of glass. The result is an extremely strong door with several advantages over other types of door.
A composite door will be made of a range of materials, typically including wood, PVC, foam insulation and GRP. By making a door with a variety of different materials, it gives the door the benefits of those materials often without any disadvantages they may have. They can be particularly strong and durable which makes them ideal for external doors.
The Different Types of External Door
There are a number of different types of external door that are commonly used today, including composite doors, which are the newest type of door design. To understand the benefits of composite doors fully it is easier if you understand the alternatives:
Wooden External Doors Wood is the traditional material for external doors. Wooden doors are very strong which makes them ideal as external doors. They are relatively insulating, but the most important benefit is that they are aesthetically very pleasing. They can warp, bend and shrink which means that they might allow draughts. While wood is pretty durable, it will not last forever, or certainly as long as some external door materials will. Wooden external doors are usually made of hardwood which can make them some of the most expensive doors available
PVC External Doors These are "plastic" doors. They are excellent as external doors and they are incredibly durable yet amazingly cheap compared to other types of external door. They won't change shape which means that they will stay air tight and therefore warmer. They require very little maintenance particularly in comparison to a wooden door. Aesthetically speaking, UPVC external doors are not very popular and typically only chosen when price or other factors are of more importance
Aluminium Doors Aluminium is commonly used in external patio and bifold doors. It is light and hard wearing and will hold and contain large glass sheet windows securely. Older types of aluminium external doors do tend to be much less energy efficient than other types of door
Composite External Doors Due to the variety of material that composite doors are made from, their exact features will vary quite widely (and so will their price) so a little research is worth doing. Even so, the main benefits of using a composite door are due to the extra strength and durability that the mix of material provides. They will weather like a PVC door but look like a wooden door (and keep looking like a pristine wooden door) with very little maintenance work. The materials used in the door can make them highly insulating, and they will not warp or shrink ensuring draughts will not appear
In Summary a composite external door has the flowing advantages:
A Composite door will show wood grain and the beautiful effects of wood without any of the defects like knots, splits and shakes
Composite doors will retain heat to a level 6 times higher than wood alone
Composite doors will not dry out and crack, twist or bow in adverse conditions
Doors will not shrink and will therefore maintain a draught proof seal against the frame
Colours will not fade or peel as they do on wood
The Parts of a Door
In order to chose and buy a door you will need to be able to describe what you want. This is another big benefit of composite doors; they can be made to measure in a variety of different styles, themes and colours. You will, however, need to explain to the manufacturer what it is that you want, so here is a quick explanation of the key parts of a door: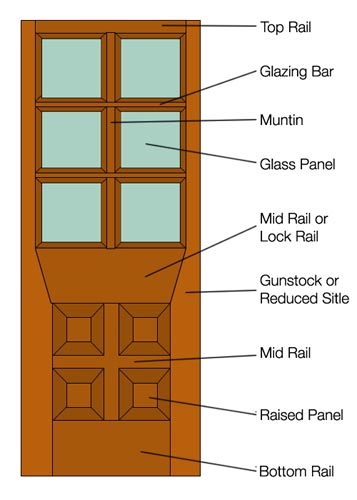 Rails: The rails are the cross pieces on a door. There are typically three, although there can be more. The top one is called the top rail, and the bottom one the bottom rail. The one in the middle is generally the thickest one and this is called the lock rail, as this is where the lock and handle are generally positioned
Stiles: The stiles are the upright members that link into the Rails. They make the frame that the panels of the door are held by. The stile nearest the hinges is called the Hinge Style where the one on the other side of the doors is called the Lock Stile. If there is a central stile running up the middle of the door this can be referred to as the Mullion
Panels: These make up the main area of the door. They are attached to and held in place by the Stiles and Rails; they fill in the gaps between them
Composite Doors and Security
Composite doors very secure. The strength of this type of door is created by the different materials used in its construction. There is one other security benefit that is derived from the way that composite doors are constructed and this is that the construction allows the addition of more advance and sophisticated locking systems.
Relatively cheaply, it is possible to add high security deadbolts or multipoint auto locks. Adding extra hinges or strengthened hinges will provide more security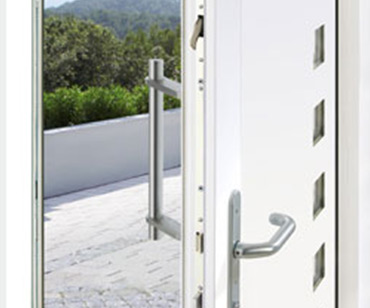 Fitting or Hanging a Composite Door
Fitting a composite door is very similar to fitting a normal door, except that it is generally even easier because the door and frame are made to fit, and many firms can make bespoke sizes to suit your home and any sized frames you may have.
For more information about how to hang doors, have a look at our project on door hanging.
When it comes to dressing your door it is possible to do this in the same way as you would with a wooden external door, but we recommend that you try and order your door with the letterbox, peep holes and other features that you would like. There can be complications if the surface of the door is not sealed properly as water might get in and affect or swell the internal material of the door.
Composite Door Styles
Composite door come in a huge range of styles and designs. They have numerous features and window options to choose from. Here are a range of the ones that we have found to give you an idea of what is possible: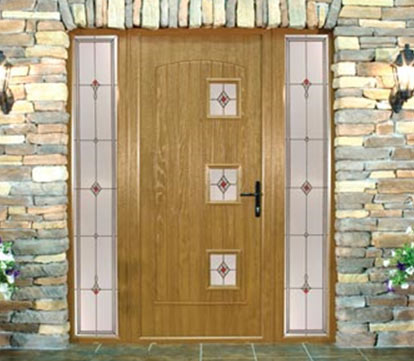 Some companies will even let you design your own door so that you can be sure that it will fit in with your own individual styling and taste requirements.