When doing any form of construction or DIY jobs cleaning and degreasing surfaces, whether they are metal, glass, concrete, plastic or any other material is an absolute must in order to get a good finish.
When performing any construction work our tradesmen use cleaning and degreasing products extensively to ensure our work is top notch, here follows a selection that we have used and why we use them.
Why do we Need to Clean and Degrease Surfaces?
Tradesmen and mess share a common association and in some ways this is well deserved after all it's virtually impossible to knock down an internal wall or cut out chases for electrical wires without making any dust and mess, unfortunately the two go hand-in-hand.
Fortunately most messy jobs such as this occur at the start of a home improvement project and after each stage is completed any decent builder will have a good clean up before starting on the next stage. This helps to keep a site as tidy as it can be.
As a project draws to a close and you get to the finishing stages e.g. installing showers, tiling bathrooms fitting kitchens etc it is essential that all surfaces, fixtures and fittings are fully cleaned and degreased before everything is sealed up, but why is this?
If you have just fitted a shower tray it needs to be fully sealed up to prevent any leaks and for the sealant to do its job it must bond to a totally clean and grease free surface hence the need to degrease everything fully.
This is extremely important in both bathrooms and kitchens as over time cooking grease, steam, soap, shampoo, shower gel residue and other substances leave a fine film of dirt and grease over pretty much every surface regardless of how well it's cleaned on a day-to-day basis, so before sealant is applied in these areas surfaces need to be wiped over using a specific degreasing product.
Additionally it's not only objects and surfaces that need to be kept clean and grease-free, don't forget about your hands! It's no good spending time meticulously cleaning an object down just to then pick it up without degreasing your hands first.
The Problem With Cleaning Products
As we are all well aware, the impact that we have had on the environment through the use of chemicals and various manufacturing processes is huge and needs to be addressed urgently so we all need to be more aware of the products we use on a daily basis and what they actually contain.
As a company, we have always tried to promote environmental awareness not only through the numerous green living projects we have on site but also in the products that we use and promote.
Historically, many household cleaning products are full of toxic chemicals that have been proven to be detrimental to both your health and to the environment so we always look for a more eco-friendly alternative if it's available.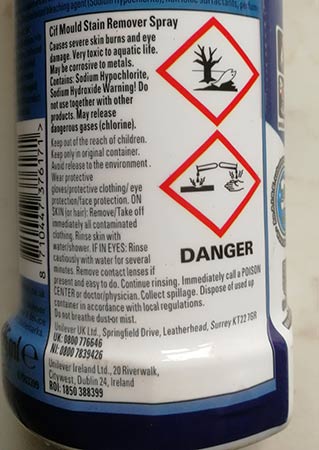 What's the Best Cloth to use for Degreasing Surfaces?
There are many different types of cleaning cloth that you can use along with a cleaning product to degrease surfaces but by far the best is a microfiber cloth.
Although it's only a cloth, the microfiber cloth is packed with technology and features that make it by far and away the most effective and efficient cleaning cloth around.
Microfiber itself is made using very tightly woven nylon and polyester fibers, over 200,000 per square inch, that effectively forms a net structure. During manufacture the fibres are charged with a positive electric charge and as dirt and other unwanted particles are negatively charged it literally attracts dirt like a magnet!
Additionally as the microfibers are so fine they can get into much smaller nooks and crannies than other similar cleaning objects making for a much more thorough and deep clean.
Alternatively any decent lint-free cloth will be suitable if you don't have a microfiber cloth, but for the sake of a small initial cost we would suggest you get one.
What are the Best Degreasing Products?
There is a huge range of degreasing products on the market today and everyone will have their particular favorites or preferred products, but after using many of them over the years on a huge range of different jobs here are the ones that we have found to be the best and always have readily available in the van or workshop.
Eco Solutions Super Strength Degreaser
This is our personal favorite, not only as we have worked closely with Eco Solutions for many years and are a big fan of their products anyway, we love it because it actually does what it's supposed to do very well, remove grease!
Super Strength Degreaser will work on virtually any surface and remove grime, glue, and grease quickly and efficiently. It is also very effective at removing light carbon build up too.
The new and advanced formulation has NO solvents and will gently cut through grease and grime, even when it is baked on to the surface. This will leave you with clean and residue free surfaces in no time at all.
This super strength degreaser doesn't contain any nasty solvents or chemicals which can dry out or damage your skin or eyes or any harmful abrasives or fumes that require you to use breathing apparatus or other heavy PPE gear. This means that you can use it often and safely without any side effects.
It's easy to use as it comes with a spray applicator, so that you can apply just the right amount straight on to the surface that you need to clean. After just 30 minutes the scientifically advanced formulation gets to work and will have broken down the grime and grease.
For lighter applications such as cleaning surfaces in preparation for sealing, painting etc, just apply the solution and leave for a few minutes to get to work and then wipe off.
Key Product Features
Removes grease, oil, grime, glue even light carbon build up
Effective and pleasant to use
Solvent free
Water-based and eco-friendly
No abrasives
No H (hazard) or P (precautionary) statements on the label
Endorsed by the award winning decorator Wayne de Wet, Grand Winner, Dulux Select Decorator 2011
Super Strength Degreaser is also great for cleaning down solid greasy soiled surfaces such as garage floors and the similar. Simply brush the solution onto any affected areas and leave it for 15-20 minutes or so (depending on the level of soiling) for it to get to work and then give it a light scrub and wash down.
For bigger jobs such as this it's also available in larger 5ltr containers.
If you would like to purchase this product or require more information visit the Eco Solutions website
Everbuild Wonder Wipes
Wonder Wipes are extremely handy to have as a backup to the above Super Strength Degreaser. They are extremely versatile and can be used to clean down tools and other construction equipment from a range substances including paint, oil, silicone sealant, expanding foam and other similar stubborn products.
The one major benefit that we have found with the Wonder Wipes is that when working on a site with no water it's sometimes hard to clean off tools such as mixing paddles, sealant applicators and other similar tools that require cleaning as soon as they are finished with.
In these situations Wonder Wipes are great for quickly cleaning tools down that would otherwise be useless by the time you get back to the yard and the cement, sealant, paint etc has dried on them.
Key Product Features
Can remove a variety of different hard to clean substances
Contain an anti-bacterial additive
Handy disposable wipes
Can be used on hands
Tested to BSEN 1276 for chemical disinfectants and antiseptics
Although Wonder Wipes are a useful product to have to hand, keeping in line with our environmental considerations they are disposable wipes and due to this do have a certain environmental impact. For this reason we do keep their use to a minimum.
To find out more, see the Everbuild website here.
Swarfega Jizer Degreaser
Another fairly decent degreasing product that we use on occasion is Jizer from Swarfega. This product isn't so much a general degreasing product for removing thin grease films before sealing or painting but it's a little more heavy duty.
Due to this it's main use is for removing heavy mineral oil and grease from things like garage floors and mechanical parts and also bitumen deposits left on rakes, shovels and forks after laying Macadam surfaces.
Although this product is not classed as environmentally hazardous it does carry some risks in terms of the fact that it it an eye irritant so wear the correct eye protection, gloves, protective clothing etc when using it.
Key Product Features
Very effective on heavy grease and oil deposits
No hideous fumes
Also contains a rust inhibitor to prevent surface rust after cleaning
Can be used on a variety of surfaces including plastic and metal
Distilled Vinegar or White Vinegar
Although not commonly used out on site we do occasionally use it in the workshop. This isn't due to it not being any good, it's mainly down to the fact that it's vinegar and does stink the place out, so we generally don't use it out in customers houses for this very reason.
Despite the smell it is quite an effective degreasing product and once applied to a surface using a cloth the acetic acid found in vinegar quickly breaks down the greasy layer allowing you to wipe it away using a decent lint-free cloth.
One point to note is that vinegar should only be used on non-porous surfaces such as glass and metal etc but never on marble surfaces as the acetic acid will damage it!
Key Product Features
Totally natural with no harsh chemicals or fumes
very cheap and readily available form most shops and supermarkets
Can be diluted to reduce the smell if needed
Keeping surfaces clean and clear of dirt and grease buildup is essential for the best finish possible, but that doesn't mean that you have to use environmentally damaging, health hazardous chemicals, there are now numerous eco-friendly alternatives that work just as well.