Double Glazing: The Basics
As much as 20% of the heat in your home can be lost through your windows. By improving the glazing through double or triple glazing you can increase the energy efficiency of your home, make it much more comfortable to live in, and reduce your energy bills.
For a 3 bedroom semi-detached property fitting double glazing can save you as much as £130 a year. You can get part or all of the cost of new glazing covered by the Green Deal scheme which offers finance for energy efficient home improvements. The scheme also offers a grant of £15-£20 per M² of glazing installed, up to a limit of £200-£300. More details are available on our Green Deal page.
How Double Glazing Works
Windows allow much needed light and ventilation into your house, but are also the thinnest and least insulated part of the wall so heat can escape easily.
In double or triple glazed windows the thin gap between the panes is either filled with air or an even more insulating colourless gas like Argon; this significantly reduces the loss of heat through the window. It also has the effect of reducing noise too which is useful if you live near a noisy road or flight path.
There is a huge variety of choice available when selecting windows. Other than style and cost you should also consider the energy efficiency of the window options available.
Typically, the more energy efficient windows are, the more expensive they are likely to be, and triple glazed windows are usually the most efficient. There is currently no obligation for window manufacturers to publish energy efficiency information but most do, so always factor your windows' energy credentials into your decision.
The British Fenestration Rating Council publishes a rating scale for windows and their frame material. It contains the following information:
An alphabetical rating level, 'A' being the most energy efficient
An energy rating e.g. -3kWh/(m²·y) in this example the product will lose 3 kilowatt hours ( of what?) per square metre per year
The window U value e.g. 1.4W/(m²·K)?
The effective heat loss due to air penetration as L eg. 0.01 W/(m²·K)
The solar heat gain e.g. g=0.43
This allows you to understand the most critical parts of the window's energy performance:
How it conserves heat within your home in the winter
Its ability to keep out the wind and draughts
How well it resists condensation
How much it contributes to improving the sound insulation
Glazing Improvements in Sash Windows
Sash Windows are made up of two moveable sashes, often divided each into six panes with narrow glazing bars, particularly in Georgian buildings.The Victorian sash became more decorative with multi panes with leaded lights.
The Building Act in 1894 changed the regulations, so that windows no longer had to be flush with the exterior wall. This enabled windows to stand proud from the façade and from the Edwardian period windows were often presented in bays. Edwardian sash windows would often fix the upper multi pane but use a single pane of glass below to maximum the light into the room.
Other than being very popular aesthetically sash windows were traditionally installed because they are better suited to the wet British climate, as they can be closed to a narrow gap, allowing for good ventilation whilst reducing the chance of rain entering. Being contained within a box, the sashes are less susceptible to distortion and rot than a hinged casement, extending their life span significantly.
Glazing Improvements in Casement Windows
Casement windows are hinged windows set in a fixed frame. They were often found alongside sash windows in Edwardian houses. In the 1930's their popularity increased and took over from the sash window.
One great advantage of a casement window is that it can be fully opened and therefore catch the full breeze to air your home. They also tend to be a little more secure as the locking mechanism is built into the frame and cannot be prised open using a crowbar as in a sash window.
Installing Double Glazing
It is important to make sure that building regulations are complied with when replacing windows. The planning rules are particularly stringent if you live in a conservation area or a listed building so it is important to check with the local planning office before carrying out any work.
You have the option of either fitting the windows yourself or getting an installation company to do it for you. If you do it yourself you will need to apply for building control approval. Please see the Double Glazing DIY Project page for more information on this.
If you decide to get someone else to fit your windows ensure that you ask your installer for a certificate to demonstrate compliance to all the relevant rules and regulations.
Secondary Glazing
If you cannot change your current windows due to cost or planning restrictions secondary glazing can be a great alternative. This is where a pane of glass or similar transparent material is fitted inside the existing window frame. Secondary glazing can be considerably cheaper than double or triple glazing and is only slightly less energy efficient.
Costs and Benefits of Improved Glazing
The cost of improving your windows does vary considerably depending on the style that you choose. Modern windows should last for at least 20 years, so it is important to get the most energy efficient ones that you can afford.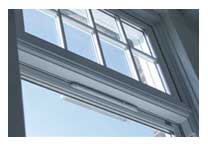 Pricing Window Units
Most people refer to a window unit simply as a 'window' area that includes a number of panes of glass built across a single frame.
When upgrading to double or triple glazing generally it is easier to buy the entire unit ready-made rather than replacing the glass pane-by-pane which is typically more expensive.
As a very rough guide, here are some estimated prices for variably sized, fully-sealed (air-tight and moisture-proof), double-glazed window units:
| | |
| --- | --- |
| Unit Size (mm) | Unit Cost (£) |
| 200 x 400 | £20 – £30 |
| 500 x 700 | £30 – £40 |
| 800 x 1000 | £70 – £85 |
| 900 x 1200 | £90 – £100 |
If the room, window or door is an unusual shape it is possible to have a made to measure unit made up, however this will certainly cost a little more.
Window Panels
The term window panel refers to each individual pane of glass that resides within a single frame or unit. Sometimes the seals can fail in a pane and then you will start to see condensation form in the gap between the panes of glass. This window panel will need to be replaced but this can generally be done without having to replace the whole unit.
If you need to replace a panel you should expect to pay in the region of £14 for a 4mm thick pane, and about £17 for a 6mm thickness. For sizes outside 200mm² to 450mm² prices might vary from this a little.
If you are going to get a professional to fit the windows labour costs will also be charged.
Savings From Improved Glazing
Swapping out single glazed or old double glazing could save you as much as £135 per year on your energy bills. Fitting secondary glazing you could save £85 per year based on an average sized 3 bedroom semi-detached home. This means that the payback period is very favourable when compared to the other more popular energy efficiency measures, such as solar PV systems.
The Green Deal scheme offers loans to help households install replacement and secondary glazing, with the loan amount being paid back using the savings you make on your heating bills. This should mean that installing new glazing doesn't leave you out of pocket. There is an interest payment included with the payments however, so you will save more money by paying for the windows yourself. The Green Deal Cashback scheme additionally offers grants of up to £230-£320 depending on the type of glazing and how much glazing is being installed. For more information on the Green Deal visit our Green Deal page.
There are other benefits to improving your glazing:
Lower carbon dioxide emissions – as you will use less energy to heat your home you will reduce the levels of carbon that is emitted
Make your home more comfortable – air tight and sealed windows will reduce draughts and make your home more comfortable and pleasant to live in
Dampen outside noise – Double and triple glazing reduces the amount of noise that can enter your home – particularly useful if you live near a noisy road or airport
Reduce condensation – double glazed windows are better insulated so moisture does not condense on the inside of the glass as much as less well insulated panes
Reduce your maintenance costs – Modern windows, particularly if made with modern materials are much more durable and require much less maintenance than old windows