Time to Clear Out The Carpet?
Padding about on a nice thick carpet can be one of those simple pleasures which goes hand in hand with feeling comfortable and at home.
However, flooring inevitably takes the brunt of spillages and marks from unsympathetic footwear – meaning your carpets can end up looking far from magic in a relatively short space of time.
So, if your carpets are looking a bit tired, and you're looking for an upgrade, you could perhaps consider investing in quality wooden floors throughout your home.
Engineered wood and hardwood flooring, usually comes with a finish which has been applied at the manufacturers, is a quick, labour and cost effective way to a new floor. Few tools are required (see tools section below) and a little time. Laying Engineered hardwood flooring can be a major asset to any home.
Floored by Quality?
Wooden flooring is extremely popular because it looks good, is easy to maintain and can add value to your home if it's well fitted. For these reasons, some buyers prefer good quality wooden floors to carpets.
Before you pay for new wooden flooring to replace your worn carpets, it could pay to check underneath them first. If you're lucky, you could find good-quality wooden flooring which is in need of little more than sanding and varnishing to get the look you were looking for all along.
There is a wide range of wooden flooring available. The general rule is that the thicker and wider the wood – the better quality it is.
The three main styles include wooden strips, wider planks, and parquet, which are small blocks formed into a regular pattern. Oak is a favourite wood, with its attractive grains, while maple can really give a feeling of light and space to a room.
Meanwhile, some experts believe that wooden flooring – particularly walnut and oak – can be good for allergy sufferers, as it does not trap allergens in it like carpets can.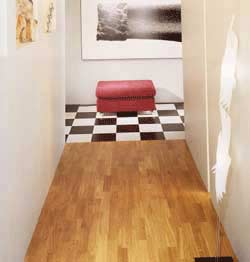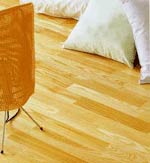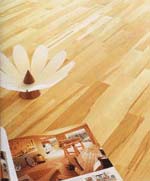 Because in most cases it has a laminated surface, it will not warp and twist as does solid wood. You can lay it in cold or warm rooms, or rooms where the temperature varies and know it will stay stable. The factory applied finishes are far more sturdy than anything that you can apply at home and are far more resistant to abuse. It is important to note that the quality of Engineered Hardwood is directly related to the price. Cheaper floors will not last!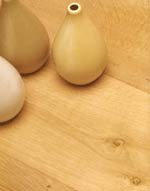 Planning it Out
If you want to make an impression, it's suggested that you make your mark in the entrance hallway, with borders and painted designs a possibility. Kitchens and family rooms are two of the most popular rooms for wooden floors and can be practical options – though it's recommended you stay away from overly dark or light colours in these high-use areas, as wear will show quickly.
More formal areas, such as a dining room, could suit darker woods well, though something to bear in mind is that the darker the colour, the smaller the space will seem. Wood can also work well in bedrooms, though it may be a good idea to use rugs liberally in order to give a softer edge.
Meanwhile, laminate flooring has been an extremely popular alternative to wooden flooring in recent years and can even look like hardwood at a glance. However, experts say that it is unlikely to add value to a property and can look shiny and fake. Also bear in mind that laminate can come apart if it's not well manufactured or if it has been laid over an uneven floor.
Given the different options, it pays to really consider how much wood to use in your home. Some recommend not getting too carried away, as, thinking ahead, it may not appeal to all buyers. One option could be to use wood extensively on the ground floor, where it will be shown off to best effect for guests, but to stick to carpeting upstairs.