If you are about to embark on a home improvement project such as an extension, garage conversion, new driveway, patio or decking area or a similar project then to ensure you have the budget to complete the project it's always a good idea to get a quote or, at minimum, an estimate price for the building work involved.
With a quote or estimate price for your building work you will quickly be able to see if you can afford the materials to do the job yourself or pay for a builder to do it and if not you can then look at adjusting your plans to suit the budget you do have.
Types of Building Work Prices
When costing and pricing up building projects and even DIY jobs there is essentially 2 different types of pricing method; The rough estimate price and the qualified quote.
Rough Estimate Price
The rough estimate price should be the very first price you get or form yourself. The rough estimate price is a quickly formulated price, generally from a builder that essentially uses their prior knowledge and experience of doing the same or similar jobs in the past to give you a rough idea of how much a given project is likely to cost.
For example, if the builder you have approached for an estimate for an extension has done a fair bit of the same type of work in your area to similar or the same types of houses then he will have a good idea of the way your house has been built, the type of ground, drainage layouts etc. so he will have he should be able to supply a fairly good guess.
However a very important point to note with estimate prices is that they are essentially guesses and a guess can in no way be taken as accurate.
So if an estimate is only a guess, you may be thinking what's the point of it? Well as we have said, if you want to know if you can afford a certain home improvement project then you need to know a rough initial cost before you start spending money on more accurate costing's and plans etc. so in this instance the rough estimate price essentially gives a project a "Go" or "NO GO" status.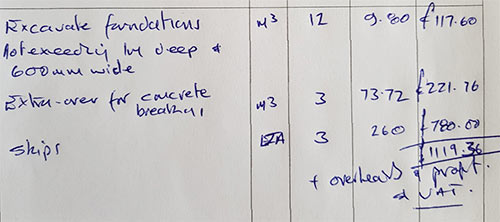 Qualified Quote
A quote or qualified quote as they are sometimes called is the next stage on from a rough estimate price.
Once an estimate price has been given and it falls within the budget for a given project or DIY job then the next stage is to accurately price the job up so that you know pretty much exactly how much it is going to cost.
For projects that you are involving a builder, architect etc. in, the job of providing an accurate quote is their responsibility as it is only the builder that knows their material and labour costs and how long a given project will take.
The builder may choose to involve a third party pricing service or quantity surveyor to actually calculate the price but it will be down to them to review and confirm that they can complete the job for that price at which point it is then submitted to you to confirm you are happy to go ahead.
Although your builder, architect etc. will provide an accurate price for the actual construction work as through their knowledge and experience they will know what materials and labour are needed, how long things take etc. you will probably find that there will be a few caveats with that price, a good example of this is any groundworks that are involved.
Whereas it's possible to price for what you will likely encounter when digging foundations etc. it's almost impossible to confirm what you will actually find when digging in the ground.
It has been known for builders to find buried cars, inaccurately marked drainage runs and a whole host of similar items when excavating and for these it's impossible to know they are there until you start digging. For unforeseen things such as this there will inevitably be extra costs that need to be added so be aware of this.
Who Can Price Up Building Work?
If you have a home improvement project in mind and would like to know how much it's going to cost you then it's important to know where you can actually get a price from e.g. who you need to contact.
Builders
In the majority of cases the first port of call for pricing building work will be a builder as these are the people that are actually doing the work and in most cases have the best insight into material costs, labour rates and exactly how long particular tasks take.
However, for anything other than a very rough estimate price for a particular job, accurately pricing up building work is a lengthy and involved process and understandably one that a builder may not necessarily want to get involved in if the chances of actually getting some work out of it at the end is slim to none.
When it comes down to it everyone has to earn a wage to live and the same goes for builders so in the majority of cases if they sense you are not necessarily serious about the potential work they will probably not want to know.
Architects
Another source of pricing, again mainly accurate quoting, is an architect. As architects have an in-depth knowledge of most aspects of building work due to the fact that in pretty much all construction jobs they produce the accurate plans that a builder will use in order to actually build and complete a given project they can also produce an accurate quote for you.
As most architects will also be familiar with the UK Building Regulations in much the same way as a builder they will also be aware of when additional prices for structural objects such as RSJ's, piers etc. will need to be obtained from structural engineers and added to the quote.
As architects tend to be towards the more professional end of the scale they will almost definitely charge for their time so obtaining a quote could be rather expensive.
Quantity Surveyors
The job of a quantity surveyor is to essentially produce a bill of quantities or quote for a given job. For example if a quantity surveyor is commissioned to produce a quote for a small extension to a property they will go away and research all the necessary labour rates and material prices, quantities of materials and man hours etc. for the area in which the extension is to be built.
They will also research and price any additional services that will need to be involves such as structural engineers, national grid services, local utility companies etc. and, where necessary, add these prices into the quote also.
Once completed they will then present the quote to the person (in most cases the builder) or service that initiated it. However as thoroughly researched as the quote may be there will likely be numerous caveats built into it to cover any unforeseen eventualities that could occur.
Again, as quantity surveying is a professional service there will be a cost that, depending on the size of the job, could be fairly substantial.
Structural Engineers
Although most structural engineers don't have the necessary knowledge or experience to produce a full blown quote for a given construction job they are very often essential to the production of an accurate quote.
Structural engineering is a specialist job that involves calculating and designing structural load objects such as RSJ's, structural timbers, piers and the similar to be used in building and construction work.
Quite often during a home improvement project existing load bearing walls will need to be removed or openings through walls created. Once removed or altered, objects like this will loose a great deal of their structural integrity so they will need to be reinforced and it's the job of a structural engineer to design a new load bearing object that, once in place, will support the weight of the existing structure and prevent it collapsing.
Although both builders and architects poses a huge amount of knowledge on building practice there will be very few that have the necessary qualifications to also design and spec structural objects and this is where a structural engineer comes in.
Again as structural engineering is a specialist professional service there will be a cost!
Online Pricing Services
As pricing up building work is such a time consuming job for a builder with often no guarantees that it will result in any actual paid work, quite a few online pricing services have emerged over recent years.
They come in several different types, the main ones being essentially an online quantity surveying service where you would submit a set of plans for a job, the service would price them up and then submit you the price and quantity breakdowns.
These types of online services normally offer quite a fast turn around and can price a range of different projects. One of the leading services of this type in the UK is called proquantestimating.co.uk.
The other type of online pricing service utilises computer software to allow you to price up a given job and produce a quote yourself. Sophisticated algorithms price the work involved either on a square foot/metre basis or some can even price up all of the individual materials and man hours involved to produce a very accurate quote. An example of one of these online service is our very own Price Doctor pricing software.
Pricing Publications
One final source of pricing that many builders and architects alike use is one of the 2 main pricing publications available today; The Spons Architects and Builders Pricing Book or the Laxtons Price Book.
Both publications are published annually and contain the prices of materials and labour used in the building industry in the UK.
For example if you are trying to price up an extension for a builder in Cornwall, both publications will tell you the cost of each element of the project from digging and pouring the foundations to building the shell, putting the roof, making and fitting the windows etc.
In the majority of cases the prices quoted are reginal so take into account the fact that both labour and material prices vary greatly depending on where you are in the country. However some prices are an aggregate average from across the whole country, in which case this should be stated.
Each publication is available for anyone to buy whether you are in the trades or not and normally retail somewhere around the £145 mark.
Can You Get Your Own Building Work Prices?
In short yes you certainly can price up building work yourself and in most cases can be done in a few different ways:
Commission a Pricing Service: In much the same way as a builder would you can draw up a set of plans and submit them to an online pricing service for pricing up. Although they may be able to price up the plans you submit there may be elements that you neglect to include that could have a big impact on the final price
Use Online Pricing Tools: In the same vein as commissioning a pricing service, you can also use one of the many online pricing tools to price up your proposed project. Again depending on the tool that you use and how comprehensive it is will depend on how accurate your price is, some are better than others. Our very own pricing software Price Doctor provides a comprehensive service and prices elements down to an individual box of screws, including spec'ing any structural load bearing items so it can produce a very accurate price for you.
One point to note however is that if you do produce your own price for a given DIY or home improvement project to give you an idea of the budget required and you later decide to get a builder involved there is a good chance that they wont want to use your pricing structure.
Most builders will have a close relationship to most if not all of the service that they use e.g. builders merchants, plant hire service, structural engineers etc. and will have their own rates worked out with each of these services including any labour or sub contractors that may use so will want to work with these rather than your own.
Rough Costing's For Building Work in 2022
Prices for materials and labour fluctuate massively depending on where you are in the UK. For example labour and material prices are generally much higher in the South East of the country than they might be in the North West.
Similarly as we are writing this content in 2022, the Covid pandemic and Brexit, both hitting the country in 2020 through to the end of 2021, has had a massive affect on both the cost of materials and labour.
As the Covid pandemic took hold in 2021, the material and supply chain shortages caused by lockdown and the fact that most of the country were confined to their homes has caused prices to go through the roof.
Likewise, material shortages have also had a devastating affect on lead times in that waiting times for a given materials availability can occasionally run into months!
As a helpful guide, the government publish monthly statistics for building materials and components including pricing changes, this information can be found on the .gov website here.
Another devastating knock to the construction industry came in the form of Brexit that landed on the 31st of January 2020 and finalised with the end of the Brexit transition period on the 1st January 2021.
Due to the many unknowns that Brexit caused in the form of EU nationals and their ability to remain in the UK, many decided to return to their native countries and as many worked in the construction sector, this left a huge labour deficit in terms of bricklayers, plasterers, ground workers and the similar.
As many sites and building companies across the country simply didn't have the staff to actually do the work many projects came to a stand still, with many never getting going again, even after restrictions were lifted.
Another knock on effect of Brexit was that many EU nationals also worked in logistics and transport and without the available professionals to drive the lorries to deliver materials etc. to builders merchants, this also had a dramatic affect on material pricing and availability.
As a comparison to just how much construction and material prices have gone up:
In 2008 the average build cost of a house was in the region of £90 – £95 per square foot or around £900-£950 per square meter (internal dimensions of total floor area)
In 2013 for an average finish for a new build property the price rose slightly to around £100 per square foot or £1000 per square metre. For a high spec finish the price was slightly higer at £130-£140 per square foot or around £1500 per square metre
In 2022 for an average, middle of the row finish on a new build property the price has skyrocketed to around £200 per square foot or £2000 per square metre and as said this is for a basic middle of the row finish, an almost 100% increase!
As you can see from the above, the cost of a given project, no matter what it is as the increases are across the board have gone up massively, however if you are keen to get a project underway there are areas that you can look at and reduce some costs by removing some options and opting for slightly less quality items:
Bespoke kitchen furniture and worktops – buying from a company that will tailor-make to your requirements will add many thousands of pounds to the good quality kitchens that can be obtained from high street outlets. You may get a uniquely designed kitchen with units made from solid wood instead of melamine or veneered particleboard. Marble worktops, luxury hob and oven or Aga style cookers
Top of the range sanitary ware, wall tiles and floor tiles – for example, walk-in shower enclosures, Jacuzzis, marble tiles
Hardwood stairs, internal doors, architrave, skirting board – wood such as Oak and Ash (slightly cheaper than Oak but still good looking)
Hardwood flooring – you will need to determine which floors will be hardwood, but at least the cost will be easier to estimate by checking prices at the many suppliers available throughout the country
Real fireplace with chimney – the materials and work required to build a chimney breast and the stack will add at least a couple of thousand pounds
Balconies – if built above other rooms, these will add a few thousand pounds due to the extra labour and materials required to prevent water from penetrating to the rooms below
Retaining walls – for a substantial wall you may have to pay in excess of £50,000 – but this is for a really large retaining wall. Smaller walls may still cost a few thousand pounds, however
Getting the Right Price For Your Building Work
As we have stated above there are numerous different way to estimate and quote for building work and price a job but in the majority of cases the price you receive for a given building job will come from a builder.
This in itself presents another problem in that how do you know the price you have received form your builder is accurate and will give you the quality finish that you require?
Well in answer to this the only way to ensure this is to find a reputable quality builder that you can trust.
This is in some cases not an easy job and does require some effort on your part. As our founder Mike "the DIY Doctor" Edwards says;
Good builders want exactly the same thing as you when they are working for you. A great job, for the right price. You are both on the same side; trying to get the best possible value for money. These notes show you how to find the right builder, and then how to work as a team to get the best possible value for money on both sides.
So in order to find a good builder that you can trust to price your project accurately there are some steps that you will need to work through:
Read through all of our finding a tradesman resources on site, starting with our guide to working with tradesmen
Download and read our Desired Outcome Building Contract
Compile a shortlist of reputable builders in your area. Use recommendations from friends and family, reputable lead generation services such as Checkatrade or our own find a tradesman service
Talk to each builder about our Desired Outcome Contract. Any cowboys will run a mile whereas a reputable builder will be more than open to the concept of it. Also ask to see their public liability insurance
Ask for references for their past work and at minimum contact past customers or ideally go and visit them to inspect the work first hand
Compile a shortlist of at least 3 different builders and ask them for a detailed quote for your job
Read each quote thoroughly and select the one that suits you best. This may not necessarily be the cheapest!
The right price for your building work will be the one that satisfies all parties; the builder earns a decent profit for his/her knowledge and skill and the homeowner gets a fantastic job finished to a high standard.
Accurately pricing and quoting for building work is a tricky time consuming job and one that builders traditionally don't enjoy however today there are many services and professionals that offer pricing services and aids to builders and homeowners alike that both saves the builder time, gives the homeowner and idea of potential costs and can also provide initial rough estimate costs.