Growing your own crops is immensely satisfying and encourages children to eat things that they might not do otherwise! It is important to make choices of plants that you want to eat, that you have room to grow and that you will be around to harvest.
This guide aims to show you some of the choices you have when growing your own fruit, so you can see how easy it can be. You can then head off to the garden centre or nursery to ask advice on the best varieties once you have managed to make your list of requirements after reading this starters guide.
Growing Apples
Whether you chose to have a dessert apple or a cooking apple will depend on personal preference. However apple blossom in spring is one of the loveliest sights in the garden so if you can find room for an apple tree you will be well rewarded.
Large varieties are best for large gardens, away from buildings, because they can rob the soil of moisture. This can cause problems for house foundations, particularly if your house is on clay soil.
There are many smaller varieties to chose from which will fit into a smaller plot, and while they will not give you leafy bowers, for you to sip Pimms under in the summer months, they will still reward you with blossom.
There are some great modern varieties, called Supercolumns, that grow no more than around two meters tall, and in a neat column. These trees bear fruit all the way up the trunk.
There are varieties that can be grown in pots, like "Red Falstaff" which only grows up to 1.8 m tall with a spread of 1.5m.
You can also think of growing pear trees in the same way as growing apples in the garden.
Thompson and Morgan even produce and apple and pear tree which has several varieties grafted onto one rootstock to give you a variety of fruit all season!
Growing Plums
The factors that influence your choice of plum tree will be similar to the ones relating to the apple tree (above).
You can also "espalier" a tree, which is basically training it to grow flat against a wall, or fence. This practice was very popular in the Victorian age. While you may think this is not a novice activity if you get a young sapling it is surprisingly easy to do. Take advice on which variety to get from the grower you buy from.
Growing Loganberries
Loganberries are a cross between a raspberry and blackberry, they are a perfect plant for a beginner because they are disease resistant and easy to grow. They produce succulent fruit in late summer and autumn.
The fruit is rarely seen in the shops because it is so soft and therefore difficult to transport, which is why it is best to east them directly off the plant as they are warmed in the sunshine!
They grow on a bramble-like bush which typically spreads around 2-2.5m. They are best supported on a framework of wires stretched between posts, or trained against a wall or trellis. Plant the bushes in a sunny position in well-drained soil.
When the fruit comes you will need to protect the bushes with netting, or be prepared to lose the fruit to passing birds.
After fruiting, prune the canes to ground level. Any canes that have not fruited should be just tied in to their supports.
Growing Black Currants
These are one of the easiest fruits to grow. They will readily root from cuttings taken from healthy bushes and placed straight into the ground in the autumn.
It is more common to buy either bare-root stock (where the roots are exposed when you buy them) or plants grown in containers. Bare-root plants should be planted from late autumn. Plants in containers can be planted at any time of year.
For the first four years keep cutting out any wispy stems and allow between six and ten stems to grow up from the base. Keep the branches open in a "wine glass" shape to allow good air movement through the branches and keep the plant healthy.
Blackcurrants fruit on new wood (the branches grown in that season, so prune them back each year in late autumn early winter.
Growing Strawberries
One of the traditional challenges of growing strawberries has been the temptation they provide to slugs and birds, which can mean that you are fighting to get to your fruit before they get eaten by everyone else.
You should make sure you protect your fruit from birds by covering strawberry plants with netting, or building a mesh cage over them. Putting dry straw under the berries helps to avoid the slugs, (and to keep the berries in tip top condition) but you might still need to take slug avoidance measures to make sure you don't lose too much fruit. More on getting rid of slugs in another project.
It is easier to avoid pests by growing strawberries in strawberry pots, or even hanging baskets, these can then be placed near the house making harvesting easier. You will need to make sure they are regularly watered.
Growing Blueberries
These are becoming so popular that we have included these, although they are not necessarily that easy to grow. Pick a variety that does not need separate male and female plants.
They like a well drained acid soil, and if you can provide this for your plants they will be easier to establish in the garden. If your soil is not suitable you can easily grow blueberry plants in containers. Use a mix of ericaceous compost and John Innes No. 3 to give good drainage and an acidic soil.
Once the bushes are three years old, trim out the centre branches to allow free movement of air around the branches. They can take a few years to settle before they fruit so be patient. You should water with rain water for best results, so make sure you have a water butt or two to collect water ready for using on your acid loving plants.
Growing Raspberries
Raspberries are usually grown in rows and will need support for their brittle canes. It is best to build a framework that will support the canes, and allow you to cover the bushes with netting to keep the birds off the fruit.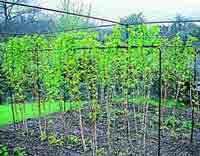 The best time to plant is between November to March providing the soil is not frozen or waterlogged. They prefer slightly acidic, fertile moisture-retentive soil, in a sheltered sunny position. They need to be watered in dry conditions.
Plant the raspberry canes 45-60cm apart in rows 1.8m apart, and prune the canes to within 25cm of the ground after planting.
Regular annual pruning will create healthier plants, and better quality crops. They should be cut back to ground level after fruiting each year. Summer-fruiting raspberries should be cut back straight after harvesting. Autumn-fruiting raspberries should be cut back in February.
This is obviously not an exhaustive list of fruit for your garden, but is designed to get you thinking about what you can manage to fit into your garden. We hope we have encouraged you to think about having a go at growing your own fruit.