What is a Gel Fire and Where Can They be Used?
Gel fires use an alcohol gel to burn with an instant and very clean flame. The alcohol is generally burnt in a tin or flame proof container (as it does get very hot – this is a real flame), which is usually hidden behind or within a decorative surrounding. This can be in pebbles, logs or in a dramatic pot which will make a feature of any fire place.
The fuel that is burn is essentially just alcohol so it is very clean and does not need a flue, which makes siting your fireplace very flexible. You can even put them in pots or vases to create a dramatic feature on a table.
What Fuel can I use on a Gel Fire?
There are two sorts of fuel that you can use. There is the traditional gel fuel and there is a more eco friendly bio ethanol fuel:
Gel Fuel
This fuel is typically burnt in 500ml cans that are positioned in the fire. Each can will produce around 1kW of heat so the fireplace will produce approximately 3 kWs which is broadly equivalent to an electric heater.
The flame will be 20-25 cm high with a warm yellow-orange colour which appears instantly on lighting. There is a nice even flame spread, so that 3 cans will produce flames across a fireplace and will burn for around 3 hours from full.
A Gel fuel flame will be relatively stable and not fluctuate and flicker too much. There will be no smell when burning, although when the fuel burns down there is a slight smell, similar to when a candle is put out.
Quality is very important; buying cheaper and potentially lower quality gel fuel will result in a smaller blue'ish flame that does not product much heat. This is probably a false economy.
To maintain the gel fire all that is needed is to periodically wash out the cans.
The costs of running a gel fuel fire are around about £0.70 per hour per can used.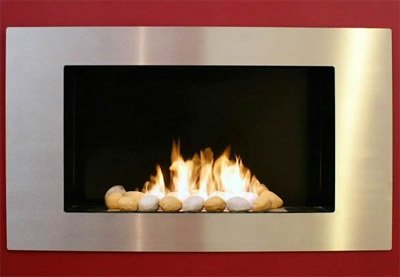 Bio Ethanol Fuel
This type of fuel is usually burnt in a special container, typically around 1-1.5 ltrs. The type of container will have a bearing on the efficiency of all types of fuel, but particularly Bio Ethanol Fuels. The heat produced will be like the Gel Fuel, around 3 kW, although the flame will be a little higher, up to 30cm, and will fluctuate much more, being rather airy and flickering.
Bio Ethanol will burn a little longer, up to 4 hours per refill, but it does take a little time to warm up, starting off initially with a blue flame before turning a transparent yellow. There is always a little blue colour at the base of the flame.
It is a very clean fuel and there is no smell, and maintenance it not required, other than occasional dusting.
The running cost is around the same or possibly a little less than with Gel Fuel, at around £0.75 – £1 per hour.
The big advantage of bio ethanol is that it is CO2 neutral, as it is made from plants and does not involve fossil fuels in any way.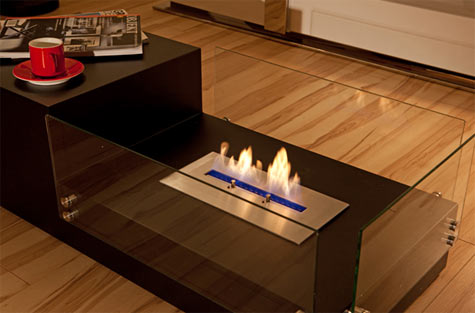 The Advantages and Disadvantages of Gel Fires
There are a number of significant advantages that gel fires have over other forms of conventional heating:
Advantages of Gel Fires
Cost Effective: Gel fires have the unique ability among all forms of central heating, in that they can pay for themselves very quickly! 100% of the heat is used in the room and there is generally no chimney for the heat to escape through which is where up to 60% of the heat in a conventional open log fire goes
Flexibility: As well as buying beautiful fires which can be free standing, wall hung or even placed outdoors, its also easy to make your own Gel fire using proprietary products available on the market. See the DIY Gel fires section below
Impact: Partly because of their flexibility and partly because of the clean nature of the flame you can make a fire in the most surprising and dramatic places. Imagination is about your only limitation!
Low Maintenance: Gel fires are very easy to run and maintain. They are ideal for people with busy lives how don't have time for cleaning and cutting logs – and they are almost instant in generating heat too
Portable: They can easily be moved; from the small stone, decorative bowls, to the large free standing fires, you can put them where you need them, inside or outside
Disadvantages of Gel Fires
There are a few disadvantages with gel fires, as you would expect. The main ones are:
Size: They are not a significant source of heat, equivalent to a small electric heater, so they are better used as a secondary heating solution to compliment a more normal heating system.
Humidity: Burning alcohol creates water which will increase the humidity in a room which can result in the issues related to condensation and damp (see our condensation and damp projects for more information)
Safety: A gel fire is a naked flame and it is important to be safe when using one. They might not be appropriate when there are children and pets around.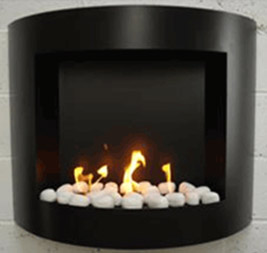 The Gel, in a Gel fire, is a bio alcohol which burns as a naked flame and gives out heat in proportion to the size of the flame. They are easily lit with a match or lighter and the heat is instant. No waiting for radiators to warm up or boilers to pump. When you are warm enough, simply place the supplied lid on the flames and they will go out.
The only maintenance required is to wash out the container after every three or four uses to prevent a residue build up.
The Gel itself will last for approximately 5 hours per 1 litre and there are no side effects from burning this type of fuel and no special ventilation is needed. Standard room ventilation is plenty.
You may even add essential oils to the bio fire gel to infuse the room while you get warm.
How to Make a DIY Gel Fire
A DIY Gel fire is a relatively simple, but hugely rewarding task. There are several companies on the market that can supply you with all the products you need to make a beautiful fire. All that you need can be purchased as part of a kit, or in individual parts. This is that you need:
A Fireplace: (or a place for the fire) If you have an existing fireplace; your DIY gel fire is easily positioned in the existing fireplace, or on any existing fire grate.
Containers for the burning Fuel: These will depend on the fuel and the type of fire your are trying to create. Place these in the fire place where you want to have your fire. It is possible to purchase a grate where they are already built in.
Decorative effects: You will want to hide the containers with the gel fuel in so that your fire looks attractive. People use all sorts of things from stones to logs to pots and vases – look online for inspiration about what others have done!
Fuel: Add the fuel to the container. Light it when you are ready to enjoy your new fire.
Even if you do not have a fireplace you can create a lovely gel fire. You can put the fuel in special vases, pots and jars that can be moved and make a very dramatic feature.
In most cases the grate comes complete with stainless steel fuel inserts. The fire proof logs, coals or stones are placed round the insert, the gel poured into the containers and lit. It really does not get any easier.