Where did the Green Deal Come From?
A significant proportion of our carbon usage can be associated back to the way we live and also the properties we live in. The Green Deal is a new Government initiative aimed at reducing the carbon footprint of UK properties. It started with the commitment the UK gave at the Kyoto Summit in 1997. At this international summit 191 countries have agreed to reduce their total carbon output by a minimum percentage every year to stabilize the worlds increase in emission of greenhouse gases.
What Exactly is the Green Deal?
As building techniques have improved we understand better now how to consume less carbon in both the materials used in the fabric of our houses and the fuel required to maintain the lifestyles we have become accustomed to. The Green Deal is an initiative to employ some of this new knowledge to change our properties without the need for the property owner to put up the cash for the change before the work is done.
When will the Green Deal be Available?
The Green Deal is being processed through Parliament at present and is expected to be adopted into law in October 2012. Until it is launched the existing incentive schemes for Carbon Emissions Reduction Target (CERT) and Warm Front will continue to be available. Once live, the Green Deal will replace CERT and Warm Front but not the Renewable Heat Incentive or the Feed in Tariffs paid for micro generation schemes like solar panels.
What is CERT?
The Carbon Emissions Reduction Target (CERT) requires all domestic energy suppliers with more than 250,000 customers to make savings in the amount of Carbon Dioxide (CO2) emitted by householders. Suppliers meet this target by promoting the uptake of low carbon energy solutions to household energy consumers, thereby assisting them to reduce the carbon footprint of their homes.
What is Warm Front?
The Warm Front scheme provides heating and insulation improvements to households on certain income-related benefits living in properties that are poorly insulated and/or do not have a working central heating system. You can get improvements worth up to £3,500 or £6,000 where oil central heating and other alternative technologies are recommended.
What is the Renewable Heat Initiative?
The Renewable Heat Incentive (RHI) was introduced by the Government as a means of offering homeowners and businesses financial support if they switch to some form of renewable heating technology. It has been designed to help cut the cost of energy bills and applies to heat installations of any size. The focus is on the 4 million households in Britain not heated by mains gas, who have to rely on higher carbon forms of heating. A fixed amount per year is paid to anyone who is using a renewable heating alternative, including heat pumps, wood fuelled boilers and solar water heating technologies.
What are Feed in Tariffs?
If you install an electricity-generating technology from a renewable or low-carbon source such as solar PV or wind turbine, the government's Feed-In Tariff scheme (FIT) lets you earn money from your energy supplier. You are paid for the electricity you generate, even if you use it yourself, and for any surplus electricity you export to the grid. And of course you also save money on your electricity bill, because you'll be using your own electricity.
Things to Know at the Start
Who is paying for the work?
You are, via a Green Deal loan from your energy supplier. It is a loan, tied to the property rather than to you, and it will include an interest charge, though this is expected to be very competitive. The loan is paid off over time using the savings you are making on your energy usage because of the Green Deal improvement made to your property. The rules of the scheme do not allow the loan payments in the first year to be more than the predicted savings; this is sometimes called the 'Golden rule'.
Can I have any work done under the Green Deal?
In principal yes, though the Golden Rule means the repayments must be less than the savings created by the change. Additionally the rules also require that a warranty must be given for the work done for at least the length of the repayment period. In effect this means more expensive projects such as the installation of solar panels may not be eligible. Your Green Deal provider will advise you what is possible before you have to make any decision.
Who are the Green Deal providers?
There are a number of organisations currently applying to be licensed as a Green Deal provider when these licenses are granted they will be publicised. We expect organisations like British Gas and the Kingfisher retail group who own B&Q DIY stores to apply, also possibly the large energy companies like EON or EDF.
Who regulates the Green Deal Providers?
Basically Government though they are doing this though a National Registration and Oversight Body who is about to be appointed. This body will hold the registers of accredited certification bodies, installers, providers and assessors and monitor Green Deal.
How will Green Deal prices be policed?
In home improvement many worry about the variance in prices quoted by contractors, with Green Deal we still expect the property owner will choose their preferred contractor from a selection of quotes. The Green Deal provider may in finding the companies and when a choice is made they will work with that detail to form the Green Deal Plan.
What is a Green Deal Plan?
This is an agreement between the property owner or occupier, in the case of a rental, and their energy company. It forms a contract to record what will be done and how the repayment of the Green Deal Loan will be structured in the future.
Is it compulsory for the home owner to initiate Green Deal activity?
Currently there are no situations where Green Deal activity is mandatory. Some groups are suggesting to Government that planning permissions for changes to a property such as adding a conservatory may be granted conditionally upon certain energy efficiency improvements also being completed. It has also been debated that council tax may vary dependent upon the energy rating of your property. While none of these are current it is likely Government will look for methods of introducing strong incentives to encourage us to improve our energy footprint.
If you are a landlord is their tax relief on the installation costs?
As the Green Deal takes the form of a loan and is paid over time by the occupier of the property it is unlikely there will be any tax saving opportunities. If the sum is part capital part Green Deal then the capital amount may be treated in line with the normal tax entitlements of the investor.
Will I make money with the Green Deal?
Yes; there are two financial benefits to the property owner, the capital needed to make the change is provided through the Green Deal and after the loan is paid off using the energy savings made the future savings are yours for as long as you live in the property.
What work is likely to be covered by the Green Deal?
Initially it is expected Green Deal will cover insulation projects in the main because they offer the best returns in reduced energy costs and have the lowest relative costs. Loft, cavity wall and external wall cladding to solid walls are popular choices.
Why is double glazing not in the most likely group?
Windows and their efficiency, while important, only cover a small proportion of our properties outer surface and have a relatively high project cost. Additionally the energy savings gained replacing single with double glazed or new double glazed for old are quite small. This means the payment plan and guarantees would need to be over a long time span and are likely to rule them out of Green Deal eligibility.
Can I have my boiler replaced?
Probably yes, as the efficiency of boiler design today is significantly improved over prior years. However the current whole system you have would need to be assessed as often the existing radiators and pipework may also need upgrading and this may make the project too expensive for Green Deal eligibility. Ask your Green Deal provider.
Will solar panels be allowed on the Green Deal?
Like double glazing the answer is yes; but the cost is likely to make them ineligible. Ask your Green Deal provider.
How will it Work?
How does the Green Deal work?
Step one is getting an energy performance certificate (EPC) for your property which tells you what changes could be made to reduce your carbon consumption. Not all the changes listed are eligible for Green Deal support you will be told on the report which are and for ease they are in order of energy saving value.  You are likely to be charged for this report.
Step two is where a Green Deal provider looks at your report and proposes a Green Deal Plan to you. The plan tells you what is eligible under the Green Deal and what can be done beyond that if you want to invest money of your own.  You may be offered the cost of your EPC back as an incentive to stay with the same supplier.
Step three will probably mean a number of companies visiting you to quote for the job and you choosing which you would prefer, then you and the Green Deal provider agree the plan, you both sign it off then they will organise for the work to be carried out.
What is an EPC?
An Energy Performance Certificate will compare the current energy efficiency of your home against the possible energy savings that could be made. The efficiency (in energy terms) of your home is graded from A (very energy efficient) to G (not energy efficient with high running costs).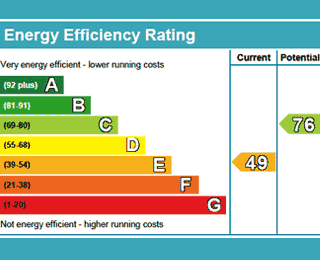 The EPC gives recommendations in detail on how your homes carbon dioxide emissions could be reduced as well as how the amount of energy used in your home could be reduced.
If you plan to sell your home you will automatically get an EPC from your selling agent. An EPC is required when you are selling a home, building a home or renting out an existing building.
An EPC is not required for building which are registered and used as places of worship, buildings deemed to be temporary (I.E. will be used for less than 2 years), buildings with a floor area of less than 50 square metres that do not provide accommodation for a single household, holiday lets which are rented for less than 120 days per year.
Where do I get an EPC?
You can find a Domestic Energy Assessor on the Landmark website https://www.epcregister.com/searchAssessor.html.
EPC assessors are required to be accredited via an accreditation scheme. These schemes insist that the assessor will
Have a validated complaints procedure to ensure the homeowner has a clear path to follow when a complaint should occur.
Is part of a register of assessors
Be adequately insured
Have undergone a criminal records check
Always stick to government standards, codes of conduct and agreed procedures
Have been trained, has qualified and is able to provide a certificate of competence.
How Long is an EPC (Energy Performance Certificate valid for?
Ten years
How much does an EPC cost?  (July 2012)
This fee is set by the market and not the Government. Some companies will provide an EPC for a fixed fee of around £50.00 but there may be some terms and conditions. An average rate, for an average home at today's date is approximately £80
Do I have to get an EPC?
Yes, it is a legal requirement. The penalty of avoiding the process is a fixed fee of £200 (for domestic properties). If you are not given an EPC you should contact the Trading Standards Department of your local council. You can use the website below to find your local office.
https://www.gov.uk/find-local-trading-standards-office
What if I am already entitled to support because of my personal circumstances?
For those with other entitlements such as a payment from their supplier called the Energy Companies Obligation (ECO) these can be included in your budget alongside the Green Deal. An ECO entitlement can be triggered by either your household income or the age of your property so ask your energy supplier. The Green Deal provider will include these values in your proposed plan and is empowered to access these funds for you if you wish to proceed.
Do I need to tell my Energy supplier I want a Green Deal?
No your Green Deal provider will deal with all of that for you. All you would expect to see is an additional item on your energy bill saying something like "Green Deal finance payment".
Can I choose who will do the work on my house?
Yes, your Green Deal provider will invite approved companies to tender or quote for your project then you will be able to choose who you would prefer. You also have a choice of Green Deal providers so it is worth comparing their processes before you start.
What if I don't like the Contractor that arrives?
The Green Deal provider is responsible for the work done and service given by the contractor. If there is a problem the first stage is to raise a complaint with your Green Deal provider. If you are unhappy with the response or the complaint persists you will be able to raise a complaint to the Green Deal ombudsman.
What Should I Expect Afterwards?
What is the procedure if a consumer believes a job has not been completed correctly?
The installing company will give a warranty for their work. If there is a problem they would be responsible to come back and make good. If they cannot or refuse the Green Deal provider is the second line of defence. In signing the Green Deal Plan with the property owner they also take responsibility for the work and its warranty.
What if my energy savings are lower than expected?
The Green Deal provider is responsible for calculating the likely energy saving and setting the loan repayment level accordingly. The assumptions used may have changed, such as having an extra person living in the house. If you feel they have got it wrong you are able to raise a complaint to the Green Deal ombudsman by calling the advice line. You should talk to your Green Deal provider first so that they have opportunity to solve the problem.
Could my electricity bill rise after I take on a Green Deal?
Yes because most of your savings are likely to be reduced heating costs so in most cases your gas bill will fall but your electricity bill, which includes the Green Deal payment, will rise. Also the gas savings will happen in the winter months when you would have previously used more energy. To see the real savings effect you need to look at both bills together over a 12 month period.
Buying and selling a property with a Green Deal attached
What if I want to sell my house?
The Green Deal plan is associated with your property, not you, so it stays and is passed on to the new owners.
What if I buy a house with a Green Deal attached?
If the energy usage in the property changes because the occupancy is now different the Green Deal provider will not be at fault. For example a retired couple buy a house from family with young children. The new owners are likely to have less washing, be less likely to use a dishwasher or tumble dryer and spend time in only a couple of the rooms rather than wanting the whole house heated.
Do I have to take on a Green Deal loan from the prior owners of the property?
At any time a Green Deal finance agreement can be settled or paid off. If you do not want the agreement it would be a matter to discuss with your solicitor so it was settled as part of the purchase terms.
What a Contractor Wants to Know as Well
How do Contractors get Green Deal installation work?
Any company involved in installing under the Green Deal needs to be authorised and registered as competent in that particular trade. Only authorised installers will be able to identify themselves as 'Green Deal Installers' and use the Green Deal Quality Mark.
How to become an authorised Green Deal Installer?
You must be certified by a Green Deal accredited certification body as meeting the standard PAS 2030 for the measures you wish to install. Also you must abide by the conditions in the Green Deal Code of Practice. After this your certification body will register you for the Green Deal with the Registration and Oversight Body and you will be licensed to use the Green Deal Quality Mark.
What is PAS 2030?
PAS 2030 (Publicly Available Specification PAS 2030:2012) is a specification for the installation of energy efficiency measures (EEM) in existing buildings. You can look at the detail now on the BSI website. The PAS focusing on installation of the measures, the management of the process that guides installation and the quality of the service provided to the customer before, during and after the installation.
What does the standard PAS 2030 cover?
Condensing boilers, natural gas-fired and liquefied petroleum gas-fired (domestic and non-domestic)
Condensing boilers, oil-fired (domestic and non-domestic)
Heating controls
Under-floor heating
Flue-gas recovery devices
Gas-fired warm-air heating systems (domestic and non-domestic)
Electric storage heaters (domestic and non-domestic)
Cavity wall insulation
Loft insulation
Pitched roof insulation
Flat roof insulation
Internal wall insulation
External wall insulation
Hybrid wall insulation
Draught proofing
Floor insulation
Heating system insulation (pipes and cylinders
Energy efficient glazing and doors
Lighting fittings
Lighting controls (non-domestic)
Ground and air source heat pumps
Solar thermal
Solar PV
Biomass boilers
Micro-combined heat and power (CHP)
Micro- and small-scale wind turbine systems
What is the Green Deal Quality Mark?
This is the badge of identity for authorised Green Deal participants. Only authorised installers will be able to identify themselves as 'Green Deal Installers' and use the Green Deal Quality Mark.
Is there any Government support for training?
Training support may be available from product manufacturers and/or CITB Construction Skills who have £2.5m of Government funding for insulation installers, have a look at their site.
Already in Gas Safe or registered under the Micro generation Certification Scheme (MCS)?
Good news, if you are already Gas Safe approved or in MCS you will be exempted from meeting the standard (PAS 2030). Your current certification body will register you on the basis of your Gas safe or MCS approval if you wish to operate under the Green Deal.
When can I register to be a Green Deal Installer?
The Green Deal Register will open in early August 2012. At this point the Certification bodies will register then; in turn installers who have been certified can be registered.
Where can I find the Green Deal accredited certification bodies?
A list of certification bodies accepted so far for assessment under the Green Deal accreditation programme can be found on the UKAS website.
How does the Green Deal affect new build houses or self build houses?
Although there has been some call for Green Deal legislation to be applied to new and self-builds, there is nothing in place yet. Green deal was designed to provide measures or improvements to existing, energy inneficient houses whereas new properties should ideally be built with these efficiency measures in place.
Another issue to be considered is the fact that, with a new build house, the builder would want to be paid directly for any measures he was asked to provide under Green Deal legislation. The Green Deal payment plan however, is designed to be paid by the property owner via their services bill. This introduces any number of complications so no decisions have been made yet. Watch this space!