There is nothing nicer than being able to eat fresh peas straight from the pod as you wander around your garden. You need a lot of peas to make more than a few meals, but these easy-to-grow plants are still well worth the effort.
Varieties or Pea
There are loads of different varieties of peas, and like potatoes, they are split into first early, second early and maincrops. Feltham First is a classic first early variety. Kelvedon Wonder can be used either as first earlies or as a maincrop. Early Onward, a heavy-cropping variety is perfect for your second earlies. When it comes to maincrops, Balmoral and Dorian are both good varieties. First early varieties are ready to harvest in about 12 weeks, while second earlies take 14 weeks and maincrop take 15-16 weeks.
If you feel that shelling peas are too much effort for too little gain, why not grow sugar snap peas or mangetout? These sweet-tasting peas are eaten whole, pod and all, meaning you don't have to spend time shelling.
Preparation for Growing Peas
Peas like a nice, open, sunny position, and while they will grow in most soil types, they will do best in a rich, well-dug soil that has plenty of moisture-retaining organic matter. Some varieties of pea will grow as tall as 6ft if given the chance, and you'll want to allow space for quite a few plants. Peas require some support to grow up, and traditionally sturdy sticks (ones with plenty of side twigs) are used for this purpose, but they will be just as happy with modern pea netting.
Sowing Peas
First early peas can be sown in February, provided that they are covered with cloches to protect them from frost and snow. You will need to put the cloches out in January to start warming the soil up. All other types of pea can be sown from March onwards. If you have space, you can keep sowing a row every couple of weeks until June, so that you have a staggered harvest.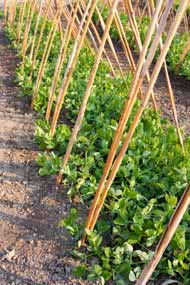 You can sow your peas either indoors or straight outdoors. Whichever you choose to do, they will benefit from soaking in a bowl of water overnight. Sowing indoors has the advantage that they will be safe from slugs, snails, birds and mice until they are large enough to fend for themselves.
To sow indoors, put one pea each in 3" pots full of compost. Just push the pea down about an inch and smooth the compost on top. Plant out outdoors when the young plants are about 6" high. If the weather is still cool, harden them off in a cold frame before planting out.
To sow directly outdoors, firstly dig a trench about 2" deep. Water the trench well, then place your peas 2"-4" apart. Shorter varieties can be sown in rows close together, but large maincrop peas will need to be put in a single row with plenty of space for supports. Cover the seeds over and make sure you keep them watered in dry weather.
Once the seeds germinate and you see green tips start to appear, you can place sticks or stakes in the ground to support each plant. If you are using pea netting, set it up alongside your row, supported by stakes at each end of the row.
Growing Tips for Peas
A good trick when sowing indoors is to sow your peas in an old cut-off of guttering. When they are ready to be planted out, you can simply slide the row out of the guttering straight into a ready-dug trench, without disturbing the roots.
Peas must be picked regularly to ensure they continue flowering and producing pods. The pods at the bottom of the plant will be ready first.
If you pick the peas while they are still slightly immature they have a much sweeter taste. Peas are normally ready to pick three weeks after flowering.
At the end of the season, leave a few pods on the plant to dry out – you can plant these again next year. You should only need to buy pea seeds once, as long as you remember to save a few each year.
Once the plants have stopped producing peas, cut off the plants above ground and leave the roots in the ground to compost down. They will release nitrogen back into the ground, ready for next years crop.