If there is one thing that that is both exhilarating and daunting is coming to the decision to re-decorate your home – or starting with a blank slate when moving in somewhere new.
Interior design is not an exact science. We believe that there are no hard and fast rules when it comes to design and decorating one's home. Personal preference is always a major factor, as well as influences from our culture, society and the surrounding environment which all have a massive impact.
However, certain elements or trends that have been proven to not only be popular but to actually work can be observed and applied to our own homes.
Here on DIY Doctor, we have plenty of projects on how to spruce up your home with various decorating techniques, but we thought we'd highlight a few key tips, tricks and ideas to get the ball rolling and give you a handy guide that's more of an overview, rather than an in-depth step-by-step process of a particular technique.
Below, we'll take a look at a variety of design tips and tricks that can be applied in practically any home, big or small and as always, these are merely suggestions and do not have to be followed to a T, sometimes you'll find that less is more.
Inspiration for Interior Design
If you are embarking on a complete home makeover, whether that's improving on your current homes decor or starting from scratch, the first point of call, if you don't have your own interior designer to hand is the internet.
Searching through various design websites, images etc. is a great way to start. Create a series of folders or locations on your computer/device relative to the idea or particular design point you are looking at e.g. walls, ceilings, doors, bathroom, kitchen, stairs etc
This way you can keep all of your ideas and pointers organised so that you can come back to them later and refine your ideas further.
In recent years the emergence of Pinterest has become a gold mine for design inspiration. A few hours spent trawling through the many Pinterest boards dedicated to all aspects of design is certainly time well spent as you can gain a huge amount of inspiration from the clever ideas of others.
One of the main goals of design is to come up with something striking and original and if you are thinking that taking others ideas for your own is cheating, it's not.
One of the great things about looking at others ideas is that it's a staring point that you can then put your own individual twist on which in essence then becomes original and unique to you.
Trying to produce an amazing design for any object or space from scratch is almost impossible, unless you are a professional designer that is. In almost all situations, how you envisage something in your head is never how it appears in real life and when this happens you are never fully satisfied with the results, so never be afraid to use and adapt others ideas.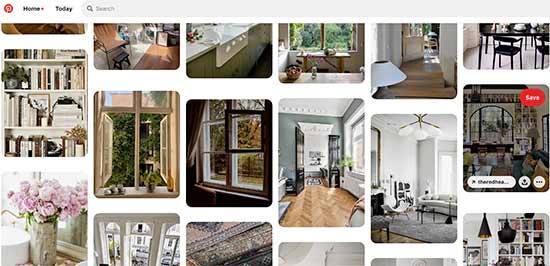 Interior Design Points to Think About
As you are researching and finding ideas it's always good to have a set of guidelines to refer to so as you are looking think about the following items:
Space
Lines and forms
Light (natural, ambient/mood, task, focus/accent)
Colour
Pattens
Texture
Space
Arguably this is one of the most important aspects to think about when it comes to interior design as it can have such a drastic impact on the overall outcome. For example you may choose the perfect colour scheme and the perfect furniture to suit that scheme, but if it's all crammed into a tight space it will look cluttered and disorganised.
When it comes to designing for a given space there are a few points to consider:
What type of room is it and what will it be used for? E.g. is it a bathroom, bedroom, living room etc.
What existing features does the room have? E.g. alcove walls, a fireplace, built in cupboards, toilet, sink etc.
How many people will be using the space at a given time?
How much natural light is there and what light sources are there? E.g. windows, skylights, existing ceiling lights, wall lights etc.
What furniture will you need to include in the space?
In respect to the above it's very important to consider what type of room space you are dealing with, how many people will be using the space at any one time, the type of room you are working with and what existing features are already there.
For example if you are dealing with a small kitchen with limited natural light then featuring dark units, floor coverings and other fixtures probably isn't the way to go as it will feel tight and cramped, especially when several people are in there at the same time.
On the flip side to this if you are working with a very large space with loads of natural light and you only have a few items in there then it may end up looking rather sparse and empty.
When it comes to furniture, think about what items are a are definitely needed e.g. in a bedroom a bed and some sort of clothes storage. You may want a nice big dressing table or similar but if the space isn't there to have it then it may not be possible.
Lighting has a huge affect on the spatial appearance of a room and can easily make or break an interior design project but we will mention more on this below.
Lines and Forms
The lines and forms of a space can also play a significant part in an interior design project.
The horizontal, vertical and flowing lines are fantastic for creating focus and helping to guide focus on to particular features and forms within a room space.
Lines can also be used to create effect for creating contrast within a room. For example when done correctly a 2-tone colour scheme can work very well in the right space and what better than a hard definitive line between the two different colour schemes to define the contrast.
Similarly in some older properties you may have a mixture of brick or block walls and rough-cut stone or even a stone chimney breast. Making these lines stand out can create a fantastic visual focal point.
Likewise the form or shape of a room or the objects in it can be used to great effect when designing a space.
Older more rustic properties tend to have uneven and undulating lines and shapes whereas newer more modern properties tend to have straight-cut sharp lines. In either case it's best to work with what you have and accentuate them, don't try and work against them.
Light (natural, ambient/mood and focus)
As we have mentioned above lighting is hugely important in interior design. A well-lit room with loads of natural light can make an area feel spacious and airy whereas areas with little natural light can feel more enclosed and comfy.
Artificial lighting is also particularly useful when it comes to creating ambience and "setting a mood". The use of down lighters, wall lights and uplighters can be used to fantastic effect to create a comfy and relaxed atmosphere or one with height and depth and also to create focus on a particular object or area.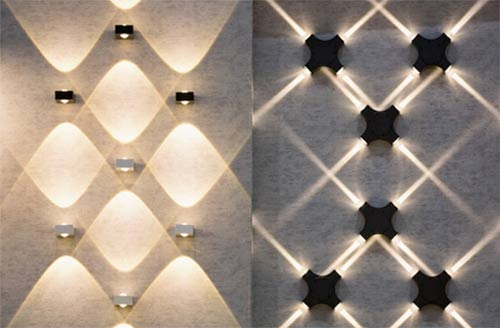 When dealing with spaces with little natural light, if the project budget allows it's a great idea to look at areas where more natural light can be introduced and one great solution is to add more windows.
In some cases this can mean standard double glazed windows in an existing wall but this can be very expensive. Another solution and in some ways a better one where the ceiling runs up to roof level is to install some Velux windows as this helps to open out the roof space.
Where installing a Velux window isn't possible e.g. where there is a ceiling it's still possible to add natural light into a room space through installing a sun tunnel. Although not quite as effective as a velux they still work rather well and inject a decent amount of light into a space.
Colour
Colour in interior design is certainly as important as both space and lighting and in some ways more important.
The psychology of colour and its use is an entire subject in its own right but in essence it revolves around our association with colours to certain moods.
For example bight vibrant colours can make you feel energetic and "alive", spaces with plenty of natural light can help you to feel relaxed and low and warm lighting can make you feel comfy and warm.
With this in mind here follows a list of common colours and what they can mean:
Blue: The colour blue is strongly associated with trust, loyalty, confidence and peace and is generally used in rooms and spaces where relaxation is the main goal
Yellow: One of the most positive of colours, yellow immediately makes anyone think of the sun and its associated warmth and glow. Yellow can also be used to great effect in dark and shaded areas to inject some light and vibrance
Red: The colour red is very often associated with energy and drive and in turn is well suited to working and creative spaces
Purple: The colour purple can have several meanings including creativity, positivity and luxury and also has a very positive vibe
Green: Green is a very versatile colour and works well with many others. It has strong associations to nature and the natural world and also implies both growth and balance
Black, White and Grey (neutral colours): Almost certainly the most flexible of all colours due to their neutrality, black, white and grey can be used in combination with all colours in varying quantities depending on the desired look and feel
The combination and types of colours you choose to use is also highly important. When mixing or combining colours it's essential that you choose colours than complement and work with each other. Using large amounts of both red and yellow in the same space may seem like a great plan but in reality it can be rather wearing and unsettling.
One of the most important tools you can posess when thinking about colours and planning interior design is a colour wheel. This tool essentially allows you to pick colours that work well togther and compliment each other.
We have a full blown project covering all the important aspects of using and choosing colours in design projects so for more in-depth information see our colour theory project here.
One other golden rule is whatever you do, don't pick your colour in the store. Take the colour sheet home and look at the colour options in your specific room, so you can choose based on the lighting in your home at different hours of the day.
Patterns
Patterns can be used to great effect within interior design whether subtly across a large area or more intense in a small defined area.
When you first think about patterns in design you might immediately think about patterned wallpaper or some kind of similar patterned decals, but in actuality everything within a room, the walls, furniture, floor boards etc. can form patterns.
For example in a kitchen or bathroom you will most likely have tiles somewhere, these create a pattern, in most cases a square pattern, but it's a pattern nonetheless.
Tiled surfaces can be used to great effect if you have some imagination – you can use a mixture of different sized tiles, lay them at diagonals, feature circles, use different coloured grouts to accentuate the grout lines and make a feature the only limitation is your imagination!
Likewise floors can also be used to create patterns, whether that's through the use of a patterned floor covering or simply the natural pattern created by the layout of floor boards or even a parquet floor, this again can be used to great effect.
A well used and positioned patterned surface within a room can create a real talking point and give real focus and emphasis to an object and also to the room itself.
Texture
Like patterns, texture is also a very important if quite an underused technique in interior design.
When thinking about patterns you may instantly think about patterned wallpaper such as flock or velvet wallpaper. Although popular and considered luxurious in years past they are considered somewhat "naff" today by many, but having said that, if used in the correct way they can really bring a surface to life.
However it's not only wallpaper that can create patterns there are many other objects and materials that can be used to good effect.
Along side the above the main goal for most when designing an interior is to end up with something clean, well designed and in fitting with the homeowners requirements. Adding uneven, bumpy and sometimes course surfaces and objects into this mix can in some cases create a lot of working around and fine tuning so many see texture as an unnecessary complication.
In actuality every single object and surface in a room space has its own texture so if you think about it this way then suddenly the use of texture in an interior design project becomes more relevant.
Texture can be used in a variety of different ways. If your preference is to use a single colour then adding some texture in with that can help to break things up and add some depth. On the other side to this, using many different textures can help create a warm and cozy atmosphere.
Light and texture also work very well together. As mentioned above, using a variety of textures can help to create the feeling of warmth and comfort as the textures themselves absorb ambient light but on the other side, smooth reflective surfaces reflect light creating a cooler more modern feel.
In order to use the various textures found within a room and the objects with in it it's important not to fight against them, accept the fact they exist and use their features to really bring out the best in both the room and your design plans.
Basic Pointers and Tips for Interior Design
Now that we have looked at how to get your initial inspiration for an interior design project and also what areas you need to focus on in order to ensure a successful project and outcome you will be happy with we will now take a look at some quick tips and pointers that can be used alongside to really make your project come alive.
Bring in Life
Using living and natural things in your interior design projects is a great idea. Plants, flowers, small trees and other living, breathing things can inject a sense of life into a room space and make it much more appealing.
As we also discussed above, the colour green is very important and can promote a sense of well being and balance.
Plants and flowers can also have a very positive impact on your health. Living things have been strongly linked to reducing anxiety, blood pressure, stress and other similar negative things we are exposed to in todays hectic modern life.
Bringing in objects such as wicker and willow (e.g. baskets etc) can also help to make a space feel more earthy and homely.
Ancient Cultures and Architecture
Drawing influence from cultures long ago is also a great source of inspiration and if used correctly within an interior design project and create a real focus and talking point.
The influences of many cultures including Greek, Roman, Egyptian, Aztek, Myan etc. are present in many of todays modern interior and exterior design work.
Mosaic tiled walls and floors, fabric wall coverings, the use of pillars, pots and vases and other historically-inspired furnishings can all be incorporated into interior design projects to great effect.
It's not only the influences from ancient cultures that can be used, in the UK was have a great many historical design influences to draw from, Edwardian, Victorian, Tudor to name just a few so these are worth considering also.
The one major consideration when incorporating historical design into your own projects is that it has to be done in the right way. Over doing it can in some cases make your whole project look less than desirable.
Fail-Safe Paint Rules
As we have mentioned above, the use of colour in design is hugely important and can easily make or break a project. Get it right and you're laughing, but get it wrong and it can totally destroy our project.
One time-tested rule when choosing colours for your project is 50/150 rule. Once you have chosen your desired colour mix one batch of paint 50% lighter than your base colour and another 150% darker.
This will give you a selection of contrasting colours to start from and from this you can then build a colour pallet for your project.
Windows, Curtains, Blinds and Accessories
Accessories including door and window furnishings (door handles, blinds, curtains etc), shelves, ornaments, picture frames, lighting and the similar will all have a dramatic affect on your overall interior design plan.
Choosing the correct styles, colours sizes of any item can have a huge affect on the overall outcome. As with the above, get it right and it can really complement your plan but get it wrong and it can ruin it.
The general rule of thumb is: don't over do it with a particular feature and only use objects that work well with your colour scheme and room features.
Take your Time
One other great point to take note of is when carryout interior design work, take your time! You don't have to get it all done in one go.
By taking your time and doing a little work here and there this allows you to live with it for a bit and get a feel of it. In time you can review it and see if it fits. One thing leads to the next and the initial design and idea you had may over time wear thin and you might find new influences and ideas.
Getting interior design right is not easy. For professional interior designers its easy to see why they charge so much money for their skills, but given time, patience and the right influences it's certainly something that anyone can achieve so take your time and fully research your ideas and get designing!