To offer you the best possible advice when it comes to self-building and self-build homes, we have teamed up with one of the industries leading self-build experts Andy Patmore, author of the book Build Your Own House to bring you top tips, help and advice on every aspect of your build to ensure that get the house of your dreams.
The right approach everyone's dream of building their own self-build home and creating their own desired lifestyle can now become a reality. The essential ingredients are: Motivation, Knowledge and Commitment – Andy Patmore.
Why Self-Build?
There are numerous reasons why you may want to take on a self build project, the main ones are:
Lower costs: For a like for like house, developers are generally looking to make large profits on every house they build, they expect to make somewhere in the region of 20 to 30 percent profit. As a self-builder this profit margin could be yours, you could potentially make a saving of £75,000 on a house with a market value of £250,000; this indeed makes the whole concept of self-build very attractive
Lifestyle choices: As a self-builder you are able to tailor your new property to suit your own desires, you can do this right from the outset. Location is normally paramount to your lifestyle as we all have different needs, for example schools, bus routes, rural or city living. Once you have secured your plot in a desired location you can go on to consider how many bedrooms and reception rooms you may require, do you need parking for multiple vehicles? South facing gardens are usually the most desirable. However, if this is not an option you can consider how to get the most out of your garden with some creative landscaping
Flexibility: The beauty of self-building is that at every stage of your project you have complete control to make all those personal choices as your project evolves. This could be anything from changing the style of your kitchen to adding a conservatory. With this in mind, you should always be aware of your budget, remember if making any changes make sure you have not gone past the stage of your project where you could incur additional costs
Satisfaction: Once your project is completed you can look back with a real sense of achievement, knowing that you have made all your lifestyle choices relating to your new property – Time for a well-deserved pat on the back!
Can I Self-Build and do I Need to be Qualified?
With the right motivation, commitment and armed with right knowledge you can certainly become a self-builder. You don't require any qualifications to carry out the task, however as your project evolves you will be employing people who will be qualified in their own fields, for example Architects, Solicitors, Structural Engineers and a host of specialist trades.
How much will it Cost?
Your first consideration needs to be "how much can I afford" as there is little point on embarking on a project that you may never be able to complete.
You need to break your costs into four categories:
The cost of buying your land
The cost of all the associated fees (Solicitors, Planning, Architects, Warranties/Insurance Structural Engineers etc.)
The cost of the construction phase including any demolition, services incoming and outgoing plus any site preparation
The cost of your finance throughout your project including set up fees and accrued interest, be aware that most lenders also charge exit fees
To accurately work out your budget for the construction phase you will need to know what specification you are building to, it is always advisable to build in a contingency fund for your budget, 10% would be the norm.
Where Can I Buy Land for Self-Build Home?
Buying land in the right location at the right price can be challenging, though there are many ways of finding that right plot.
Dedicated website such as Plot Search, Rightmove or Zoopla are a good starting point. Local newspapers and estate agents are also another good source.
Go on the local planning authority website where you can view all current planning applications; you will find a large percentage of people that achieve planning are happy to sell their site on to prospective developers.
Contacting local Architect practices can be another source as Architects often handle planning applications; independent town planning consults also submit planning applications.
You may wish to buy a site with a structure already on and go down the demolition and re-build route. If this is your intention make sure you have secured planning permission on the site before anything gets demolished as the local planning department doesn't have to grant planning just because a structure once stood on the site.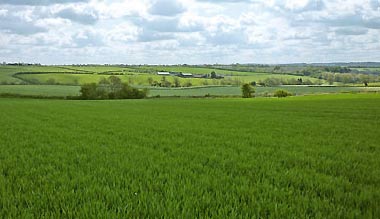 How do I Finance my Self-Build?
If you are not blessed with ready cash or funds to embark on your self-build project you will probably need to borrow from a lender, generally a bank or building society.
There are many financial products available on the market to aid the self-builder with self-build mortgages being the most popular. To obtain a self-build mortgage you are vetted in the same way as securing a normal repayment mortgage.
Once you have your self-build mortgage arranged you will get the funds released in stage payments as you progress through your build, up to completion of your project, at which point, your mortgage would reverted to a straight forward repayment mortgage. Most lenders that deal with self-build mortgages will do this as part of a package.
Before any self-build mortgage is secured you will require full planning permission, building control approval and you will have to have a 10-year structural warranty in place.
How Much Input Should I put into my Project?
This would be entirely up to the individual(s) involved, but it would be wise to assess your own capabilities.
Your main options would be as follows:
Project manage the whole development yourself: If this is the route you are intending, I would suggest you have good knowledge and understanding of the construction industry and all the practices involved
Use an architects practise to project manage your build: You will find that architects are mainly office based and will only visit site on a daily or weekly basis, depending on what agreement you have made
You can employ a project manager: He would be directly employed by you and would be acting on your behalf. He/she would almost certainly be site based and would be an industry professional
Engage a builder: This would be a less flexible option and should always be contractual. The builder would produce a quote based on your specification and any changes to the specification would be charged as an extra. Builders are typically clever at making good profits out of customer extras
Always remember that whatever route you may decide to take, you are and should be ultimately in control of your own project. Don't get bullied in to accepting aspects of your new home that you aren't entirely happy with.
It is also worth considering how your time can be best spent, as sometimes staying in your usual job can make far more sense.
When can I Start on the Construction Phase?
Before you can embark on the actual construction phase, all of the following need to be in place:
A full and clear way of financing the project from conception to completion
Full Planning permission
Building regulation drawings, with building regulation approval
All structural elements designed in full for example foundations and load bearing walls
10 year structural warranty
Budget supported with a complete specification
Your chosen method of who is going manage the project
Your labour force in place
An appointed building control inspector. You no longer have to use local authority building control there are many independent inspectors who will be happy to quote for your job
How Sustainable does my new Home Have to be?
Sustainable construction is very much a hot topic today, as we strive to construct our homes with zero carbon emissions.
Sustainable construction now forms part of the building regulations and there are many concepts and technologies available on the market to help us achieve our required targets.
It is defiantly worth embracing sustainability into your new home, apart from being more environmentally friendly; it also has the added advantage of lowering the cost of your energy bills.
Listed below are ways of making your new home sustainable and more environmentally friendly:
Introduction of more insulation, this includes all elements of the structure floors, walls, windows and roofs
LED Lighting
Ground and Air source heat pumps
Rainwater harvesting
Double and now triple glazing
Solar thermal
PV photo voltaic panels
These are only a few, but we are constantly finding more and more technologies are coming on the market for us to consider using in our homes.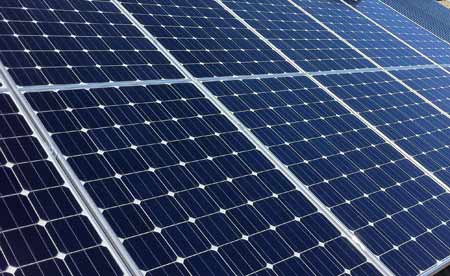 How do I go About the Construction Phase?
The image below covers the steps that should be followed to enable you to successfully complete your self-build project.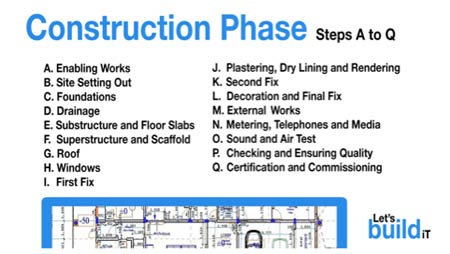 Quality Control
One of the advantages of self-building is that you can monitor the quality of your build every step of the way. Don't be afraid of upsetting tradesman, this is ultimately going to be your home you want to ensure its right! Remember, you are paying for a good job and that's what you should demand.
The more quality inspections you make the better, it keeps the tradesman on their toes and they will perform accordingly. You should never accept substandard workmanship!
If you are employing a project manager you would expect him/her to carry out quality checks as part of their remit.
When Can I Move in?
There is a difference between moving in and having a completion certificate. There is nothing to stop you moving in to your new home at any point that you may see fit, however you will not be issued a completion certificate until the final building control inspection has been satisfied.
The final inspection is not just inspecting the finished property but also ensuring that all the relevant certification has been correctly filled in and in place, this may include the following certifications:
All building control inspections carried out
Planning in place and any conditions discharged
Air test certificate showing compliance
Electrical test certificate in place
Gas safe certificate in place
SAP calculations and EPC
How do I reclaim my VAT?
All new houses are zero-rated! This entitles you as a self-builder to claim back the VAT on the labour and materials that were used in the construction of your new property.
You do not have to be VAT registered to do this and all the information and forms required to claim back your VAT can be found on the HMRC website, in the dedicated section for self-builders.
You will find all the information on what you can and can't claim for but as a rough guide anything that is fixed by bonding, screwing or bolting to your house would be exempt from VAT, for example fitted kitchens or tiling.
Anything that is "loose laid" e.g. carpets and curtains are not exempt from VAT.
VAT on a new build property can run into many thousands of pounds so make sure you claim it back!
Important note when reclaiming VAT: You are entitled to make only one claim and you must have a completion certificate in place and the claim has to be made within 3 months of obtaining your completion certificate.
This is only a brief introduction to self-building and by following each step in the book
"Build Your Own House" (mentioned at the top of the page), you will have all the information and insider knowledge to complete your own self-build project with confidence and the potential for making huge savings.