In years gone by, kitchen storage solutions and general storage space in the home was not such a big consideration in the construction of homes, therefore many UK homes built prior to the 90's have very little in the way of built-in storage.
Traditionally in the kitchen you would have had a larder or pantry to store your food, a sink area for washing up/food preparation and then a few kitchen cupboards for your pans and cooking implements.
Features such as these were all well and good back in the day, but today a typical kitchen features so much more stuff such as cookers, fridges or fridge freezers, washing machines, dishwashers, kitchen floor units, wall units and umpteen other appliances and cooking aids.
Where a nice pantry was ideal and provided more than enough space before the all of these white goods entered our lives, if you have ever lived in a house that has one you will probably realise that they now just take up valuable space.
In terms of todays offerings, despite the fact that todays kitchens are designed with more storage in mind, mass produced units and cupboards never cover the storage needs of all, they really just cover the storage of basic, everyday items.
So, unless you have a substantial budget to pay for a bespoke kitchen to be build specifically to cover all of your needs and requirements, you just have to make the best of what you have.
With the above in mind, fear not, there are many clever things you can do to adapt otherwise less than ideal storage space such as corner cupboards to really make the best of the available space they offer.
In this DIY guide we take a look at some of the ideas that can be employed in a standard kitchen area to make the best of any available space, plus what different kitchen designs and layouts there are.
Designing a Kitchen With Space and Storage Needs in Mind
In order to cover all the bases, we will start from scratch. By this we mean the scenario that you are renovating a kitchen and have a blank canvas to start from in terms of how your kitchen is going to be designed. This is obviously the best case scenario.
Ultimately, the layout you opt for will be pretty much dictated to you by the size and shape of the actual kitchen space you are working with.
In respect to this, most kitchen spaces will be the same or similar to one of the following design types:
The Galley Kitchen
As you may have guessed from the name, this type of kitchen roughly resembles the type found on a ship. Normally, a kitchen is referred to as a galley when it is quite small or tight on space.
This particular design can either be a single row against one wall or if space allows, two rows parallel to each other.
Again as you may have guessed, this design type is a great solution for small spaces as you can really make the best use of the space available.
Although great for small spaces, this isn't all this particular design can be used for. It also translates over to larger spaces very well, where an island can also be incorporated between the two rows of units.
A few points to be aware of though – make sure that the design you go for allows enough space for you to open any cupboard doors without them clattering into eachother.
Also, if you can, avoid putting too much stuff on the walls as in a tight space, tall cabinets or lots of wall units can make the space seem cramped and give you the sense that the room is creeping in on you making it feel claustrophobic.
The U-Shaped Kitchen
The U-shape layout is most commonly found in more modern properties e.g. mid 80's to present. In most kitchens featuring this arrangement, worktops and units flow around three walls to form a U-shape, hence the name.
This type of layout lends itself to a variety of different potential layouts in terms of where appliances and storage can be placed and is arguably the most efficient space to work in due to pretty much everything being close to hand.
It also provides a huge amount of work surface that can be utilized and in smaller layouts, can often make the space feel a fair bit bigger than it actually is.
In large kitchens, this layout also lends itself very well to featuring an island or possible even a large table.
One issue that has always plagued any layout with right angles is the corner cupboard. Fortunately, due to the scale and number of people that face this issue, many clever companies and individuals have invented solutions to make the best of these awkward spaces e.g. the carousel.
The L-Shaped Kitchen
This layout sits somewhere between the galley and the U-shape. The extra bank of work area makes it a better layout then the galley style, but not quite on the same level as the U-shape
As with the galley layout, how effective this particular layout will be depends on the space that you have to play with. If you can get some lengthy worktops in there, e.g. 2.5 – 3 metres in length then this will give plenty of space for at least one person to work in or even two.
In all honesty, any less space and you will struggle to fit two bodies in there and will in all likelihood end up getting in each others way.
As with the galley, you will also end up with an empty wall that you may find hard to utilise. Again, there are many clever innovations out there that can help you make the best of these situations including wall mounted shelving and cupboards, free standing shelves, racking etc.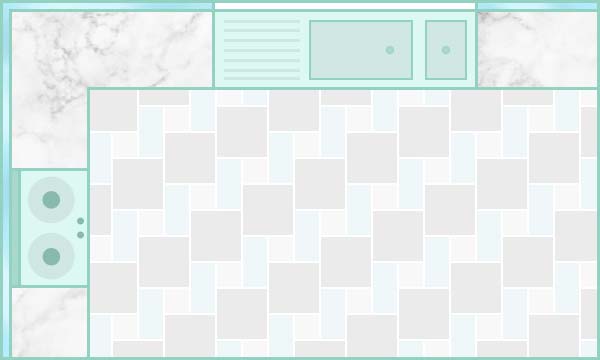 Kitchen With an Island
We have briefly touched on this above. Essentially, the island is a standalone unit that sits independently of the rest of the units and workspaces in the kitchen. This idea itself has really only emerged in recent times, but if the space allows, they can be incredibly useful.
The great thing about them is, firstly, they make great use of otherwise dead space and secondly, they can be totally multifunction as you can feature almost any item or appliance you want.
For example, you could have just a work surface, or you could have a sink, cooker and hob, fridge, dishwasher the list goes on.
They are also great in the fact that you can access all sides so if large enough, you can have one person working per side.
Additionally, as 360° access is available, you can incorporate a huge amount of varied storage e.g. cupboards, shelves, plate racks etc.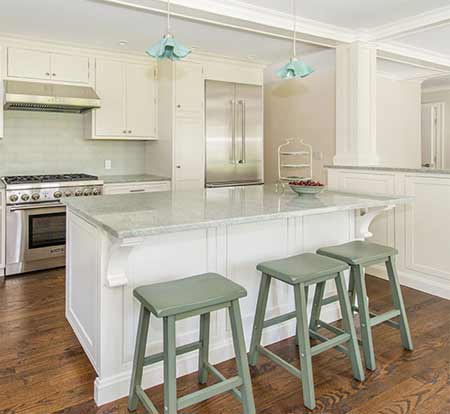 How to Plan a Kitchen for the Best Use of Storage
As we are working with the scenario that we are starting our kitchen from scratch, this is the time to plan how you are going to make the best of the space you have in terms of how you are going to use the and what storage requirements you have.
With this in mind, the type and volume of storage will very much depend on how you will be using it. For example if you like to cook a lot, you will likely need storage for plenty of ingredients, if you have a large family, you're going to need storage for lots of different foods, do you prefer a modern, minimal look e.g. would like concealed storage.
There are several ways that this can be done:
Online Planning Software: There are now quite a few sites online that can help you visually plan your kitchen layout to see how it would work before installing a single unit. Sites like our very own Price Doctor can help you with this, so can sites like Planning Wiz
Independent Specialist: You could also hire an interior design specialist to design your kitchen for you. They should be able to work to your specific requirements
In-House Specialist: Many of the large DIY sheds have their own in-house specialists that should be able to help you plan your layout. One downside is that they will probably only be able to work with the kitchen range that they stock
Kitchen Design Company: This applies to both large companies and also the smaller indepandent specialist kitchen joiners and builders. In fact, anyone who can build you a kitchen from scratch will want to design it to your specs
Any of the above solutions should help you to design a kitchen to fulfill all of your needs. One point to note is that during the consultation stages where you will be relaying your requirements to the person assisting you, make sure you are specific in your needs if you have them.
At the end of the day, if you don't ask, you won't get!
Of course, you could do it all yourself if you fancy a challenge. If you do fancy going down this route, then it's a good idea to use one of the software packages mentioned above to plan everything out first.
This will also allow you to change the layout around until you end up with something that covers all bases.
Where do I Start Placing Cabinets When Planning a Kitchen?
Ultimately it is at the initial design stage that you should consider what kitchen storage you will require as this could bear a heavy influence on the final design and layout of your kitchen.
Consider the different types and methods of kitchen storage available and decide on whether you are going to use them all in different applications and in different areas or whether you are going to stick to one or a few and use them in differing variations e.g. just kitchen units, units and cupboards etc.
In terms of cabinets and cupboards, layout should always begin in a corner of your room, so pick a corner to start from and work outwards from there.
When it comes to cabinets and cupboards, if you're having a bespoke kitchen built then within reason, you can have pretty much any size constructed (as long as a worktop will fit correctly if you're using one).
If you are going with an off the shelf type kitchen then you still have a good choice of styles such as standard units, half units, diagonal units, corner units etc.
Sizes and Dimensions of Cabinets
When it comes to sizes, most standard units are 600mm in width, but carcasses can come in 300, 400, 500, 800 and 1000mm widths.
As for heights, these can vary slightly, but in general, most work tops are set at around 910mm in height, so units tend to be around this, but as many come with adjustable legs (to raise, lower and level a unit) heights are mainly set using these.
One final point to note is that for diagonal and L-shaped corner cabinets you must allow 900mm on both elevations.
Conventional corner storage cabinets are fitted to the elevation of your choice and extend 570mm from the chosen wall. As standard size worktops are around 560mm – 600mm deep, the door size you choose will ensure that the cabinet fitted is relevant to the worktop depth.
Therefore a left-hand corner base unit with a 400mm door will extend 1000mm or beyond (Dependent on the corner fillet size required), from the corner to its outer gable. A 500mm door will extend 1100mm or beyond from the corner, a 600mm door will extend 1200mm or beyond from the corner and so on.
This rule will change if your worktops are deeper, so if using a 650mm worktop the measurement increases by at least 50mm and a 700mm worktop increases the measurement by at least 100mm.
If you are using design software it should automatically configure distances for corner cabinets yet the above details are relevant if you are one of the increasing number of people who have decided to install their own kitchen.
Wall mounted units and cupboards are also available in pretty much the same sizes, although they are normally around 300 – 400mm deep as opposed to the 560 – 600mm in depth.
You may have noted that we have not been fully precise in detailing the distance that a corner unit should be sited from the adjacent wall and there is good reason for this.
The variety of handle designs available can differ greatly in their distance from the front of the door and if installing a kitchen with deep handles, extra care and preparation must be afforded in the corners.
The result of fitting a standard corner fillet may mean that the corner cabinet drawers will not open fully due to the opposite cabinets handle infringing on an adjacent drawer. This can be compensated for by the construction of a wider corner fillet that allows full extension of the drawer, but this need to be considered in the planning stage.
Tips for Kitchen Design Planning
If you are employing a 3rd party or other service to plan your kitchen for you, then their time-served experience should have most of the following points already in the bag, but if you're doing tis yourself, there may be a few tings that you haven't though of yet.
With this in mind, here's a few tips and points to consider.
What do you actually need?: Ask yourself this question and write a list of answers. Spend some time in your existing kitchen just looking around and also think about this as you work in the space. Is the sink in the right place? Do you keep banging your knee on a certain cupboard door handle? etc
Is it light enough?: Are there areas of the space that you can't work in very well as it's too dark? Independent lights set under cupboards or over cookers can provide much needed lighting that can be turned on and off separately from the main lights
Look at other solutions for ideas: Take some time browsing online, around kitchen showrooms and in magazines for inspiration and ideas and make a note of any you see
Money, money, money!: Set a budget! This is an absolute must! Without any idea of how much you have to spend, you will never know what is actually realistic in terms of what you would like
Existing services: Make a note of where all the existing service are currently located e.g. where the sink is, where the radiator is etc. If you decide to move any of these then make sure that you can actually plumb in new water supplies or waste pipes
The working triangle: The working triangle is a concept that aims to minimise the effort and maximise the efficiency of moving between the 3 key areas of a kitchen; the cooker, the fridge and the sink. Each of these items is placed at a corner of an invisible triangle so that they are with in quick reach. This principle can be applied to pretty much all kitchen designs so well worth thinking about
Kids: If you have young children then they need to be kept safe in the kitchen. Ideally you will want to locate the fridge and any snack cupboards or plates and glasses away from the cooking and preparation areas so that when you are cooking and preparing the children can safely access the fridge or get a glass for a drink without stepping into a dangerous area
Traffic: As with the above, this also goes for general traffic in the kitchen. Ensure any walk ways are wide enough to cope with the volume of people that will be in the kitchen at any one time, without getting in each others way
Generally speaking, if you ensure that you have covered the points then you will pretty much end up with a good, efficient kitchen space that will accommodate all of your needs and storage requirements.
What if I'm not Planning a Kitchen From Scratch?
In the scenario above, we looked at the points to think about when fitting a kitchen from scratch, but what if you're not doing this. Is there anything you can do to improve the storage and usability of an existing kitchen?
Thankfully yes there is. Changing kitchens is an expensive job and financially out of reach of a lot of people, but there are plenty of clever innovative products and ideas out there to help you make the best of an existing kitchen space.
Existing Shelving, Drawers and Cupboards
The cupboards and drawers in your kitchen are pretty much the backbone of your kitchen as a whole. They are used to store all of your food, plates, crockery and pans, support your work surfaces and keep everything tidy and organized.
Getting these correct in terms of what you store where so everything is easily accessible organized is essential as if you are having to move boxes of cereal to get to any canned goods, this is both irritating and time consuming.
Therefore, if you can dedicate individual cupboards and storage areas to specific items e.g pans and lids in one drawer, canned goods and jars in one cupboard, bulky items such as boxes and crisp bags in another then the general flow of your kitchen will work much better.
Once you have each of your storage areas segmented for specific items you can then get a little more granular with your storage solutions.
For example, it's all well and good storing all of your pans and lids in one drawer or cupboard, but how do you keep this organised? Pan lids especially are a total nightmare to keep in order, but there are quite a few solutions to issues such as these, here follows a few great ideas:
Shelving: If you have any spare wall area then adding some shelves can really make great use of the space, enabling you to store a great many small items that can otherwise be difficult to store. Some great shelving and wall storage ideas can be found here

Corner shelving in kichen alcove – Image courtesy of idealhome.co.uk

Cupboards: Cupboards can be a little tricky to keep tidy and organised due to the range of different shapes and sizes of items that need to be stored. As we mentioned above, pans and lids can be particularly tricky to keep in order so things such as pull out carousels can be hugely useful. Also items such as stacking shelves, storage baskets, cabinet baskets, cupboard organizers, plate racks and food containers can really help to keep items stacked and tidy, yet accessible at the same time

Carousel for kitchen corner cupbaord – Image courtesy of B&Q

Sides of Units: Quite often you will have at least one side of a unit that's accessible and this unused space can certainly be put to good use through adding some hooks or storage bins that items can then be placed in or hung on

Side of unit storage – Image courtesy of IKEA

Pull out Larders and Pantries: As we have already mentioned above, the traditional built in pantry or larder can occupy a fair amount of space in a kitchen that can otherwise be used in more of a practical manner, but today there are quite a few innovative products that provide a similar solution, but in a more compact manner. Items such as the side out larder or pantry can be featured instead of traditional wall cupboards or positioned between standard units

Pull out larder unit

Inside Cupboard Doors: As with the sides of units, the reverse side of a cupboard or unit door is an great storage location. There are many different solutions on the market that can be easily fixed to the inside of cupboard doors to provide storage for a huge range of items

Storage units that can be fixed to the rear of cupbaord doors
Integrate Your Appliances
This is more of an aesthetic than any kind of solution to storage and efficiency but it can in a way help a great deal.
We all know that disorganization and chaos can make something appear to be disorganized even if it isn't, so if you have several kitchen floor units mixed in with a washing machine, cooker, fridge etc then the lack of continuity can appear untidy.
However, if you can integrate or hide all of your appliances behind cupboards or disguise them using the same doors as you have on your units, then the seamless effect can make your kitchen area appear uniform and organized.
Okay, yes you're right, it's not really a storage solution, but it can aid in the creation of an ordered and efficient environment, which is essentially what good storage is all about.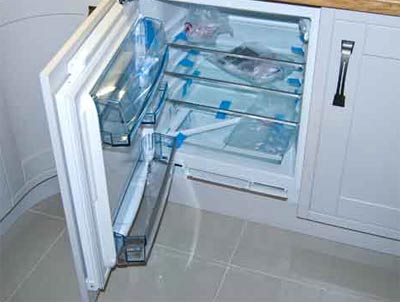 Get the Lighting Right
We did touch on this point very briefly above – a dimly lit kitchen can make the space feel very tight and claustrophobic and if the space itself feels tight then even the smallest amount of stuff stacked anywhere will make it feel very cluttered.
If possible, use lighting effectively to create a bright, well lit and airy space as this will really help in making the area feel bigger than it actually is.
In terms of how to achieve this, there are many differing solutions, but it will depend on the type of kitchen you have and the construction of your property in terms of which will work best.
Some solutions include:
Kitchen light bars
Ambient lighting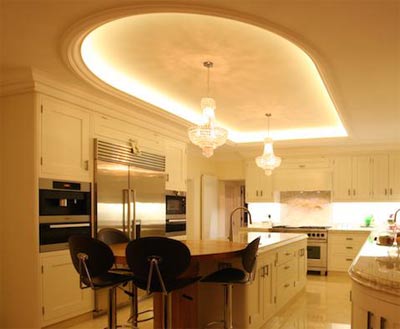 Reduce Clutter
One other method of making a kitchen, or indeed, any other room for that matter look and feel a lot less cluttered is to actually reduce the clutter in that room.
Instead of trying to find and create storage space to store stuff, ask yourself the question; Do you actually need all of this?
If you have a cupboard or drawer in your kitchen that's dedicated to putting stuff that has no where else to go, go through it and be a little ruthless. If you haven't used any of the items in there for 6 months, do you really need them?
Pegboard Organizers and old Louvre Doors
One final, very versatile storage option if you have a spare wall or area that they can be placed is a pegboard or old louvre door.
As I'm sure you can imagine, with a pegboard you have a huge amount of storage options and can store a vast range of different items as you can place pegs anywhere on the board to accommodate what you have to store.
Louvre doors are another great idea. Due to the way in which they are constructed using slats, you can purchase hooks that will hang over the slats that you can then hang items on.
The hooks can also easily slide along the slats so that objects can be moved in order to fit other items in.
Kitchen storage solutions can vary greatly and the ones that you can use in your home to the greatest effect may be set by the particular size and design of your kitchen, that said, if you are planning on installing a kitchen from scratch, you certainly need to think about all the items that will be stored to ensure that you are not left lacking when it's all fitted and finished.