Storage space is an issue in any home and adding shelves and cupboards is an option for most of us. Few people realise however that work can be done to existing cupboards and units, especially in the kitchen which will not only add to your storage space, but make it far easier to use.
Carousels, for example, make it so easy to get to the items which would normally be lost in the back of a cupboard. Similarly, corner units, hitherto a complete waste of space, can be turned into easily accessible storage spaces by a few easy additions.
Purpose made units are an even easier way of creating more space in the kitchen. A tiered rack in a wall cupboard displays tins and jars and a door mounted spice rack is another good idea.
For the ideal, maximum space kitchen, take a look at the 4 main types of kitchen layout and read the planning tips below for a complete breakdown of the possibilities of increasing the space in your kitchen.
Types of Kitchen Layout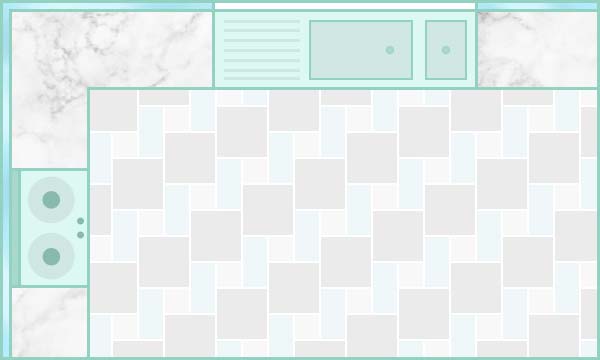 Where do I Start Placing Cabinets?
Ultimately it is at the design stage that you should consider what kitchen storage you will require as this could bear a heavy influence on the final design and layout of your kitchen.
Consider the different types and methods of kitchen storage available and decide on whether you are going to use them all in different applications and in different areas or whether you are going to stick to one or a few and use them in differing variations.
Where to Start
Design and storage cabinet layout should always begin in a corner of your room. You have a large choice of cabinet sizes and corner cabinets are available in three configurations L-shaped, diagonal and conventional cabinets with a hidden corner. For diagonal and L-shaped corner cabinets you must allow 900mm on both elevations.
Sizes and Dimensions of Cabinets
Conventional corner storage cabinets are fitted to the elevation of your choice and extend 570mm from the chosen wall. As standard size worktops are 600mm deep, the door size you choose will ensure that the cabinet fitted is relevant to the worktop depth.
Therefore a left-hand corner base unit with a 400mm door will extend 1000mm or beyond (Dependent on the corner fillet size required), from the corner to its outer gable. A 500mm door will extend 1100mm or beyond from the corner, a 600mm door will extend 1200mm or beyond from the corner and so on.
This rule will change if your worktops are deeper, so if using a 650mm worktop the measurement increases by at least 50mm and a 700mm worktop increases the measurement by at least 100mm.
If you are using design software it should automatically configure distances for corner cabinets yet the above details are relevant if you are one of the increasing number of people who have decided to install their own kitchen.
You may have noted that I have not been fully precise in detailing the distance that a corner unit should be sited from the adjacent wall and there is good reason for this.
The variety of handle designs available can differ greatly in their distance from the front of the door and if installing a kitchen with deep handles, extra care and preparation must be afforded in the corners.
The result of fitting a standard corner fillet may mean that the corner cabinet drawers will not open fully due to the opposite cabinets handle infringing on an adjacent drawer. This can be compensated for by the construction of a wider corner fillet that allows full extension of the drawer.
To avoid this problem it is advisable to allow sufficient planning space if your design may present you with a similar problem.