As of the 31st March 2022, the Renewable Heat Incentive has now ended and you can no longer apply.
However those of you that are lucky enough to have already applied and been accepted onto the scheme will continue to receive payments as you have in the past.
Renewable Heat Premium Payments and the Renewable Heat Incentive are government-backed schemes that pay you to install and run renewable heat technology in your house instead of a solid fuel, oil or electrically powered heating system.
The Renewable Heat Premium Payments scheme is currently operational and the Renewable Heat Incentive scheme is proposed to replace it in summer 2013.
This means that the conditions and structure of the RHI scheme as they appear here are what has been proposed. The government is currently holding a consultation on the proposals – we should see confirmation of the details of the scheme closer to the launch date.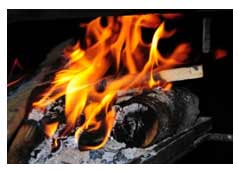 Renewable Heat Premium Payments
This scheme gives each household that installs a renewable heat technology in their home a one off payment towards the cost of installation. The payment is between £300-£1,250 depending on which technology you install. This payment is currently available to any home with an oil, solid fuel or electrical heating system, and will continue to be available until the Renewable Heat Incentive is introduced in summer 2013.
The Renewable Heat Incentive
This scheme gives households a regular payment for generating heat using the renewable technology they have installed, with payment per unit of heat generated. The government is currently holding a consultation on the scheme, and it is estimated that the scheme will be phased in during summer 2013. If your installation qualifies for the RHPP, you will also qualify for the RHI when it is introduced, with homes on the gas network also likely to be eligible to apply.
The government have committed to investing over £860m in the Renewable Heat schemes from now until 2015. The goal of this investment is to increase the total amount of heating produced from renewable sources from 1% to 12% by 2020, which will save about 60 million tonnes of CO2.
How the Renewable Heat Schemes Work
The following renewable heat technologies are eligible:
The household pays for and installs the new technology using an MCS accredited installer. You then need to register your new system with Ofgem
If your previous system was non-gas fuelled, you are eligible to receive a Renewable Heat Premium Payment voucher for between £300 – £1250, and after summer 2013, anyone could be eligible for payment through the Renewable Heat Incentive
When you register with Ofgem, the value of your Renewable Heat Incentive payment may be set according to several factors including how much heat you would usually generate and the type of renewable heat technology you have installed. The amount should continue to be adjusted with inflation. It's planned that the scheme then pays you every 3 months for 7 years
The payment amount is intended to be equal to or greater than the difference in installation cost between the the renewable heat technology and a conventional heating system, plus the running costs for the system and any interest charged on the installation cost by your loan provider. After the 7 year payment period this money should have been fully reimbursed to you. The technology lasts for 20 years, and so you should get a further 13 years of low energy bills absolutely free of charge with the installation
| | | |
| --- | --- | --- |
| Technology | RHPP grant amount | Proposed RHI tariff (p/KWh) |
| Solar thermal hot water | £300 | 17.3 |
| Air-to-water heat pump | £850 | 6.9-11.5 |
| Ground-source heat pump | £1250 | 12.5-17.3 |
| Water-source heat pump | £1250 | 12.5-17.3 |
| Biomass boiler | £950 | 5.2-8.7 |
Eligibility Requirements for the Renewable Heat Schemes
You must own your own home or get permission from your landlord and pay for the installation yourself
If the house is newly built you must continue to own the property, i.e. this scheme is not open to developers
Your home's loft should have insulation at a depth of 250 mm and cavity wall insulation must have been fitted where possible
You must not have a back-up non-renewable heating system installed, or, if you do, you need to consent to having a heat meter installed to monitor your heat usage
You should have all the necessary planning and environmental permissions for your installation
You must use an MCS accredited installer to install the technology
If you are applying for the Renewable Heat Incentive you must also have carried out every home improvement available to you through the Green Deal
How to Apply for the Scheme
You can apply for the Renewable Heat Payments scheme online by visiting the Energy Saving Trust's website. Applications for the Renewable Heat Incentive are scheduled to open in summer 2013.