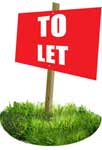 This guide is written by the experts at an established London Estate Agency with many years' experience in the rental market. Riley Marshall have come across many scenarios that could have been easily avoided with a bit of knowledge and this list is their insider knowledge.
To make sure you can quickly and effectively rent the right property for you, we give you some pointers on how to survive the rental market pitfalls.
Making it easy to rent a property
If you are renting rather than buying, you have less to consider in respect of long-term concerns like property prices and investment returns, but you still have to live in it.
It is expensive, stressful and time-consuming to move so it makes sense to get it right first time – here's how.
Top 10 things tenants should know, when renting a property
Get The Agents Working For You
Find out which agents work in the area you want to move to and ring all of them to discuss your list of requirements.
Many agents will publicise their properties using social media and internet tools. Ask them how they update you, and make sure they have all your contact details. Update them if necessary.
If agents don't keep you updated call them.
Get a name you can deal with in each agency.
Get Technology Working For You
If you are the first to find out about new property on the market you will have the pick of the bunch.
Join Estate Agents newsletters
Follow agents on twitter
Sign up for agents text updates
Sign up for agents email notifications
Sign up for notifications from property websites such as Rightmove and Zoopla
Join tenants facebook groups and agents facebook pages.
Do Your Research
If you do your homework before searching for property you will only need to look in the areas that suit you.
Can you get to work/university easily?
Does it have the local amenities you need ie. shopping, public transport, gym, schools?
Is it quiet/lively enough? For general information, check out sites like Locrating (www.locrating.com) or for crime figures (www.police.uk)
Is it ok during the day/at night? Don't forget that some areas have a very different feel at night so if you are considering an area, then visit it at various different times to be sure it suits you.
Does the property have all the things you need – ie. location, within budget, parking, garden, accept pets. If it doesn't then don't go to view it. It is a waste of your time and another, more suitable, property will come up soon.
Be A Decision Maker
If you are sharing, try and get all the decision makers to the viewing.
The rental property market moves extremely quickly, so it is a waste of your time to find a property that suits you, only for it to be rented by someone else while you wait for your partner or co-tenants to be available to view.
If it is impossible to view together then you can always check out the area together, ask for internal and external photographs and talk to friends already living in the area. That way you can have an agreement between you that, if it is as good as it looks, it is ok for the one at the viewing to make the decision.
If this is not acceptable to all parties then don't view anything unless you can all go together.
Be Prepared
Have a list of things that you want to find in the property and take it with you so you can remember
Some of the things that might be important to you include central heating, dishwasher, shower, ensuite, or double-glazing.
Take note of the condition of the property – what are the windows like, the garden, carpets, kitchen bathroom. Test the shower pressure.
If there are tenants still living there, ask them questions about costs of living, neighbours, what they like/don't like about the area, how long have they been there, why are they moving?
Take photographs to remind you of the viewing and to show other tenants that couldn't be there.
Make sure you have checked with the landlord or agent what they will need, in order to hold the property for you, if you like it. Have all your documents, and information to fill in forms, plus any holding deposit. Make sure co-tenants do too.
If you pay a holding deposit it may be non-refundable because the landlord may turn down other tenants on the basis that you want to move in. Check the terms, and only commit yourself to a property that you intent to move into.
Do online research on the property market so you know what other rental properties are being marketed for in the area.
Make an offer on the rent if you think it is too high, and in any case it is worth making an offer that is about 5-10% a month less than the asking price.
Make use of Zoopla's move planner to help you with tips on the moving process: moveplanner.zoopla.co.uk
Choose Fellow Tenants Wisely
It may seem obvious but if you are going to be living with someone and sharing the costs you need some ground-rules:
Make sure you agree on how the tenancy will work, how long will you rent and will you renew?
Agree on how much rent each of you can pay.
Agree beforehand on any requirements you have.
Who will pay for what – bills, food, phoneline etc
What happens if someone has to leave.
What happens if you disagree.
If things get really bad, have a plan for how to handle it.
Stay Safe
There are some simple checks you can do to make sure you are protected before and during your tenancy.
If you are meeting the landlord alone for your viewing, make sure you have his contact details and that someone knows where you are.
Ask to see proof that the landlord owns the property.
If you are sharing check whether the landlord has, or needs, a "house in multiple occupation" (HMO) licence for the property.
Make sure all gas appliances have been checked by a Gas Safe-registered engineer. You are entitled to a copy of the report, and gas appliances should be checked annually.
Get insurance for your own property and accidental damage cover for your landlord's belongings/fixtures.
Ask the landlord to fit at least one smoke alarm and a carbon monoxide detector, if he will not then do so yourself.
Replace bulbs to keep areas well lit – particularly important in security lights and external lights.
Budget Properly
Think about what you need to pay in cleared funds before the tenancy starts and what else you will have to pay for during your tenancy.
Deposit – this is usually between 1- 2 months' rent held against any damage to the property and not returned until after the end of the tenancy
Rent – first month's rent in cleared funds in advance. Then each month's rent in advance, and on time
Check with the landlord/agent when he expects these payments, and where to pay them
Shop around for the best energy suppliers. A Tenancy Agreement can stipulate that tenants ask a landlord before switching energy supplier, but they can't refuse permission to switch
You will need to pay for a TV licence, phone and broadband charges, and you may need to pay service charges. Check if you are not clear
Professional cleaning of carpets and curtains is often required when you leave
Check The Costs Carefully
Make sure that you take into account any costs that you will incur in renting the property and in living in it. Agents and professional landlords may make charges for the following.
Referencing, Credit check, and admin fees – it is quite reasonable to charge for the time and expense of processing references but be sure you are clear about how much they are.
Tenancy agreement charges.
Inventory fees – usually but not always paid for by the landlord.
Renewal fees – if you stay on.
Check out fees – when you leave. Not all agents will charge them but check.
Late payment fees – if your rent is paid late.
You should not pay a fee to register with an agency, to do viewings or for a list of properties – it's a criminal offence for agents to charge for those.
Read The Paperwork
No matter what, don't rush into an agreement if something doesn't feel right.
Check that the Tenancy Agreement reflects your understanding of the deal. For example, do you have to pay extra for utilities, water or parking, or were those costs advertised as included in the rent?
Read the small print – you should have time to read the documents and get advice if you feel you need it
What kind of Tenancy Agreement have you got; does it suit your situation? If you are sharing have you got joint tenancy or separate tenancies? If you have a joint tenancy you are jointly and severally liable. In other words all tenants are responsible for all financial responsibilities including the rent, bills and any damage to the property whether you have incurred the expense or not
Students (or tenants with financial issues) may have to provide a guarantor, who becomes responsible for overdue rent or damage caused by the tenant they are guaranteeing. However they should be aware that in a joint tenancy they are also responsible for the financial responsibilities of all the other tenants in the property, as stated above
Are you in agreement with what your Tenancy Agreement states is included in the rent?
Check whether you can leave before the end of the tenancy if you need to, and is there a penalty for leaving early?
How much notice do you have to give to end your tenancy?
Can you sublet in the future if you need to?
Think about your lifestyle and what you need in a rental. What are the rules on things like pets, guests and smoking?
If you have pets, are they allowed and what are the terms, you may have to pay extra deposit, and agree to have the house treated for fleas on exit.
Check the inventory, and any supporting photographs, before you sign it.
If there are items on the Tenancy Agreement that you don't like, try negotiating with the landlord/agent to have them removed, but if you cannot agree now then don't continue – it won't work if it starts out wrong for you.
We hope you have found this guide useful, if you have questions about being a tenant please go to our forum page, and post your questions there. Our forum is moderated for decency and safety so you will need to register, but it is quick, easy and free.