It is no secret that there is extreme pressure on housing in the UK. Demand for new homes is simply not keeping up with the supply; builders just cannot build them fast enough.
There are lots of schemes that various governments have employed to address this shortfall, however the Right to Build Scheme is the most interesting to the aspiring DIY-er come future self-builder! This is where self and custom builders can build their own homes rather than waiting for the builder to build it.
If you think that self building or custom building could be the way for you to get on the housing ladder, read of our Introduction to Self Build project.
What is the Right to Build Scheme?
The Right to Build Scheme is relatively new legislation that has been enacted to address the shortage of housing, particularly the ability for people to source land to build their own houses. The Self and Custom Build Housing Act in 2015 requires local authorities to help people interesting in building their own home find a suitable plot.
The Local Authority now has to record the demand from anyone looking to self or custom build.  From 1st April 2016 they have to keep a list of either individuals (family units) and groups (groups of individuals or family units) that are looking to build. From 31st October 2016 they then have to make enough serviced plots available by sufficient granting of planning permission to meet this demand, as recorded in the Right to Build register. Demand must be met on a rolling 3 year basis.
You can officially record you interest to build your own home under the Right to Build Scheme here: http://www.righttobuildportal.org/
Where does the Right to Build Scheme Operate?
England, only, at the moment.
Sufficient plots need to be provided with in 3 years, on a rolling basis. The scheme applies to all local authorities in England.
Lobbying is under way from the likes of the NaCSBA (National Custom and Self Build Association) to encourage the Welsh Government to join the scheme, and opportunities are being discussed to promote custom and self building in Scotland with the Scottish Government.
Northern Ireland has a much better record on self-building that the rest of the UK with 15% of all new homes, versus 8% across the UK as a whole.
How Does the Scheme Work?
It depends if you are applying as an individual or a group, but there are a few overarching requirements; the scheme is open for homes that are going to be your sole residence only. It can't be used to build buy-to-let or holiday home. You have to be a British Citizen or (currently) a national of the EEA or Switzerland. Proof of identification will need to be presented at the council offices when you apply.
Applying for the Right to Build as an Individual (family unit) you will need to indicate the area that you would like to build in
You will also need to indicate the type of plot that you are looking for and the type of home you are planning to build.
The plot that the council can make available might be dependent on the type of plots that are available; if you're applying in a built up area it much more likely that brown filed sites will become available and custom built apartments and flats will be more prevalent. It is worth considering this in your application.
If you are applying as part of a group, you will be given the opportunity to get involved with a Co-housing Project or a community self build project (see below for more details). In this case the council will try to find and give planning permission on a site for the group to build several houses or flats.
A Co-housing Project is where the group of self builders work together to build their community from the ground up, brick by brick – literally! They work together to control and decide on all aspects of the community and environment that their home is being built in, including communal spaces and facilities.
For more information about Co-housing and how to get involved, see the UK Co-housing Network here.
What is a Serviced Plot?
As of the 31st October 2016 the council are bound to provide a serviced plot. A serviced plot is as you can probably guess, a plot that has all the services supplied to it. This specifically means the following, if they are able to be provided:
Access from the highway
Water
Electricity
Gas – if available
Mains sewage – if available
High-speed broadband and telephone
You need a serviced plot if you are to commission a self or custom build home. Finding the plot tends to be the biggest obstacle. The Right to Build legislation aims to release more land to self and custom builders to help you overcome this huge hurdle.
A serviced plot differs from an un-serviced plot as it has the utilities to it, and typically will have outline planning and in many cases detailed planning permission granted.
It can cost a significant amount to get the services to the plot, in some case as much or more than the land itself. As a result, this can push up the price of the plot, but if the site is lager, with more plots, these costs can be shared and reduced to a degree. This will make them more expensive, but you do not have to take on the risks to trying to get planning and arranging the services.
Plots without planning permission will be the cheapest of all, but then you have to try to get planning. With Planning, the plot will become more expensive, as the risk of failing to get planning has been removed and the cost and effort of getting it has been done for you.
Finding a Serviced Plot
With plots in short supply, finding the perfect plot is a significant challenge also. Fulfilling the dreams of an idyllic home in rolling hills might be challenging, so you may have to accept the compromise of having a few neighbours.
There will be fewer sites in urban areas simply because there is less space. Typically they will be found on the outskirts of towns where it is now possible to subdivide plots.
At the time that the Right to Build legislation came into effect (2016), there were around 1,500 – 2,000 services plots available. The success of the project is based on the increase in this figure.
Plots are available from a number of sources, but are still scarce. Here are some of the most common places that you can look for a plot:
Local Estate Agents
Major House Builders
Local Authorities – register through the Right to Build Portal: www.righttobuildportal.org
Plot Finding Websites
Property Websites – Rightmove,  Zoopla etc.
When you buy a service plot, it will almost certainly have planning permission granted. This will dictate some conditions that you must build within, so make sure that you are comfortable with these before you go ahead.
Generally you are given a virtual space or "box" in which you can do what you want within, so long as you use a range of pre-approved building materials.
By finding your own plot and being a DIY Developer (getting planning permission and arranging all the access and utilities to the plot) it is possible to make a considerable saving, but you are taking all the risk. This risk is that you could eat up considerable amounts of your budget before your build starts. Many people prefer to take this risk out of the equation by opting for a serviced plot.
Whether you start with a serviced plot or a plot that you have arranged the services for, it is unlikely to have any impact on the eventual value of the property. This will largely be determined by the size of the property, the grounds and its location.
It is worth considering that areas that have coordinated housing design and styles tend to hold better prices than a mishmash of unique designs. Often the restrictions that are placed on serviced plots by the planning authorities are so that the estates of self or custom builds are developed in a harmonious way.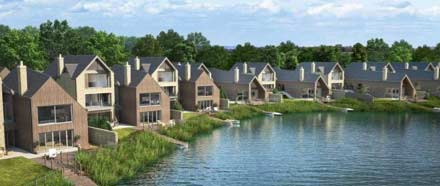 Some Benefits and Issues with Self Building
Here is a quick reminder about some of the major benefits to building your own home. The first and one of the most financially significant is that the build is VAT free. Small sites with less than 10 serviced plots are free of the Community Infrastructure Levy and Section 106 agreements. These savings can be in the region of £15,000 – £30,000 each depending of the size and cost of your build.
While you have significant control over the vast majority of your project to make your home exactly as you would like it, it is likely that there will be building going on all around you for the first few years at least, unless you are the last onto the site.
What's the Difference between a Custom Build and a Self Build?
Most people are pretty familiar with the concept of self building, particularly after seeing Grand Designs and other popular TV shows. Self building is where you either build the home yourself or you self-procure it, organising the build yourself.
A custom build is where you work with a developer to create the house for you, with your input. The developer is there to facilitate the build, while you still have the freedom to create a bespoke home to your style, within the limitation of the planning conditions.

The benefit of a custom build is that you do not need to take on the stress and potential financial risk on finding a plot, getting planning and then getting the services to it. This is all done by a developer, experienced in dealing with these issues.
Some developers are now creating estates of serviced plots which can be purchased relatively affordably for building on, either by yourself or with the assistance of the developer.
In the continuum of options between building your home entirely yourself and involving a developer, there are a number of more established options that people are tending towards which can involve a developer to varying degrees:
Developer Built on a Single Plot: Many development companies offer a package to do this, include finding and securing the plot, managing the build and arranging all the financing you need
Developer Built on Multiple Site: This is where the plot is available from a range of plots on an estate, with in some cases, hundreds of dwellings planned. It is possible to purchase with a range of options, from simply buying the plot with outline planning and services to getting the developer to assist with detailed planning and then allowing you to get on with the design and build. At the other end of the continuum some developers will do considerably more, but allow you to choose from a range of options so that you can customise the house to your tastes, rather like picking the extras for a new car
Developer Lead Project: Often this is referred to as Community Self Build. This is very similar to the Co-housing scheme although it is developer lead. The group can be formed first and approach the developer or the developer can assist to form the group. Like Co-housing, the group will democratically decide about the style of the homes, while retaining individual control of their own homes. This tends to be very cost effective. For more information go to the UK Co-housing Network
Making The Right to Build Scheme Work for You
Now that the deadline for local authorities to meet the requirements of the Right to Build Scheme has past, it should be easier to find a suitable plot for your self build or custom build.
Most councils are actively embracing the scheme, but some are not so organised. If you are having problems or experiencing unacceptable delays you should initially raise this directly with the authority and then if nothing improves you should contact your local MP.
Building your own home is the ultimate DIY project and allows you to create a home to your tastes and requirements- exactly! If you feel that this is something you could do then you should look at the Right to Build Portal and register for a plot.
If you think that this self or custom building might be for you then the next step is to read our introduction to Self Building project.
If you are a little more convinced that building you own home is the way that you want to go, then you should get the book; Build Your Own House: A Guide That Will Hand You the Keys to Self-Build Success by Andy Patmore by clicking on the link below