One of the benefits of the spring and summer months, apart from the good weather, is that it's warmer and for the majority of both these seasons you can happily turn your heating off and enjoy the financial benefits that this brings.
As the summer months come to a close, our attention is once more directed towards firing up the heating system to keep warm during the colder months, but in many cases the substantial sums of money saved while its been off is a powerful motivator to find ways to reduce heating costs or at least make any heating usage as efficient as possible.
In this guide we look at some of the best ways to reduce your heating costs to save money on your heating bills.
Quick Tips and Best Practice for Reducing Your Heating Costs
There are many ways to save on your heating and fuel costs, some are fairly easy and essentially common sense and some require more thought and planning and also some financial investment.
With this in mind, here follows some quick tips to avoid any unnecessary heating wastage:
Don't cover radiators with chairs or furniture. Placing chairs, sofas and other large objects in front of a radiator can prevent heat from filling a room and also can prevent convection radiators from working correctly
Don't dry washing on your radiators. Again, this will prevent radiators from working and dissipating heat correctly and can also cause your boiler to have to work harder in order to generate enough heat to heat rooms to the required temperature
Use curtains correctly. If you have curtains, drapes or the similar, close them, especially at night. Also, fitting a heavy curtain over an external door will reduce heat loss noticeably
Insulate letter boxes and keyholes. If you think about it, both of these objects are essentially holes in your door that can easily allow cold air from outside into your home. Insulating any such objects will also have a noticeable affect
Fully understand your heating system and its controls. This may sound a bit ridiculous but if you don't fully understand how your heating system and any timers, thermostats or control panels work then you will never know if it's working as efficiently as possible
Get your boiler and heating system serviced regularly. Whether you have a boiler or other type of heating sorce, get it service regularly. Ideally this should be at least once a year towards the end of summer just before you fire it up for the autumn and winter months
Do you really need the thermostat set that high?. Although a nice cozy 21°C might be nice, turning the thermostat down to 20°C or even 19°C can save you a substantial amount of money without any real noticeable decrease in comfort
Block up any other holes and openings. Aside from letterboxes and keyholes there can also be other openings around the home. If you have a chimney that's not used can buy special chimney draught excluders to fill these gaps, see our review of the Chimney Sheep here. Other suspect areas that can easily be insulated using stick on strips or sealant are loft hatches, windows, pipes or cables that exit the building etc. Additionally, draught excluders placed at the base of external doors can reduce draughts dramatically
Wear extra clothes. Instead of turning the heating on or up as you're cold, why not just put an extra layer of clothes on!
Don't heat empty rooms. This may sound obvious but don't heat rooms that you don't use to the same temperature as the rooms that you do use. Utilise TRV's or zone heating if you have it to keep temperatures lower in these areas
Find out how long your home takes to warm up and cool down. If you know this then you can set heating timers correctly. There's no point setting your heating to come on at 5:30am so that it's warm when you get up at 7am if it only takes your home 30 minutes to heat up. Likewise, if it takes an hour to cool down there's no point keeping heating on until you go to bed, you may as well turn it off an hour before you do as it will still be warm
The above tips are all fairly easy to implement and can all be done quite cheaply and with this in mind the more you can do the better, you will be very surprised at the affect they have.
Save Even More Money on Your Heating Costs
Once you have cut your teeth on the easy stuff and experienced the cost saving benefits even the small stuff can bring, it's now time to look at some of the bigger more long-term work that can bring even bigger savings on your heating cost, read on below.
Insulate, Insulate, Insulate!
Pretty much all houses leak heat to some degree, some to a much higher level than others. One of the best methods of reducing any form of heat loss is to insulate and prevent it from escaping in the first place.
When you think about it, if your are running your heating to heat your home and 30% of that heat is escaping through the roof, walls or other area, if you can prevent this from happening that should technically be an instant 30% saving in costs.
Here follows a selection of some of the top areas that you should insulate to minimise heat loss as much as possible.
Lag Central Heating Pipes
The pipes that feed your central heating system normally run around you home in one of 2 ways, either internally and around the wall surfaces of your rooms or outside rooms, running beneath floor boards, through loft spaces or set into solid concrete floors.
If your heating pipework runs internally across and around the surface of your walls this can actually help. Okay, it doesn't necessarily make your radiators as efficient as they could be but at the same time the pipes themselves radiate heat that also helps to heat your rooms.
However, if you heating pipework runs through loft spaces or under floating floors, these areas tend to not only be cold but also uninhabited. As hot water travels around your heating system it flows through these areas being cooled by the cold air around them and ultimately making your boiler or heat source work much harder to maintain the required temperature.
In these cases it is essential that any pipework is covered with pipe lagging to reduce heat loss as much as possible.
Insulate Under Floors
One of the most common and effective methods for insulating floors is to install a solid insulation such as Celotex or Kingspan between floor joists in a floating timber floor or set down in the concrete that used to form a solid concrete floor.
It is thought that somewhere around 12-15% of heat loss in the home occurs through the floor so if you can reduce this to as close to zero as possible, again, that can equate to a huge annual saving.
Installing insulation under a floating timber floor not only prevents the heat from escaping out but it can stop cold draughts from coming in through the various gaps that inevitably develop between floor boards.
Insulate Hot Water Storage Tanks
With an indirect heating system and also with some modern pressurized systems, the hot water used to run the heating system is heated via the hot water storage tank that's used to supply the property with hot water.
If the storage tank is not insulated then it will be allowing huge amounts of heat to escape. Most modern storage tanks are supplied with a solid insulated jacket but some older ones don't have anything.
If this is the case for you then you can purchase a padded jacket that can be used to insulate your hot water storage tank, reduce heat loss and saving you on not only your heating costs, but hot water costs also.
Insulate Walls
Most modern new build houses today are constructed with either a part or fully insulated cavity meaning that as opposed to an empty cavity space, it's either partially or fully filled with solid insulation boards (more information on insulating cavity walls can be seen in our project here).
Obviously retro fitting solid insulation to a house that's already built is impossible unless you rip it down and rebuild it. Fortunately pumped or injected cavity wall insulation was created to solve this very problem.
On a basic level, many holes are drilled in your external walls and the insulation is then pumped in before the holes are then cemented over.
In the early days pumped or injected cavity wall insulation was a bit hit and miss depending on eth type of insulation that was used. In some cases air pockets were left as the insulation settled which caused cold bridging and actually made your home colder!
Fortunately technology has come on leaps and bounds over the years and injected or pumped cavity insulation is much more effective.
Aside from insulating the cavity area, other methods of insulating walls include internal and external insulation wall insulation, find out more in our project here.
Insulate Ceilings, Lofts and Roofs
Lastly we get to ceilings, roofs and lofts. As we know, heat rises and if your ceiling and loft area isn't correctly insulated you could be loosing more than 25% of any heat through it, therefore it is imperative that it's insulated correctly.
Over recent years regulations have been put in place that require 270mm of insulation in the loft area for new build properties. It is also suggested that this amount be used in every loft to ensure that as much heat is retained as possible.
In most cases, insulating a loft is a fairly straigh forward DIY job, although laying out the insulation and working in the loft itself isn't particularly pleasant.
To find out more on how to insulate your loft and what insulation should be used, see our project page here.
Invest in a new Boiler
Looking to save money on your heating? Then investing in a new A-rated gas boiler is guaranteed to shave pounds off your bill.
You may think your current boiler is doing its job just fine but on closer inspection it's probably a different story. Old and inefficient boilers can cost homeowners dearly. Heating your home is the most costly of all the household bills. So if there's a way to save some precious pennies, it pays to check it out.
Just like electrical goods in your home, modern boilers are graded according to their efficiency. If you opt to install a new A-rated gas boiler, there's no doubt your new system will improve both your heating and your bank balance.
If your gas boiler is over 15 years old, it's likely to be a traditional G-rated system. Converting an average of just 72 per cent of their fuel into heat, old boilers can be both a financial drain and an environmental worry.
Frequent servicing, as well as pricey and repetitive repairs will also push up costs. Add in the fact that both energy consumption and bills are on the up and boiler replacement starts looking like a really good idea.
By opting for a high efficiency A-rated condensing boiler, your system could produce the same amount of heat but by using a lot less fuel. This is because a top end gas boiler can convert over 90 per cent of its energy into heat.
In fact installing a new boiler could help you shave as much as £235 a year off your heating bills, depending on the size of your home. That's a whole lot of money that could be going to good use elsewhere in your home.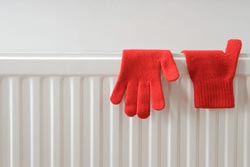 From an environmental point of view, boiler replacement can also make your home more eco friendly. It's a little known fact that household boilers are responsible for around 60 per cent of all domestic Carbon Dioxide emissions. Just one old G-rated gas boiler can produce up to 1.300kg of Carbon Dioxide in a year.
If everyone in the UK was to install an efficient new A-rated gas boiler, the saved energy compared to an inefficient G-rated boiler would be enough energy to heat 3.7 million homes for a year.
Part of the reason that new A-rated condensing boilers are so efficient is because they have a larger heat exchanger. This uses up some of the heat that would otherwise escape up the flue and this is then used to heat the water that supplies your central heating system. Some models even have two heat exchangers just to make sure every scrap of heat is used.
Get a Smart Meter Installed
Although installing a smart meter itself will not necessarily save you money, it will allow you to monitor the gas and electricity usage in your home.
The majority of domestic central heating systems and boilers run on gas so when your boiler fires up when the heating kicks in you will instantly be able to see how much gas it's using and through this will be able to fine tune it by turning down or off certain radiators etc.
However, not all heating systems run off gas, some use electricity such as night storage heaters and also portable electric heaters.
Not every property has a central heating system installed so portable electric heaters are often the go to choice in these cases. A Smart Meter will again allow you to see how much electricity a given heater uses and then you will know how long you can run it for.
Invest in TRV's
If you are a new home owner or have recently moved out on your own you may not yet be too familiar with heating systems and how they work and also the various names and acronyms of the parts that make up a heating system. One in particular that crops up regularly is Thermostatic Radiator Valve or "TRV" for short.
The TRV is a very handy object. Essentially it is a self-regulating valve that is fitted to a radiator. Once you set the temperature on the valve, it adjusts itself automatically to set the temperature of the radiator based on the temperature of the room.
This allows you a great deal of control over your heating system. Not only can you set temperatures using the main thermostat, you can also set temperatures for individual radiators, brilliant!
To find out more about TRV's and how they work, see our project here.
Should I use Portable Heaters Instead of the Central Heating?
In answer to whether you should use an electric heater instead of your central heating, it very much depends. If you live in a house on your own, long term, it may be cheaper for you to use an electric heater to just heat the room that you spend the most time in. This way you will avoid running your central heating and heating rooms that you don't use.
However, if there are others in the property, individually heating each occupied room using an electric heater would almost certainly work out more expensive over time.
If you are considering trying our an electric heater, especially if you have a smart meter and can see in an instant how much it's costing to run, you might want to take a look at the various smart electric heaters that are available now.
These are fantastic pieces of kit and can be controlled over the internet and also feature sensors that monitor your movements and automatically adjusts the times they turn on and off according to when you are in the room plus many other features. Check out our review of one of these heaters on our YouTube channel here.
Should I leave my Heating System on Constantly or Only Turn it on When I Need it?
This question has been debated over and over again my many over the years. Some insist that it's much more cost effective to keep your heating on and maintain a constant temperature to reduce the work your boiler or heating source has to do to heat your house from cold, while others state that this is rubbish and you should only turn your heating on when you need it.
Ultimately, it very much depends on how well insulated your home is. If it's very well insulated then it should hold any heat very well, so if the heating is left on constantly, the boiler or heating source shouldn't have too much work to do to maintain a comfortable level.
However, if it's not well insulated and leaks heat like a sieve then leaving the heating on will probably mean that the boiler is constantly firing to maintain the required heating level as any heat generated just escapes. In tis situation it would inevitably cost a fortune!
On the whole, the general consensus is that you should only run your heating when you actually need it.
Switching Energy Tariffs and Suppliers
One of the very best ways of reducing your heating costs is to make sure you are on the most cost effective energy tariff for your needs and the best way to do this is to calculate your annual energy usage (see our project on understanding gas bills here for help) and when your current energy deal is due to expire, shop around all of the various energy providers and change to the best deal for you.
Changing energy providers used to be an absolute nightmare back in the day, but today it is a fairly simple task. With the emergence of the many online price comparison sites this is now a simple task and one that in most cases will be done automatically for you, all you have to do is select the best deal for you.
In terms of costs, it is extremely important to change to a new energy tariff before your current deal runs out. If you don't then your current provider will automatically switch you to one of their standard tariffs.
In the majority cases, your current suppliers standard tariff will be much more expensive than the deal that you have just come off of so before your current deal ends, check out several comparison sites such as Go Compare, Compare The Market, Confused.com etc and see what deals are on offer.
One point to remember is that the cheapest deal may not be the best deal for you, it will depend on how much energy you use and when you use it.
Install Double or Triple Glazing
It is thought that somewhere between 15% and 40% of heat loss in the home occurs through the windows depending on their age and condition. On a basic level, the older the window and the worse condition it's in the more heat will escape through it.
The average lifespan of a double glazed window is somewhere around 20 years, but this will depend on the overall quality of the window itself. Lower quality windows may only last 12-15 years whereas higher quality units may last more than 25 years.
The cost of replacing all the windows in an average sized 3 bed family home can be £4000 or more if you go for top quality window carcasses and glazed units.
If your sole concern is reducing costs, spending upwards of £4000 on new windows may not be the way to go, but on the other hand if you look long term over the life span of the windows themselves and how much they could reduce your annual heating bill by then it may be the fact that you will actually save money.
As an example, if new windows reduced your annual heating bill by £300 and they cost £4000, over the 20 year life of the windows themselves they would save you a total of around £6000, covering the overall cost of the windows plus an additional £2000.
In the above situation this would be a sensible choice, but for your windows to loose £300 worth of heating they would pretty much have to be falling apart so it they are generally in good condition and the glazed units haven't blown (see our project here for what blown double glazing means) then it probably isn't worth the cost.
There are a great many ways that you can reduce your heating costs, some involve fairly little effort and cost and some require more. The more bases that you can cover, the better. You will be surprised how much of a positive cost saving impact even the smallest mchange can make.