Looking to save money on your heating? Then investing in a new A-rated gas boiler is guaranteed to shave pounds off your bill.
You may think your current boiler is doing its job just fine but on closer inspection it's probably a different story. Old and inefficient boilers can cost homeowners dear. Heating your home is the most costly of all the household bills. So if there's a way to save some precious pennies, it pays to check it out.
Just like electrical goods in your home, modern boilers are graded according to their efficiency. If you opt to install a new A-rated gas boiler, there's no doubt your new system will improve both your heating and your bank balance.
If your gas boiler is over 15 years old, it's likely to be a traditional G-rated system. Converting an average of just 72 per cent of their fuel into heat, old boilers can be both a financial drain and an environmental worry.
Frequent servicing, as well as pricey and repetitive repairs will also push up costs. Add in the fact that both energy consumption and bills are on the up and boiler replacement starts looking like a really good idea.
By opting for a high efficiency A-rated boiler, your system could produce the same amount of heat but by using a lot less fuel. This is because a top end gas boiler can convert over 90 per cent of its energy into heat.
In fact installing a new boiler could help you shave as much as £235 a year off your heating bills, depending on the size of your home. That's a whole lot of money that could be going to good use elsewhere in your home.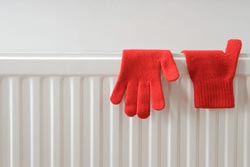 From an environmental point of view, boiler replacement can also make your home more eco friendly. It's a little known fact that household boilers are responsible for around 60 per cent of all domestic Carbon Dioxide emissions. Just one old G-rated gas boiler can produce up to 1.300kg of Carbon Dioxide in a year.
If everyone in the UK was to install an efficient new A-rated gas boiler, the saved energy compared to an inefficient G-rated boiler would be enough energy to heat 3.7 million homes for a year.
Part of the reason that new A-rated boilers are so efficient is because they have a larger heat exchanger. This uses up some of the heat that would otherwise escape up the flue. Some models even have two heat exchangers just to make sure every scrap of heat is used.
With all this in mind, there's never been a better time to think about replacing your old gas boiler with a more efficient A-rated model. Things have changed drastically in the last twenty years when it comes to installation too.
Gone are the days when replacing your central heating meant days of frustration while your home was turned upside down, thanks to a series of complicated pipes.
These days it's much more likely the whole process will take a couple of days at the most. Right now some energy companies are offering boiler scrappage schemes to help make the whole process even easier. And with winter on the way, it's the perfect time of year to act.
When your new gas boiler system is finally fitted, you should see an instant difference in both your consumption and your bills. You'll also be doing your bit for the environment in the full knowledge that your gas boiler is working at its full capacity.
If you are looking to replace your old boiler in the near future there are quite a few deals out there. It's definitely time well spent searching the web and the various energy providers websites for any deals currently on offer for boiler replacement and any helpful pointers to look out for and be aware of when looking for a company to undertake the work for you (make sure they are fully qualified Gas Safe Register TM engineers, formerly CORGI). Also be aware of any deals available e.g. trade-in's and scrappage schemes.
Take a look at our video section on Green Living to watch a film on how to save energy and save money at the same time.