There are certainly pros and cons to a self build project, but one of the biggest pros is that you can get much more house for your money. Of course it is all about money and if you cannot fund the whole project yourself, you will need to borrow. This is where the specialist Self build mortgage comes in.
For a great introduction to the idea of self and custom building and more about what is involved we have summarised the whole process, including the pros and cons in our introduction to self-building project.
What are Self Build Mortgages?
The principle is essentially the same as any normal mortgage; you are borrowing money against the value of your home, by proving that you can make repayments based on your income. As such, a self build mortgage is no different to normal mortgages – if you do not keep up with repayment your home will be at risk and could be repossessed.
The main difference between a self build mortgage and a house purchase mortgage is that with a self build mortgage, money is released in stages as the build progresses rather than as a single amount.
With a self build mortgage there is no house to lend against, so a self-build lender will release money as you reach certain stages of the build, theoretically reflecting the increased value that your build is creating.
How do Self Build Mortgages Work?
As we now know, a self build mortgage will release money to you in stages, rather than in one lump sum as with normal mortgages.
Some lenders will lend you money to purchase land, typically up to 75% of the purchase price or value. This is exactly the same as the Loan to Value (LTV) ratio that normal mortgages use. After this, the money for the build is released in a series of stages. These can be fixed or flexible depending on the lender and there are usually there are a further five stages.
Here are some fairly typical stages that are used, as these are easy to determine that they have been reached during your build:
| | | |
| --- | --- | --- |
| Stage | Brick and Block | Timber Frame |
| 1 | Purchase of land | Purchase of land |
| 2 | Preliminary costs and foundations | Preliminary costs and foundations |
| 3 | Wall plate level | Timber frame kit erected |
| 4 | Wind and watertight | Wind and watertight |
| 5 | First fix and plastering | First fix and plastering |
| 6 | Second fix to completion | Second fix to completion |
During the build you can borrow typically 75%, some lenders might go as far as 85%, of the cost or the value of the house as the project progresses. The exact terms will vary depending on the chosen lender.
There are two methods by which the money can be released during the build:
Arrears stage payments mortgages – This is the more common type of self build mortgage and the money is released at the end of each stage that has been reached
Advance stage payments mortgages – This is a more recent and practical arrangement where the money is released at the start of each stage. This means that you then have it to use to complete that stage. These are sometimes called "Accelerator" mortgages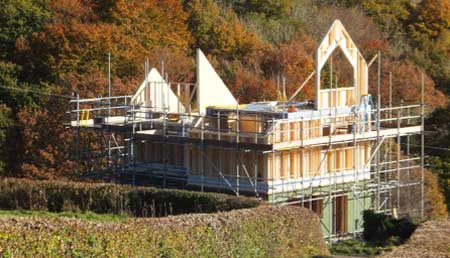 In the arrears stage payment method, the money for that stage is released after the stage has been completed, a surveyor has visited the site and he has confirmed the value of the building is as expected. This can cause some self builders to have cash flow difficulties.
The advance stage payment method was developed by BuildStore, but several other providers and advisers will be able to offer these now too.  With it the money required for that stage is released at the start of the stage before work starts. This allows you the money you need to get the materials and pay tradesmen.
Which Self Build Mortgage is Right for You?
We are not mortgage advisers, so if you want specific advice about your situation or specific products you should contact an adviser. However we can give you a few "rules of thumb" about the type of mortgage that will suit you.
Self building is popular for a number of reasons, not least because you build exactly what you want to live in, however there are financial benefits. You only pay stamp duty on the land (and only if it exceeds the minimum threshold, currently £125,000), you can reclaim the VAT on the build (find out how here), and generally the value of the property once you have finished it is more than it is worth if you sold it.
These financial benefits mean that people tend to opt for self-building if they are more financially squeezed – and it is a great idea in this situation; you can achieve the home of your dreams at a significant discount. Especially if you are under financial pressure, you need to try to get the best loan arrangement to suit your situation. This typically means getting the cheapest deal you can.
When it comes to funding your self-build there are several options. Here are the most common, in order of preference (or generally in order of least expensive to most expensive):
Self fund the project: This might mean that you have to sell your existing home, but make sure you account for your accommodation if you go this route. It's great if you can do it, but not many can
Borrow against an existing property: Traditional mortgages are more common, less risky for the lender and so tend to be cheaper. If you can, this can be a good option, although you might be limited to the amount you can borrow
Arrange an Arrears Self build Mortgage: This is the middle ground and less risky for the lender to will be cheaper than an Advance payment mortgage. The more that you can fund yourself the better the rate you will achieve. Ideally buy the land and then only borrow for the build, if you can
Advance Payment Self build Mortgage: This is generally the most expensive way to fund your project as you are asking the lender to take more risk on you and your build. It is ideal if you need the money to make the build happen
Different providers will have different rates, so these are broad principles to follow. We would recommend doing a lot of shopping around and number crunching so that you get the funding that works best for you.
There are a wealth of comparison sites that compare rates and terms, such as this one from money.co.uk. We would recommend using a specialist mortgage adviser too, as this is still a niche area, so it is worth finding someone who is familiar with the market – Buildstore are the biggest in market but there others who are sure to be just as good.
We have touched on this, but whatever form of borrowing, the more deposit that you can put together the more attractive you are going to be, which means the better rate you'll get.
Important Mortgage Information for Self Builders
There are a number of really important things to remember when you are planning a self-build mortgage. Here are some that we have seen people fall foul of:
Be ready – Before you start and before lenders will release any money you will need have all these (and more) in place: Full planning approval, relevant land registry documentation, approved building regulations drawings, structural warranty
Financial Planning – You will need to have budget and have projected costs, including your accommodation, all fees (remember you have to pay for their surveyor to visit and agree each stage payment), interest charges, as well as the mainstream building costs
Budget properly – if you run out of money you will not get any more until you get to the next stage. Trying to find extra funding at this point is very difficult as you have essentially demonstrated you cannot budget effectively, which is not an enticing trait to a prospective lender
Completion – At the end of the self build mortgage there will be options to convert the mortgage to a normal repayment mortgage. Make sure you know what you have committed to at the start and what are your options for shopping around; you might be able to get a better deal now that the home is finished
Reposition – Just like any other mortgage if you fail to make the repayments you are putting your home at risk, even if it is not completed
Traditionally the biggest issue has actually been finding land to build on rather than the finance. Thankfully there is now the Right to Build Scheme which ensures that all would-be self-builders can find a plot to build on. Find out all about the Right to Build Scheme here.
Here are some very useful links for self build information:
Useful links and Further Information
Our final word is, you should not let the finances stop your dreams. With time, patience and dedication you will find the right self-build mortgage to make your dream home become reality.