Starting the Design of Your Selfbuild Project
You may be just thinking about building your own home, or you may have already embarked on the project. If you have already started then you will know that one of the biggest thrills is in designing your dream home.
If you are not quite sure yet whether to embark on the project then let the thought of creating your dream home yourself spur you on to go further down the road of self build, with the help of these DIY Doctor pages.
Designing a house is a mix of artistic talent and practical issues. Don't worry if you haven't got an artistic flair, your architect can help you out there.
You can decide the number of bedrooms, how many en-suites, how big the bathroom and kitchen, whether you want a study or balcony, and where the patio doors are to go. How about a large kitchen with patio doors opening onto a paved area in the garden? The options are endless, and will result in a unique home.
It is always a pleasure showing friends around your new home, but how much better to say "and this is how we planned the kitchen diner" etc!
Architects do, however, vary with regard to their artistic flair and design skills, so pick a few architects in your area and ask to see examples of their work. Quite often an architect's office walls will have photographs and artists impressions of their work so you can get an idea of how they work just from being in their office.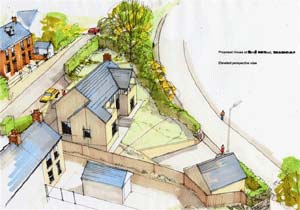 Your architect will certainly help with integrating the creative side with building requirements and Building Regulations.
People choose self-build for different reasons. It can be a way of getting your own home cheaper than buying, where your own time and effort saves the money.
How Big or Small Should Your Design be?
In this case you may start out without any idea of pushing back the boundaries of design, but don't loose sight of the fact that it is going to be your home and you can come up with a really creative design.
If one of your goals is to have a grand design, and you have a large plot and budget then you can really push the boat out. However, if your budget is more limited then you can still achieve your goal.
What is this grand design I hear you ask? The television shows certainly cover grand designs – often expensive and on large plots. But this does not always have to be the case – let's say that a grand design is a unique design, something that has an impact on the locality. It could therefore be ultra-traditional or a very modern design – but it could still be made to fit in amongst its neighbouring houses.
Whether grand or not, the options for the finish are almost endless.
What Types of Design Finish are There?
Your first consideration may be the finish of the external walls. Brick external walls will present you with a myriad of brick types to choose from, even reclaimed bricks.
Make sure that you ask your architect about the associated cost, in terms of cost of the bricks and the extra labour required, and ensure you get bricklayers who can lay bricks properly (laid very straight, even beds and perps, well pointed and with no cement smears over the face).
Other common finishes are smooth render, pebble dashing, Tyrolean render and natural or artificial stone. The wall finish, together with window type, roof material and a host of other materials can really result in that unique design you have in mind.
One thing to note is that your local planning office may mandate their own design requirements – ask the Local Authority planning department for a Design Brief which will provide their requirements that will affect the external design. For example, they may give a general window design, they may veto quoins.
Building your own home will be one of the most challenging and satisfying things that you will do in life, and even if you don't carry out the work yourself you can be responsible for the design.
Whether you have artistic flair or not, you can develop your own ideas on one gigantic canvas! And then have the daily thrill of living in your dream home. Of course, get it less than perfect and you will also have to live with that!
Don't get too Complicated with the Design
Well, you can get complicated with the design, but make sure that you understand the cost implications involved. Almost without exception, every extra complexity in design will have an additional cost, and some will be significant.
Fixtures and Fittings
We are not talking exclusively about making the design more complex, either. Upping the quality of materials used, for example, using oak instead of pine for the stairs or internal doors is not adding complexity but will add considerably to the cost.
Complexity of the Shape of Your Design
If you go in for a complicated house shape then the bricklayers will have to add more corners and the labour cost will go up. The roof will also be more complicated.
Roof Design
Adding features to the roof will require either a more complicated truss design (a bit more expensive) or require some elements of a cut timber roof (a lot more expensive).
Timber Framed Houses
The costs for a timber built house will similarly be bumped up a lot – a more complex timber frame inner skin will add some cost but the extra costs for the external block/brick skin and the roof will have the same additional costs as for a block built house.
What About Balconies, Basements and Drawbridges?
There are many other features which will contribute to a more complex design and will, of course, create a more unique and desirable house. You want a balcony and a basement? A drawbridge as well?! Fine, but quiz your architect on the likely costs!
Some Build Design Basics
OK, the external appearance and internal layout are one starting point. Another starting point is to investigate the type of build, the two main types being traditional brick / block and timber frame.
There are advantages to each of these but timber frame construction is becoming a more popular choice. The main advantage is speed of construction. However, you can get quite a wide range of quotes from timber frame companies so you need to do your homework. The final appearance of the house from either construction method is the same.
Another build method, which has its own inimitable style is Oak frame houses. In an Oak frame house, the timbers are exposed on the outside and feature significantly in the interior.
Common Types of House Construction
Brick or block
Timber frame
Oak frame
There are quite a few companies on the market that offer timber framing. Visit the website of one of these companies for image examples of the majestic look and feel that timber framing can give to your home.
There are other build concerns, such as the ground floor structure, which can have an impact on the way the architect designs the house – mainly in terms of the dimensions.
The two main types of floor structure are concrete slab and a suspended floor (often referred to as block and beam).
Common Types of Floor Construction
Concrete slab
Suspended floor (block and beam)
They both have their advantages and disadvantages during the construction but there is no discernable difference to the final outcome. You will then need to decide on how to achieve the finished ground floor, the two main options being cement screed or a wooden floor boarding.
Common Types of Floor Finish
Cement screed flooring
Wooden floor boards
There are many other design considerations that require you to discuss with the architect and decide on at the point when the initial plans are prepared for Planning Permission, and then for submission to Building Control. But this is all part of the thrill of a self-build!
Attention to Detail
On a final note, make sure that the build is of the highest quality so that your fantastic design is not let down by poor workmanship.
One case in point is shown below – the lead apron around the chimney was not treated with patination oil. After a few years the surface of the lead has oxidised, producing an unsightly greyish colour which has caused severe staining to the tiles.
A few minutes treating the lead, by a builder who cared, would have ensured that the lead and roof remained pristine for many years.