The humble ladder is an absolute essential for any DIY'er or trade professionals tool arsenal. Whether you dabble in a bit of weekend DIY or you are a jobbing plasterer, electrician or builder it's safe to say that almost all jobs will at some point require you to access something above your head height.
In this situation, instead of reaching up and straining or jumping the obvious choice is to grab a ladder set it up and climb on up. This both makes the job itself much easier and also reduces the chances of damage or injury.
Today, there is a huge range of different types and shapes of ladder, each suited to a particular job or rang of jobs, read on to find out more.
What to Think About Before Buying Ladders
Before you simply go to your local DIY store or start surfing the web for a new ladder, the first thing you need to ask yourself is; what is it going to be using it for?
Once you have narrowed down how it's going to be used you will also need to ask yourself the following questions:
Where is it going to be stored? – Do you have enough space to store a long ladder, or does it need to be compact
What does it need to be made of? – For a loft ladder, ideally timber, if used for electrics needs to be fibreglass etc
What is it going to be transported in or on? – Do you only have a car or do you have a van with a roof rack
How long/tall does it need to be? – Will it be used for small jobs such as basic decorating or will it need to reach up to a roof
Is it going to be used indoors or outdoors? – aluminium or fibreglass best for outdoors etc
After asking yourself the above questions you should now have a much better idea of what type of ladder you need.
Note: Before using any type of ladder you should first inspect it fully looking for any damage that may compromise its strength. For a full run down of all the safety aspects to think of when using a ladder see our ladder safety project here.
Different Types of Ladders and Their Uses
Below you will find a selection of all the most common types of ladder and their the tasks they are generally used for.
Small Folding Steps
Regardless of whether you are a trade professional, DIY'er or neither, having a small set of steps knocking about can be really handy.
The most versatile of these are the folding steps that can be folded away for storage and when needed, opened up ready for use.
As they fold out and form an A-frame shape and lock together, unlike a standard ladder that needs another surface to lean against, folding steps are stand alone and for this reason can be used for a wide variety of different jobs such as painting and decorating, hanging objects such as Christmas decorations, changing light bulbs, fitting architrave, plastering the list goes on.
In the majority of cases small step ladders are generally available in 2-rung or 3-rung variations with the 3-rung versions allowing a little more height.
In most cases small folding steps are made from steel or aluminium although it is possible to also get them made from timber.
Step Ladder (platform and swingback)
The step ladder is in some ways a grown up0 set of small steps. Whereas small steps generally feature 2 or 3 rungs, the step ladder has quiet a few more, in some cases up to 10!
They work in pretty much the same way as well with the 2 A-frames folding together for storage and when they need to be used, they are opened up and in most cases a locking mechanism is engaged to prevent them folding up.
In some cases however no locking mechanism is featured, only a set of strong straps to prevent each side of the frame from folding outwards and the steps collapsing.
There are essentially 2 different types of step ladder:
Platform: As you may guess form the name, a platform step ladder features a platform at the top. This, in some cases, is not for standing on but provides a handy platform for resting tools and materials

Platform step ladder

Swingback: Swingback steps are, in essence, just a set of steps. In most cases rungs are only featured on one side of the frame but in some cases there are a set of rungs both sides

Swing back step ladder
Both of the above types have their pro's and con's and it's really down to what they are to be used for as to which type you should go for.
In terms of construction, in most cases step ladders today are made of aluminium but are also available in fibreglass/GRP when working around electrics or high temperatures (due to fibreglass/GRP's natural resistance to heat and high electrical resistance).
Timber versions are available however these tend to be much bulkier and heavier than their aluminium or fibreglass counterparts.
Single and Extension Ladder
Even if you have never used an extension ladder before, chances are you have certainly seen one. Single and extension ladders are traditionally what jumps to mind when the word ladder is mentioned they are essentially 2 sides with a number of rungs between them.
Unlike the small steps and step ladders above, single and extension ladders are not stand alone and they need to be led against a solid surface in order to be used.
A single length ladder is as you may think just a single length of ladder that can only used to a set height e.g. the height of the actual ladder when set out at a safe angle.
Extension ladders take this principle one step further and feature normally two sets of ladders nested together (double extension) or three sets nested together (triple extension). They can either be used as a single set (altogether) or when more height is needed, each "nest" can be extended allowing for a much higher working height.
They are available in a wide range of different lengths from around 1.5m all the way up to 5m in length.
As with the other ladders the most common construction material today is aluminium due to its strength and light weight qualities, however fibreglass and timber versions are also available.
When working at heights extension ladders can become very unstable due to the narrow width of the ladder itself. To resolve this issue it's also possible to add a "stabiliser bar" to the base of the ladder to give it more stability.
Combination Ladder
The combination ladder is a fantastic all-round option when t comes to general purpose ladders as it combines all the great features and advantages of both an extension ladder and a step ladder with the added bonus that it can be used over different levels.
When we say levels we mean different surface heights and good example of this is on a staircase. If you have ever tried to paint or wallpaper a stairwell you will know that trying to work on a standard ladder or step ladder safely over different tread heights is an absolute no no and will inevitably lead to an accident.
By using a combination ladder you can easily adjust the base of each section to sit comfortably and safely on different height treads without the risk of any disasters.
Combination ladders are generally available in 2 or 3 section sets with the 3 sections sets being slightly shorter but being more compact for storage. In most cases they are constructed of light weight aluminium.
Telescopic Ladder
Although the idea has been around for some good time, its only been in recent years that telescopic ladders have been a viable option as in the early days the catch and release mechanisms that allow the ladder to open and close were very fiddly and often resulted in pinched fingers.
Many of the options available today have been refined in terms of design and allow for a much smoother and less painful opening and closing experience.
In terms of benefits, the biggest and most obvious one here is the fact that the ladder itself collapses down to a fraction of its size once extended meaning that it can be both stored and transported in a much more confined space than a traditional ladder.
The telescopic ladder is at home in pretty much all situations from busy building sites to being stored in an under stairs cupboard and only used once in a blue moon.
In terms of construction pretty much all options are made of light weight aluminium.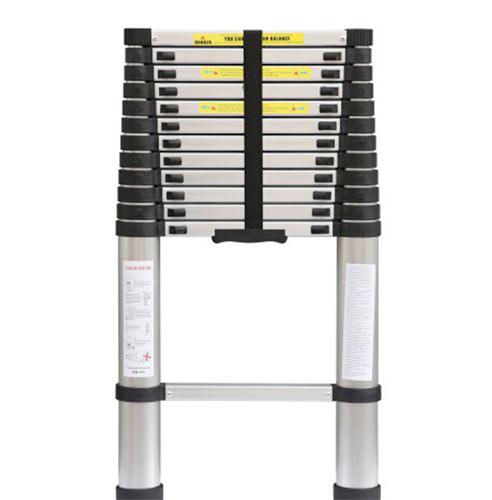 Loft Ladders
Sticking with the descriptive naming conventions of seemingly most ladders, the loft ladder as you may guess finds its home in the loft.
Available in two flavours, aluminium and timber, the majority of homes across the country will feature an aluminium ladder that provides access to the loft. In most cases the loft hatch itself pulls down and then the aluminium loft ladder is pulled down and extended until it touches the floor allowing someone to climb up.
These are a great option and in terms of cost, are fairly cheap but there are a few downsides in that most need a ladder to climb up and pull the ladder down and also the aluminium rungs can be rather hard on the feet.
An alternative to the traditional aluminium ladder is the timber ladder. These are a definite step up (excuse the pun) in terms of easy of use and quality. A key feature of the design is that the ladder comes down with the hatch so no need for additional ladders!
Another benefit is that the ladders themselves are much more sturdy and the rungs are much wider making them a huge amount more comfortable to climb up and down.
In the majority of cases timber loft ladders come with an integrated hatch and surround that's much bigger than standard hatches allowing much more space to get objects in and out.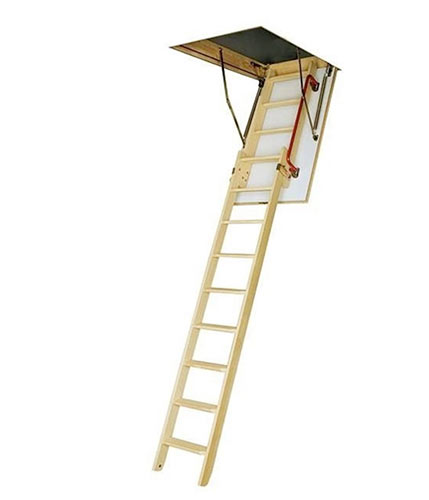 Articulated or Scaffold Ladders
Articulated or scaffold ladders as they are also known are another very handy piece of kit. In essence they a four short ladders joined together using locking hinges that can all be swiveled and adjusted to create a range of different ladders including a step ladder, combination ladder, single length long ladder and even a work platform.
As the sections of ladder are all quite short, once folded down the ladder itself becomes very compact and can be easily stored and transported.
Due to their extreme versatility they can be of use to pretty much any tradesman including general builders, plasterers, carpenters, electricians and also be very much at home in the corner of a garage and only broken out occasionally for decorating, gutter cleaning and other similar jobs.
As with most other ladders, to ensure they are both sturdy and safe to use but at the same time light weight and easily transported they are constructed of aluminium.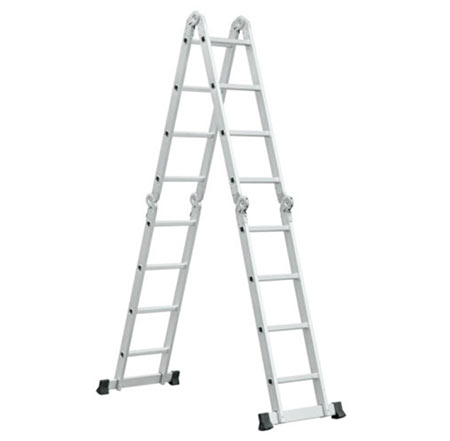 There is a huge range of different ladders available today and although we haven't quite covered them all in the guide above we have however provided a run down of the most common and more importantly the most useful types of ladder that can be used by both tradesman and DIY'ers alike.