Solar generated electricity is one of the very best forms of energy available today, it's clean, accept for the carbon footprint of the manufacturing process of the panels and associated products and also it's free accept for the initial outlay cost of the system.
As we all know we are in the midst of an environmental crisis and in order to reduce the affects, we as Humans are having on our planet we have to reduce the volumes of fossil and other unclean fuels we use in order to produce energy, ideally to zero.
One of the best ways to do this is to generate domestic energy using renewable sources e.g. solar and the main feature of a solar energy system is the panels that turn solar energy into electrical energy.
If you are considering getting a solar system installed in your home it's important to understand the different types of solar panels and how they work, read on below to find out more.
The Problem With Solar Panels
The one major drawback with solar panels is that they rely on sun light, or more accurately daylight and living in the UK (or a similar climate with low light levels) both can be limited.
With this in mind, building a solar energy system that could fully power an average family home in such a climate is fairly unlikely, so you might be thikning; what's the point in solar then?
Well, over the last 10 years energy prices have risen at least 7% year on year with no sign of this trend changing, so purchasing energy from one of the big suppliers is only going to get more expensive.
However if you introduce a solar system into the mix, this can reduce those costs significantly as although you may still have to purchase some energy from the national grid, this should be significantly less.
If you also add a battery or several batteries to your system, during the day when everyone is at work or school, your solar system will then charge the batteries so that you can then make use of the energy during the evening and night time when the panels aren't generating.
One further bonus is that if you are generating energy that you aren't using you can sell this back to the national grid for a fee. Although this fee is significantly less than it was a few years back, could this with the saving you'll make on buying energy and also the free energy that your panels are generating and over time the saving you'll make can be significant.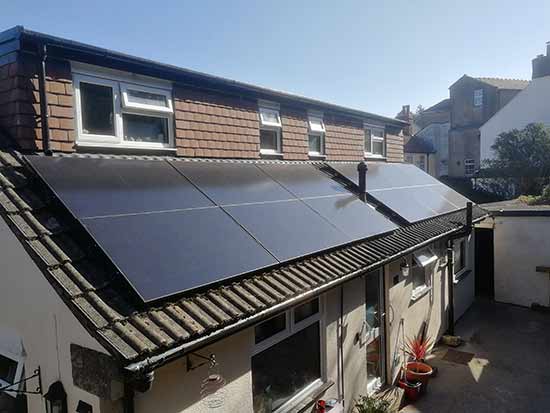 What Different Types of Solar Panel are There?
When it comes to the different types of solar panel, essentially there are 3; Polycrystalline, Thin Film and Monocrystalline solar panels with each type having its particular advantages and disadvantages.
Generally, as is the case with all things the best solar panels tend to be more expensive but are generally more efficient and generate more power with the lower quality panels being cheaper but in some cases far less efficient.
Polycrystalline Solar Panels
Pollycrystalline solar panels are generally blue in appearance, with each individual cell forming a square shape, unlike moncrystalline panels that are rounded off at the corners and often feature white gaps between each cell.
Polycrystalline cells are made from artificially manufactured silicone crystal fragments. A silicone crystal is inserted in a vat of molten silica and then left to cool down as opposed to being slowly removed. Once cooled they are then sliced into wafer thin sheets where they are then used to assemble a solar panel.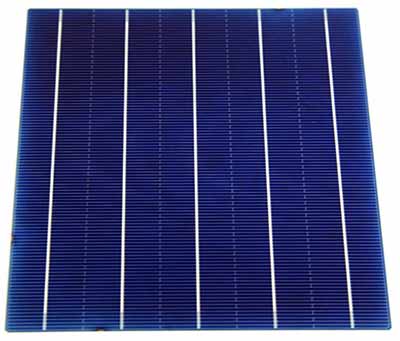 This process is generally quicker and cheaper than the method used to manufacture monocrystalline panels which makes polycrystalline panels cheaper to purchase, however they are generally less efficient (only up to 18%), are more susceptible to hotter temperatures and have less of a lifespan than monocrystalline.
Over recent years, the manufacturing process of polycrystalline solar panels has come on a fair amount which as also boosted their performance closer to that of monocrystalline panels, in some cases up to around 22%.
This kick in performance has also has also seen a jump in output. Whereas older polycrystalline panels used to produce around 240w, newer more efficient panels can now hit upwards of 300w.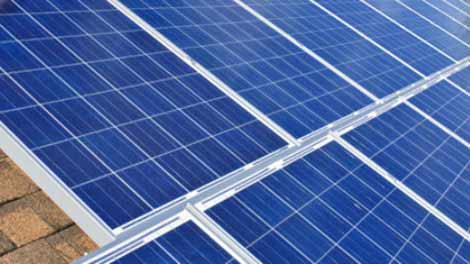 To sum up, the advantages and disadvantages of pollycrystalline solar panels are:
Advantages:
Lower cost
Improving technology increasing efficiency and output
Disadvantages:
Not as efficient as monocrystalline panels
Shorter lifespan
Not quite as visually attractive
Can be affected by higher temperatures
Thin Film Solar Panels
Thin film solar panels are a relatively new technology and one that is very much in development. Due to their thin and lightweight construction they can also be flexible which makes them ideal for small portable chargers that can be used in camping and backpacking situations.
However they are no where near as efficient as either monocrystalline or polycrystalline panels and are generally regarded as the worst performing type of solar panel and due to this are not suitable for use in domestic installs and are more suited to large-scale industrial installs.
In terms of appearance and construction, thin film panels are are fairly different from their monocrystalline and polycrystalline counterparts.
Firstly they don't look the same in that thin film panels are a solid uniform black and they are also constructed using different methods and materials.
The manufacturing process involves covering a surface, normally glass but can be other materials (e.g. flexible ones) with a photovoltaic medium (these include copper indium gallium selenide, cadmium telluride etc). This then generates and electrical charge that can be harnessed.
Despite their low efficiency rates they are much cheaper to both produce and install which in some respects makes them a good option depending on the situation.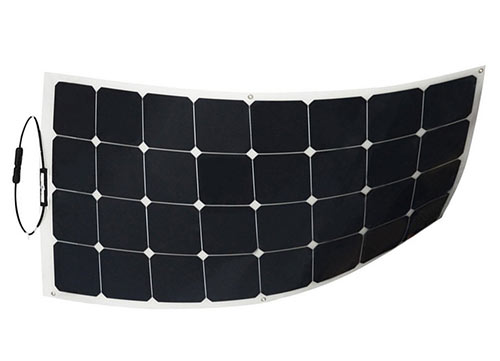 Advantages:
Much lower cost compared to poly and monocrystalline panels
Ideal for large scale industrial operations
Very lightweight and portable
Can also be flexible
Easy to install
Disadvantages:
Much less efficient, only reaching up to 13%
Not suitable for domestic installs
Many more panels required due to less efficiency
Monocrystalline Solar Panels
Widely regarded as the best type of solar panel at present, the monocrystalline solar panel is the most efficient type of solar panel, has the greatest output and generally regarded as the go-to option for domestic installs.
One other feature that makes them popular is their appearance. Unlike polycrystalline panels that have a blue colour to them, moncrystalline panels are mostly black which many regard as being much more in keeping with the look and feel of their property.
They're efficiency is very much down to the way in which they are made. Unlike polycrystalline panels that use silicone crystal fragments, moncrystalline panels are formed using a single crystal seed.
A single silicone crystal seed is placed in a high temperature vat of molten silica and then the seed is slowly withdrawn, allowing the silicone from the vat to form around it.
Once cooled this large crystal is then cut into extremely thin slices and these are then used to form the cells that make up a panel.
Producing solar cells from a single crystal will allow the electrons to flow with much less resistance than using fragments such as with polycrystalline panels.
Although the price and efficiency gap is closing between moncrystalline and polycrystalline panels due to advancements in technology, monocrystaline panels are still the preferred choice at present.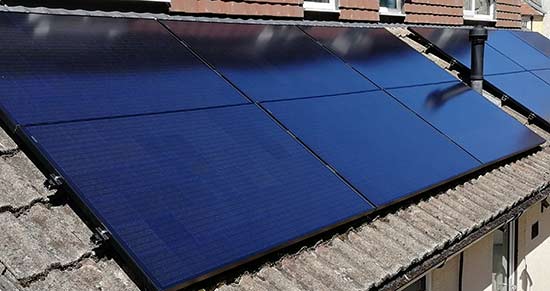 Advantages:
More efficient than other types of panel, some up to around 24%
More efficiency means a greater output with less panels, ideal for smaller roofs
Less affected by higher temperatures
Great lifespan compared to other panels, some feature a 99 year lifetime guarantee
Aesthetically pleasing to the eye
Disadvantages:
Cost more than any other types of panel
Other Types of Solar Panels
As we have stated, the above 3 types of solar panels are generally regarded as the most common. As with all things technology moves on and solar panels are no different so here are a few more different types of solar panel technology that are currently in development and will no doubt become more common as time goes on.
Concentrated Photovoltaic Cell Solar Panels
These types of panel work in pretty much the same way as a conventional solar panel (e.g. mono/pollycrystalline) but are almost twice as efficient, some reaching over 40%.
Although technically the same, they're difference comes in the way they collect solar energy, some being curved or using lenses to concentrate the suns energy and produce as much power as possible.
As they only reach peak efficiency when they are facing the sun at the exact right angle they are connected to a system that automatically follows the sun and adjusts the panels to ensure they are in the correct position all the time.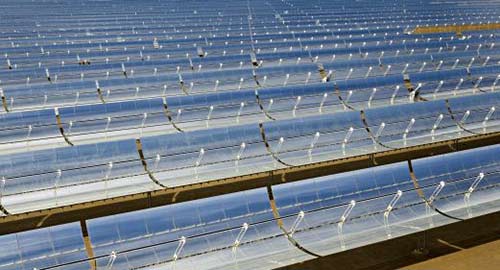 Solar Tiles
Again, solar tiles are a fairly recent development, although the concept has been around for a while, it's just taken a little time for the technology to catch up, although they still have a fair way to go.
They're main benefit is that they can be produced to mimic pretty much any type of roof tile or slate so can directly replace the slates or tiles in an existing roof, making them more versatile than standard solar panels and ultimately more visually appealing.
However as the technology is still not fully developed (Tesla are currently leading their development) solar tiles are generally not as efficient as standard solar panels are are also much more expensive.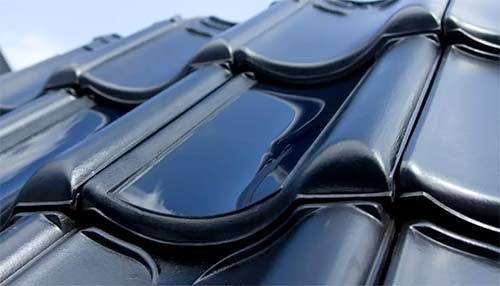 Bifacial Solar Panels
Most standard solar panels are monofacial meaning that they only collect energy from the front of the cell. As the name suggests, bifacial solar panels collect energy from both the front and rear of the cell, boosting performance significantly.
This is normally achieved through either a reflective backing or an additional glass pane in place of the standard non-transparent backing sheet
Although bifacial technology has been around for a great deal of time it still has a way to go, but when it does eventually catch up its certainly one that will carry the solar industry forward.
Biohybrid Solar Panels
As with the others above, Biohybrid solar cells are still very much in the development stage and still in many ways just a laboratory concept.
The basic idea is to combine both synthetic (same silicone materials used in current solar panels) and organic (Photosystem I, a photoactive protein similar to that used in photosynthesis) materials to try and improve the conversion of solar energy into electrical energy.
What Type of Solar Panel is the Best?
In terms of what solar panels are actually the best, this very much depends on several factors:
Available budget
Roof space available
Where they are going to be installed e.g. a shaded area
Climate and weather conditions
Your aesthetic requirements
For example, if you are working to a tight budget but have a large roof space to work with then polycrystalline panels might be the way to go as they are cheaper, but at the same time you will need more of them to generate a decent amount of power.
Another consideration is whether the panels will be in a shaded area or subjected to low light levels due to climate. Shading can have a big impact on the amount of day light that a solar panel is exposed to and in turn how much electricity it generates.
There are solar panels that have been developed especially to improve performance in shaded and low-light areas such as the Evolution Ultra Max panel.
Although a solar energy system is primarily about the amount of electricity it generates, its aesthetic appearance also matters to some.
It is generally thought that monocrystalline panels are more visually attractive than polycrystalline panels, so if this is a consideration for you then this might be the route to go down.
If you absolutely have to generalize and pick the best solar panel, the price normally goes to the monocrystalline panel due to its power and efficiency, good aesthetic looks, longevity and performance, so in most cases for a domestic install, these are the panels to go for.
What are Solar Panels Made of?
As we have explained above the core of a solar panel, the part that actually turns solar radiation into electrical energy is made from silicon crystals and the efficiency of the panel is very much down to the way in which the solar cells are formed from these crystals, but the construction of the rest of the panel is also important.
By this we mean what type of glass is placed over the solar cells to protect them.
With the majority of solar panels the glass used will either be tempered or just plain plate glass.
In pretty much any situation you should always opt for tempered (strengthened) glass as this will have a considerable impact on how long the panel lasts.
Although tempered glass is noticeably more expensive it is much stronger than plain plate glass so can resist impact and heat much better and in turn your panels will last much longer.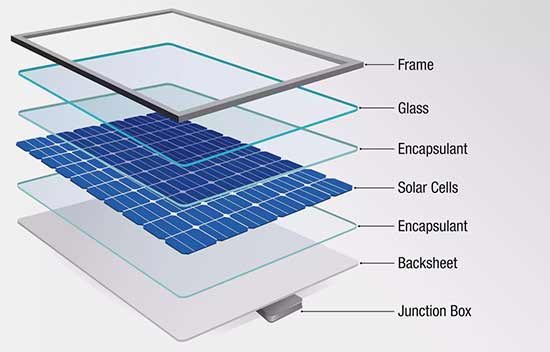 How Much do Solar Panels Cost?
In terms of how much solar panels cost, this is a bit of an open ended question as the overall cost will depend on several factors:
Brand of panels used
Efficiency and power output of panels
Number of panels to be used
Build quality of panels
As we know the overall quality and power output of solar panels vary quite a bit, with the more efficient monocrystalline panels being more efficient, slightly higher quality and generating more power, where as the cheaper less efficient polycrystalline and thin film panels being less efficient but in turn are cheaper.
Another factor on overall cost is now many panels will be used. Ultimately the more panels you use the larger the cost.
The brand of panel that is used will also dictate the cost. As we all know, branded goods always cost more, but that's not necessarily a bad thing as long as the brand has a reputation for quality workmanship, efficiency and using only the best materials.
With the above in mind, as a very general rule of thumb, a smaller middle of the range solar panel setup (4-6 panels) will cost somewhere in the region of £2000 – £4000, whereas a larger system (10 – 12 panels) will cost around £8000.
If you are considering installing a solar panel system in your home it's extremely important to do your homework first and ensure the panels that are used in your system are correct for the installation environment and climate, amount of light exposure, required power output, roof type and pitch, efficiency etc.
As installing solar panels onto the roof of a property is specialist work and will need to be carried out by qualified professionals it is also important that you do your homework and find the best solar installer for your project.
There are many out there, some better than others, so read as many reviews as possible, scrutinize any quotes, as with other home improvement projects get at least 3 quotes and also understand what any warranties or insurance-backed guarantees cover.