Choosing a bathroom suite very often depends on the type of bath you want and this page is designed to answer the most common questions asked by people visiting bathroom showrooms.
Choosing between acrylic baths, steel baths or cast iron baths is not simply a matter of cost and knowing about the material your bath is made from can help you in many ways. Not least on installation.
I Want a Bath Which Allows me to Fit the Taps on the Wall
No problem. Most manufacturers have a range of baths with no pre cut tap holes. This will allow you to not only fit wall mounted taps, but cut your own tap holes if you would like to and have the taps anywhere you like.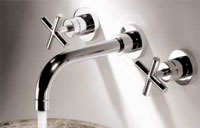 How do I Fit Taps in a Bath With no Tap Holes?
See our project on using a hole saw and buy a hole saw of the correct size. 35mm is the most common size for taps in the UK. You will need an arbor for your hole saw. This is the small drill bit which acts as a guide and is fixed inside the centre of the hole saw. You can find out more about how to use a holesaw by clicking through to our project on using holesaws.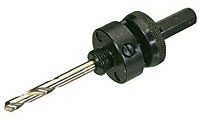 What is the Best Way to Clean an Acrylic Bath?
Use a soft cloth and some soapy water. Then rinse with clean water and wipe dry. No special agents are required to get a good clean acrylic bath.
Are Acrylic Baths as Good as Other Types?
All baths should meet BS 4305 part 1/EN198. This ensures that their quality is guaranteed. The process of manufacturing and the cost of the materials usually makes acrylic baths cheaper than others but this does not mean they are inferior. To learn more about acrylic baths check out our project page.
If I Buy a Cast Iron Bath, can I Paint it?
In short, yes you can but there is some preparation work needed first to ensure that the finish is as good as it possibly can be. See our project on painting cast iron baths for more information and also check out our project on cast iron baths for general information.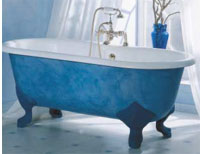 Do all Types of Bath Come in Different Colours?
Yes but the range of different colours in acrylic is much greater that that of cast iron and steel. This is because of the process required to colour porcelain enamel and its difficulty compared to colouring acrylic sheets.
Which Type of Bath Gives me the Greater Range of Styles?
Again, acrylic baths have a much greater range of styles because of the ease of moulding an acrylic sheet compared to shaping steel or cast iron moulds. More information on baths and bathrooms can be found in our bathroom projects section.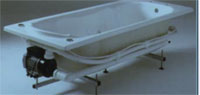 Is a Special Water Supply Necessary for a Whirlpool Bath?
No a normal hot and cold water supply can be used for a whirlpool bath which, if installed correctly, should be quiet and efficient.
Don't I need a Huge Bathroom for a Whirlpool Bath?
No, as the majority of whirlpool baths are acrylic they are made in all shapes and sizes and there are manufacturers about who specialise in producing goods for smaller bathrooms.
How do I Resurface an old Bath?
To find out how to repair or resurface an old bath and give it a new lease of life take a look at our project on bath repairs and resurfacing.
Do I Need to Buy a Complete Suite From one Supplier or can I Buy the Different Parts From Different People?
Its recommended that you buy bathroom suites from a single manufacturer. Bathroom suites can vary in shade and buying from different suppliers can lead to different colours. If you have no wish for everything to be the same however, you can buy from as many different people as you like.