Air compressors are used for a variety of jobs on building sites, in homes and in many garages and workshops across the world and they have a surprising array of uses.
Using an air compressor can seem pretty scary if you have never used one before, but they do have a huge range of uses.
They can be used for pumping up car, bike and wheelbarrow tyres, blowing debris out of concrete shuttering, powering nail guns, drills, grinders and many other tools and also for powering concrete breakers and other heavy plant objects.
When compressed using a machine such as a compressor, air can be harnessed into a very powerful force and as we have outlined above, more than powerful enough to match and sometimes better their petrol, diesel or electrically powered couterparts.
When an object is powered by compressed air, or indeed, compressed gas it can be refered to as being pneumatic e.g. a pneumatic breaker.
This however is not to be confused with hydraulics that uses compressed liquids as opposed to gas or air. For a full explanation on the difference between the 2, see this article here.
Moving back to the subject in hand, in this project we take a look at the compressor to see how it works, what different tyes there are and how they can be a valuable addition to you arsenal of tools.
What is a Compressor and How Does it Work?
Essentially, a compressor converts the power output of an electric, diesel or petrol motor into stored, compressed air that can then be used to power a vaiety of different tools and devices.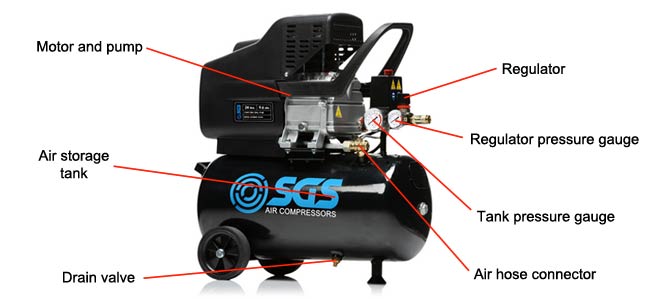 The majority of compressors available work on a "positive displacement" basis. This means that air is forced into a fixed size, and the more air that is forced in, the more it is compressed until it reaches a defined maxiumum limit and this then shuts the compressor off.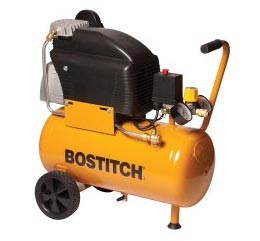 In terms of how the air is forced into it's storage tank; the motor on the compressor drives a pump and it's the pump that in turn pulls in and and then forces it into the tank.
There are several different methods of positive displacement that a compressor can utilize in order to force the air into the storage tank:
Piston: The pump piston rotates, pulling in air on the down stroke and then forcing it into the tank on the up stroke through a one-way valve
Rotary Screw: Two helical screws rotate, forcing air down into the storage tank
Vane: A rotor with slots in that also features varied blade placement, pulls air and forces it on into the storage vessel
Due to a phenominum called "adiabatic heating", a compressor also has to feature some method of cooling.
Adiabatic heating occurs when a gas is compressed, this causes a rise in temperature of the gas itself. This is a common occurance when compressing such mediums and is put to good use in things such as diesel engines (heat engines) that rely on the heat produced through the act of compression to raise the temperature of the diesle fuel enough for it to ignite.
When it comes to air comprssors, heat is not a product that is required so it needs to be controlled and disipated (removed).
This is normally achieved through either air cooling or water cooling.
With air cooling, the excess heat is dissipated through cooling fins on the pump housing and with water cooling, water is pumped around a water jacket the surrounds the pump and is then removed/cooled through some form of radiator.
In some situations, oil is also used for cooling, with the oil itself being cooled by either water or air.
In respect to how much air can be stored by your compressor and also how fast it can replenish the stored air when it is being used, the storage tank of a compressor is measured in litres e.g. 100 litres means that it can store 100 litres of compressed air.
In terms of how fast a compressor can generate the stored air, the power output or the motor is measured in horsepower (HP). This is the measurement of how much work the motor can do in terms of driving the pump.
Another important figure to take note of with a compressor is CFM (or cubic feet per minute). This is the measurement of the amount of air a compressor can output at certain level of atmospheric pressure and humidity. This is quite a complex principle to understand, but if you would like to know more, see this article here.
If you are looking to purchase an air compressor, then essentially the figures that you need to look at are the horsepower of the motor (HP), the size of the tank (in litres) and the amount of compressed air output that it has (CFM). Some useful information on calculating the size of compressor for your needs can be found here.
What Regular Maintenance Should you do?
As with any and all machinery, your compressor will require routine maintenance to ensure that it operates at optimum levels.
With this in mind, make sure you check the following items regularly, ideally before each use. Additionally, also check the instruction manual for your compressor as it will detail any and all things that should be checked or replaced on your compressor and how often this should be done.s
Check Cooling System
As we have mentioned above, heat is the byproduct of the compression process and this needs to be gotten rid of to ensure everything works correctly.
Identifying how your compressor is cooled is the first job. If it's air cooled you should be able to see what looks like "fins" on the top of the pump.
As heat generated by the pump travels up on into the fins, this heat is then expleled through each of the fins into the air, so to ensure all is working as it should be, each fin should be free from blockage or dust/debris buildup.
As we have also stated, even if it's water or oil cooled, liquid cooling can also be achieved through fins, but if you don't see any fins then there should be what looks a radiator somewhere. This may be attached to the unit itself or located somewhere else, with teh water or cooling liquid being pumped between the two.
What ever the setup, ensure that the fins of the radiator/heat exchanger are all free from any debris so that air can flow freely through and around them.
Clean/Replace air Intake Filter
To ensure that any atmospheric air that is sucked in to your compressor by the pump is free from dust or debris, before it actually gets into the unit, it will have to pass through an intake filter. It's this filter that removes any rubbish.
Over time the filter will become clogged up. In order to maintain the pressure in teh storage tank, your compressor will have to work much harder to pull the air in. This in turn will put much more strain on it.
To ensure maxium operating efficiency, the filter should be cleaned or replaced regularly.
Drain off Condensate and Moisture
As the outside air is pulled into the storage or receiver tank and over time, moisture will collect in the tank itself. The more moisture that builds up will reduce the storage capacity of the tank itself so it will need to be drained off.
Pretty much all compressors will feature a valve that can be opened to do this, but make sure before you do so that any compressed air in the tank is released first.
Check all Hoses and Valves
Whether the air lines running from your compressor are rigid or flexible, they will wear over time.
Hoses will become brittle as they wear and the constant movement and flex will cause them to crack and leak air, making everything have to work that much harder to maintain pressure levels, so check and replace any damaged hosing.
Rigid pipework can also corrode which can cause leaks and expansion/contraction can put strain on joints overtime. Even a minute leak will have a detrimental affect on the system as a whole
Likewise, any air line connection valves or jacks will need checking and replacing. As hoses are connected and disconnected, over time, this causes wear that again can cause leaks, so check and replace any worn parts.
Check/Change Cooling and Engine Oil
This will really only apply to compressors that use oil for cooling or feature a diesel/petrol engine.
If you own a car you will know that your engine oil needs checking regularly and changing at set periods. Tis is teh same for your compressor.
Ideally, you should check engine oil levels before every use to ensure that the motor is protected and fully lubricated.
Similarly, if your compressor is oil cooled, levels should always be checked before use to avoid overheating as this can cause huge amounts of damage.
When it comes to the oil, you will need to refer to your user manual for the exact oil to use. Make you use the correct oil and the wrong stuff can be as damaging as not using any!
Check/Replace Drive Belts
As with hoses and valves, rubber drive belts can wear and perrish over time. In extreme situations they can also snap!
Aside from wearing and potentially snapping, rubber belts can also stretch and this can cause slipping and also affect the way in which the motor drives the pump leading to less efficiency.
Lubricate and Maintain Tools
As well as maintaining your compressor and air hoses, you will also need to keep your tools in tip-top condition to ensure their safe and efficient operation.
With most tools, this can be done by dropping suitable lubricating oil (refer to the tool user manual for the specific oil to use) down into teh hose connection point on the tool. You may need to hold it upside down to do this to ensure the oil travels down to reach the parts that need lubrication.
Additionally, you should also lubricate any external moving parts of any tools.
Safety Aspects When Using a Compressor
As is the case with any tool, they can be very dangerous if not used correctly and compressors are no exception.
As well as moving parts we also have a large tank that's full of compressed air, that if punctured or damaged, can go off like a bomb!
Bearing the above in mind, you should always wear suitable protective clothing such as goggles, gloves and old clothes when operating them and also any tools. Grinders, saws, chisels etc can easily throw high speed debris around that can cause severe injury.
Additionally, always de-pressurise any tools and hoses before disconnecting or connecting them.
When it comes to the tools themselves, always operate a given tool at the correct pressure. Never use them with more pressure than their built to take.
When plugging a compressor into the mains you should never use an extension cord as this can lead to overheating and potential fires.
How to use a Compressor
How that we have looked at how a compressor works and how to keep one in tip-top condition, it's now time to find out all about using them.
If you've never used one before they can look a little daunting. All of that air pressure contained in what's essentially a metal tube can seem rather dangerous and if not operated correctly and with care, it certainly can be, but used correctly, they are extremely useful.
As we have stated above, before we get going, make sure that you do all of the necessary checks e.g. checking oil levels etc.
Connect up Hose and Chosen Tool
The first job after any initial checks is to get everything connected up and ready for use.
Get your compressor out and sit it in a suitable position so that it is level and flat and that it has plenty of air around it. The more air the compressor can get for both cooling and compressing the more efficiently is should run.
Now, un-ravel your air hose, making sure it's laid out nicely and that there are no kinks that can restrict air flow.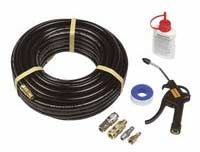 Depending on the type and size of compressor you have will ultimately depend on where the work hose is connected.
With large compressor setups, you may need to plug into a filter, regulator, lubricator (FRL). These units can come attached to your compressor or br fixed in a seperate location. These units help to filter the air, regulate/adjust pressure and also release tiny droplets of oil that flow with teh air in order to help lubricate the moving parts of any tools.
If you're using a small setup, chances are you won't have this kind of setup and will only have some kind of regulator valve with a pressure gauge running straight off of the tank.
In the event that you do have to connect straight to a valve on the tank, it's worth considering purchasing an FRL valve as this will help to prolong the life of both your compressor and tools.
Moving back to our hose, take the female connection end (looks like a metal plug with a hole in the middle of it) and push this on to the male connector on your compressor.
As you push it on, there should be a spring-loaded locking collar on each end of the hose that will click over the male connector and lock the hose firmly on. Youre hose is now secured to your compressor
Next, select your desired tool for use and connect this to the other end of the hose. The connection process should be the same as the compressor end.
With both connected, give the hose a gentle tug at both the tool and compressor ends to make sure it's securely attached.
Turn on the Compressor and Presurize the Tank
With your hose and tool all connected up, before turning on, just check that any pressure release valves or condensate drains are fully closed.
With the final checks done it's time to build up some pressure. Plug your compressor into a mains socket and turn it on. If there is a main power switch on the compressor itself, turn this on also
It should now burst into life. As it runs, keep a close eye on the main storage tank pressue gauge and watch it as stored pressure in the tank builds.
Depending on the size/type that you have will depend on how much pressure will be stored in the tank until the automatic shutoff switch kicks in and turns the compressor off. Refer to your user manual for this. Make sure that it does shut off when the stated pressure is reached. If it doesn't, switch it off at the mains immediatley and get it serviced.
If all is well, the tank will continue to presurise until the maximum storage capacity is reached at which point it will shut off.
Some compressors will also feature a pressure release valve that will kick in and open if the tank reaches a certain pressure. Beware of this as it can be quick a shock when it goes off if you're not expecting it.
A Little Info on Pressure Gauges
When it comes to a compressor or any object that works with pressurised air, gas, oil or any other similar medium, the pressure gauge is your window into what's actually going on.
Pretty much all compressors should feature two gauges on them – One that displays the pressure that's currently in the tank (normally mounted on the tank itself) and one that displays the pressure coming out of the tank and going to your chosen attachment (normally as part of or after the regulator).
On looking at either gauge (or indeed pretty much any air pressure gauge) you should see two sets of readings, one displaying "PSI" (pounds per square inch) and the other "Bar" (pressure above atmospheric pressure).
In pretty much all cases you will be dealing with PSI figures when it comes to your compressor and tools so this should be the one to look for.
In terms of reading the gauge itself this is fairly straight forward. Depending on the pressure that is in the vessel the gauge is attached to, in this case our compressor, will depend on how far around the gauge the needle rises. The top point of the needle then displays the pressure that it's receiving.
Check Operating Pressure and set Pressure Regulator
With some pressure in the tank ready for use, check the correct operating pressure for the tool you are using. This should be stated on the tool itself somewhere, but if not, then you will need to find out. Running it at the incorrect pressure will damage both the tool and the compressor.
The operating pressure of your tool should be stated in PSI (pounds per square inch) pressure e.g. 80 to 90 PSI.
Now that you know the correct operating pressure, adjust the pressure regulator valve on the compressor to match the operating pressure required by the tool. The small gauge next to the regulator itself will tell you the level of pressure in the hose that's going to the tool.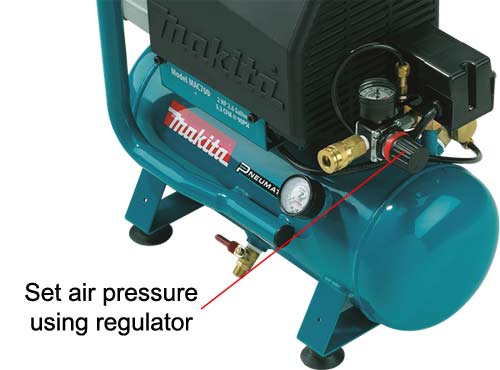 Get the Job Done
How that you are all setup and ready, and there's pressure in the storage tank and hose, you can now get to work.
The tool that you're using and the size of your compressor's storage tank will ultimately affect how you work.
For example, if you are using an air sander, this type of tool will require prolonged use in order for you to sand the surface you're working on. As you work, compressed air from the tank will be used by the tool, emptying the tank as you go.
When the compressor itself senses that there is a drop in pressure in it's stored air, it will kick back into life and activate the pump to pull in more air to replace what's being used.
With a large storage tank and a tool such as a sander, this scenario should be fine as you will have enough air in reserve to keep working while the air that's used is replenished.
But, if you only have a small storage tank, the chances are that a tool of this nature will drain it faster than it can be replaced, so you will end up having to stop and wait while air reserves are replenished.
This is something to be aware of when looking to purchase a compressor; Think about the tools that you will be using and the time that they will be used for.
If at any time you need to change tools remember to adjust the regulator accordingly so that it is set to supply the correct pressure neded by the tool.
Shut off Compressor and Pack Away
When you have finished working and won't need the compressor for the rest of the day, it's time to pack it all away. This is necessary to keep everything tidy and in good order.
Firstly, turn off the compressor at the mains and pull out teh plug. Wrap this up nicely and hang it over the compressor handle so that it's tidy.
Next, turn off the regulator valve (normally turning clockwise) to prevent any further air from travelling into the hose and then run the tool that's connected to empty all of the remaining air out.
Now, disconnect the tool from the hose and pack this away and then disconnect the hose from the compressor itself. Again, ravel this up tidily and hang it some where safe. Make sure there are no kinks or that it's not unnecessarily twisted.
Note: In terms of disconnecting tools and hoses, we did mention further up this page about the spring loaded locking collar that should be on either end of the hose. These allow the quick and easy connection and disconnection of hoses and accessories, but at the same time, ensure that each item is locked on without the chance that any pressure can blow it off.
To disconnect any item featuring such a locking device, simply hold the hose or tool with one hand and pull back the locking collar with the other. A simple slight tug will then disconnect them.
With everything disconnected, it's now time to drain off the remaining presurised air in the compressor tank and then empty out any condensate.
Most compressors will naturally expel any remaining pressure in their tanks gradually once they've been turned off, but some do not. In this case it's necessary to release the pressure manually through the pressure release valve.
This will be located somewhere on the tank (refer to your user manual for the location). Using a spanner or specific tool/method specified, turn the valve very slowly until you start to hear a "hiss" of escaping air. Gradually open the valve a little at a time to release the air.
Do this very slowly! A sudden, fast release of compressed air can be very dangerous.
With the air removed, next we need to get rid of any moisture buildup in the tank. Again, this will be done through a valve, specifically the condensate valve.
Again, this will be located on the tank itself, normally on the base or towards the bottom.
Release the valve and wait for any water to drain fully out. Once totaly empty, refit the valve and ensure it's done up fully to prevent any air leaks next time the compresor is used.
You should now be all packed up so move the compressor back to it's resting place ready for the next time you need it.
Now that we have looked at all aspects of using an air compressor, you should now be much more confident with how to operate one safely. You should also have a great understanding in how useful these brilliant tools can be.