Air compressors are used for a variety of jobs on building sites and homes. They include pumping up car, bike and wheelbarrow tyres, blowing debris out of concrete shuttering, powering nail guns, concrete breakers and other air tools. When something is driven by a gas it is called pneumatic.
They can be hired from a local tool hire shop or bought surprisingly inexpensively from our tool store.
Air compressors and Air Tools
Once you have used a compressor in conjunction with a good nail gun or brad gun, it is unlikely you will revert back to using a hammer ever again! They are so simple to maintain and use and they make finishing the job so neat and quick, most real enthusiasts would list a compressor and also possibly a nail gun at the top of their must-have tool list.
An air compressor works by drawing in air and compressing it in a chamber for use later. The chamber size is measured in litres (in the UK). The larger the tank, the less portable the compressor is and for simple DIY Purposes a 6 litre tank is fine. For smaller units the engine is usually mounted alongside the tank whereas with bigger units it tends to sit on top. A good general purpose size for an air compressor is 20Litres.
Compressor tanks will be fitted with a pressure release valve just in case the pressure builds up too much in the tank.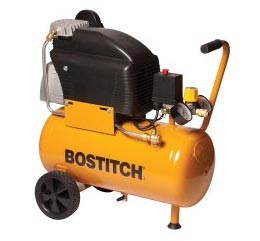 The air is drawn in by a motor. The motor (electric, diesel or petrol) drives a fan which pulls air into the tank. When a tool is attached and the trigger is pulled, air is released to drive the tool.
Air tools themselves (nail guns, air drills, air grinders, spray guns, air hammers and breakers, air staplers) need a certain air pressure to work effectively and most of them need a pressure of 90 PSI. This stands for pounds per square inch.
The simplest air compressors have a 240 volt motor which plugs directly in to the domestic electricity supply. When switched on the motor drives the fan and the operation is straight forward. There are more ingenious and complicated types of compressor available which, for a greater price, offer greater efficiency, but this page deals only with the basic details.
Maintenance
Air contains tiny particles of dust and grit. Continued use of a compressor will damage and wear the components with this grit. A very fine oil is regularly used to keep air tools in good condition.
Air hoses and Connections for a Compressor
Air hoses come in a variety of sizes with the main DIY size being 6mm. The important thing about the hose is that it is very flexible and the connectors are good quality. If the connectors do not fit properly you will get a hiss of air from the joints which, as well as losing air pressure, is very annoying.