Safety workwear and clothing is an absolute must! Whether you are a building and construction professional or an avid DIY'er, the right clothing for a given situation is almost as important as the tools you are using.
Many products and practices in building and DIY involve "getting stuck in" with paint, silicone sealants, varnish, pieces of old timber with nails sticking out, blow torches, hammers and all manner of other items and as you may now be thinking, almost all of these can potentially destroy your best trousers in a micro second.
This is where the workwear comes in!
The majority of workwear and safety clothing is made to be tough and hardwearing and to some degree be resistant to some of the previously mentioned hazards e.g. Teflon coated tops that are resistant to staining, tear-proof trousers that can resist nails, screws and other pointy objects.
These are just a few examples, there are many more! Almost any clothing garment that you can buy on the high-street now comes in a "safety version" (within reason, you'd be hard pressed to find a safety tuxeedo).
Safety clothing is normally categorized in the following ways:
Tops and trousers
Shorts and t-shirts
Gloves and hats
Outer wear (coats, overalls, fleeces, waterproofs etc….)
Safety footwear
Hi-vis
PPE (personal protective equipment)
Most categories are pretty self explanatory, but further details may be needed for a few of them. To these ends, we will now explain each in a little more detail.
Tops and Trousers Workwear
As mentioned at the top of this page, most types of clothing on general sale (e.g. t-shirts, shorts, 3/4 length shorts, hoodies, crew neck tops etc….) are available as a workwear alternative.
Due to market diversification, quite a few traditional clothing companies now offer their own line of workwear and safety clothing, but the real market leaders in general workwear are Dickies, APC, Alexandra, Apache, Scan and Roughneck. There are others, but these are the main leading brands.
Trousers
When it comes down to it, a pair of trousers is a pair of trousers; 2 legs, a waist, a front and a back, but specific work trousers often have features that make them more geared towards the industry they are to be work in. When it comes to building and construction, you will probably find that the trousers have the following extras:
Hammer loops
Lots of extra pockets (normally with zips to prevent items falling out)
Reinforced knee areas (usually with slots for knee pads)
Teflon coated to prevent stains and small rips
Extra large belts loops for tool belts
Wider cuffs to take high boots
The main features to look for when purchasing a pair of workwear trousers is quality and durability – they have to be tough!
Cheap alternatives, by the very nature of their name are cheap and may save you a few quid in the short terms, but if you are going through a pair a week then it won't be that long before the money you have spent could have bought you denet pair that will last much much longer.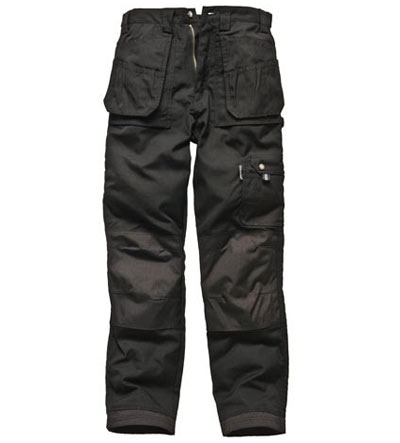 Tops – Hoodies, Jumpers etc….
Whereas trousers tend to be more utilitarian in terms of their features, workwear tops, jumpers and hoodies tend to be a little "standard" in terms of appearanace.
The main features that they have over their traditional counterparts are:
Normally feature at least 30% cotton for durability
Reinforced to elbow areas
Reinfirced heavy ribs around cuffs and hems
Reinforced stitching around pockets and double opening pockets (hoodies)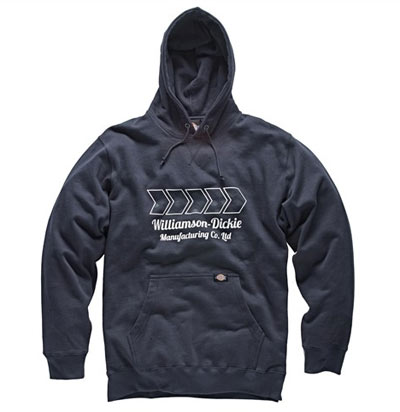 Shorts and T-Shirts
As with tops and trousers, shorts and t-shits tend to be quite similar in respect to features and construction. Pretty much all variants are of heavier construction when compared to their high street counterparts, but often look very similar in appearance.
Workwear Shorts
When it comes down to it, workwear shorts are pretty much the same as workwear trousers, but with the legs cut off!
They usually feature all the same additional extras such as extra pockets with zips, legs pockets (cargo pockets), hammer loops, small pockets for screws, nails, larger belt loops etc…. but just end a little before or after the knee (depending on style).
As with trousers, all hems and cuffs are either double stitched or reinforced for longevity and durability, but due to their length in all most styles, they do not feature any slots for knee pads, which can be a pain, but easily resolved by Velcro strapped or slip on knee pads.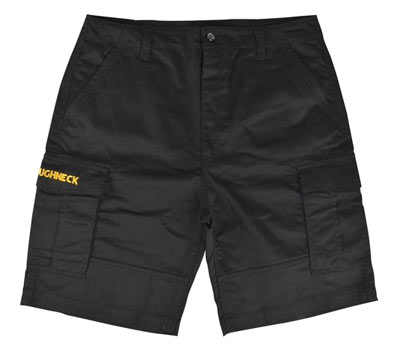 Workwear T-Shirts and Polo Shirts
When it comes to t-shirts, these normally come in two flavours; traditional t-shirt and polo shirt.
Again, a t-shirt or polo shirt is exactly that and in their safety wear or workwear versions will not really look any different to a traditional one. As with the other clothing types above, the differences come mainly with their construction.
In most cases, both will be made of 100% cotton for durability and also breathability. This is an important one as working in a loft in the middle of summer, even in the UK this will be sweaty work and you certainly don't want clothes made of polyester in these conditions!
As before, all hems, cuffs, necks and seams should be either double stitched or reinforced. Occasionally you may find that they are fitted i.e. cut in at the sides. This will provide a better fit and also prevent unwanted material flapping about that could easily get caught up in a power tool of some kind.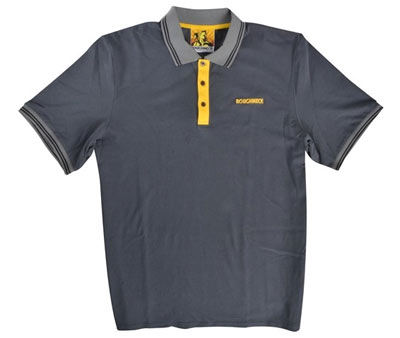 Gloves and Hats
When it comes to gloves, these do tend to be a little different, not really in appearance, but certainly in construction.
This can also be said for hats. Although the standard types are available e.g. baseball cap, beanie etc…. these normally have a few subtle differences.
Safety Hats – Caps, Beanies and Hard Hats
As we have established, a particular clothing type is what it is – trousers are trousers, hoodies are hoodies etc…. and for the most part this is true for hats.
For beanies, in most cases these will normally feature a Thinsulate layer for added warmth and heat retention (not all high street varieties do, but can sometimes) as if someone needs to wear one, chances are it's needed for a reason such as they are working in cold conditions – chillers or blast freezers for example.
For added levels of safety, occasionally they do also feature a reflective hi-vis band.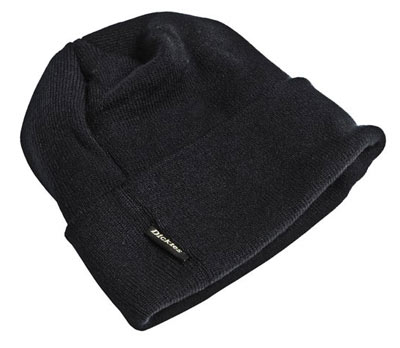 When it comes to the "construction grade" baseball cap, these are slightly different. Also known by another name "bump cap" they feature a built in ABS inner shell and normally soem additional foam padding that provides protection from very light impacts, such as banging your head on a protruding piece of timber.
You might be thinking that this sounds very much like a hard hat, but make no mistakes, it is not! It will give some protection but no where near the levels that a hard hat does so don't be tempted to swap!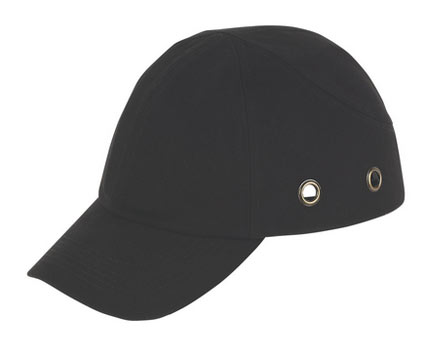 We now move on to what really is the daddy of all construction head-wear – the hard hat.
Normally either white, yellow or sometimes blue, they do also come in other colours but most site or construction companies will have hard and fast rules on what colour your hard hat should be.
Their main purpose is to protect the wearers head from impact injuries. Their size allows for a suspension framework (known as a skull cradle) to be installed in the top of the hat that keeps the hard plastic outer skin away from the users head. This helps to absorb impacts and also keep the wearers head clear if an object does hit the outer skin.
Since the introduction of the Construction Regulations (later to become the PPE at Work Regulations), all and any constructions professionals that could potentially be at risk of head injury need to wear the appropriate protection, namely a hard hat.
In terms of the rules themselves, they outline the following:
Needs to protect the head from injury and fit the user correctly and be suitable for the work being carried out
Needs to be supplied free of charge to any employee that could potentially be at risk from head injury (self employed works should provide their own hard hat in the same circumstances)
Should be worn by any visitors e,g architects or similar
Employers and those responsible for workers have a duty of care to ensure that hard hats are worn
The above is only a brief run down of the main points, for full details please click on the above link for PPE Work Regulations.
When it comes to the hard hat itslef, it needs to meet the industry standard and conform to BS EN397:1995.
Gloves and Hand Protection
The variety of safety gloves and work gloves now available in quite frankly huge! There are gloves available for pretty much every situation you could imagine, from gardening gloves to heavy duty gloves and latex gloves to PVC.
They are also available in a range of different materials to cover most usage situations. The main materials are:
Canvas
Leather
Vinyl
PVC
Latex / Nitrile
Unlike the above clothing items, the gloves are little more specific as to what jobs they should be used for. For example a builder would be unlikely to wear a pair of rigger gloves as they are too thick and you get no feeling from them as to what you are doing.
Likewise, a carpenter would be unlikely to wear a big thick heavy pair of PVC gloves because, again, they need to be able to feel what they are doing and also in most cases, use their fingers, so in this instance, a pair of fingerless carpenters gloves are the way to go.
When selecting a suitable pair of gloves for purchase, make sure you get the right pair for the work you need them for. Always check with the manufacturers recommendations for use, especially if you are handling chemicals or liquids that could soak through and cause injury.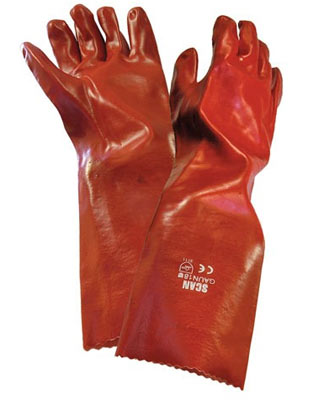 Outer Wear – Coats, Overalls, Fleeces, Waterproofs etc….
This area covers quite a range of clothing items, but mainly concentrates on "coverall" items such as overalls, waterproof outer garments, fleece over-coats etc….
Overalls, Coveralls and Boiler Suits
You will probably be familiar with overalls (or boiler suits as they are also known), and at least once have encountered someone wearing a pair. If not, they are essentiailly a pair of trousers and top joined together. They have either poppers or a zip at the front that allows the wearer to get into them.
Overalls are really the go-to item when it comes to needing to protect your clothes quickly and easily and in a cost effective manner. They are used across a huge number of industries such as farming, engineering, construction, manufacturing etc….
Overalls are available in quite a few variations from the standard one-piece suit, chemical resistant splash suits, painters bib and braces, disposable overalls (normally made of thin plastic or a similar microporous material) and several other variations.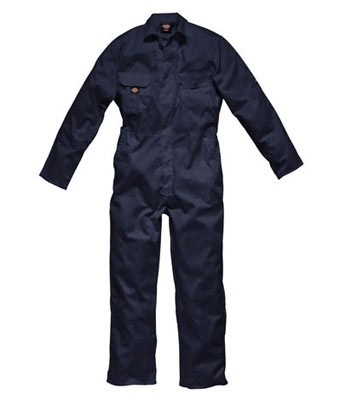 Waterproof Safety Gear
If you haven't encountered a pair of overalls before, you should most certainly have worn or at least seen someone wearing some waterproofs.
These clothing items, as they suggest, are waterproof and prevent water and moisture from penetrating through them on to your clothing beneath.
They are normally available as both a separate top and trousers but occasionally come as a one-piece set.
To ensure they are indeed waterproof, the materials used to make them are normally polyester PVC or similar. This isn't always ideal as, sure they will keep the water out, but aren't that breathable so you will sweat.
Although much more expensive, Goretex or similar products are much better as they are both waterproof and breathable.
In most situations they are usually just a single layer of PVC material but in some cases you do get a padded inner layer for added insulation and warmth.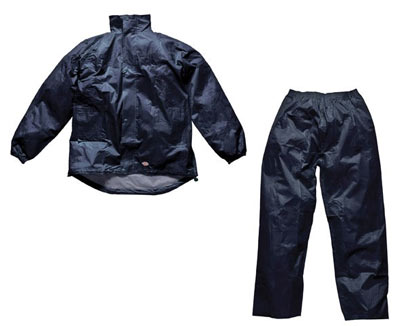 Coats and Fleeces
Most people have a coat of some kind or another, whether it's a heavy winter coat, thin summer jacket, waterproof, fleece jacket or any other potential iteration and with this in mind, we're going to keep this section quite brief.
Coats and jackets are available in almost any size, style, shape, colour, design or feature-set to cover any situation in which they may be used.
Fleece and padded coats and jackets tend to have fleece lined or padded inners that prove extra insulation and warmth for use in cold conditions and this can also be said for some waterproof coats, they usually have a little padding for warmth, although not always.
In terms of construction materials, most tend to be polyester or similar due to it's waterproofing properties, but over recent years, softshell has made an appearance.
This particular material, although not waterproof can be splash proof, for mild moisture and is also very light weight.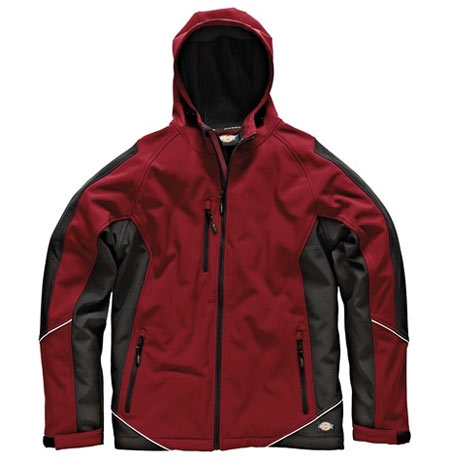 Safety Footwear
Where a hard hat is needed on site to protect your head, suitable footwear is needed to protect your feet.
Safety footwear, as with pretty much all of the clothing garments above usually come in a huge range of types and styles such as:
Safety work boots
Safety work shoes
Safety trainers
Safety wellies
In order to cover as many bases as possible, almost all safety footwaer regardless of manufacturer or style will have the following safety features:
Steel or reinforced toe caps to prevent damage to toes and feet from crushing and falling heavy objects
penetration or reinforced mid sole to prevent puncture wounds
Slip resistant soles to prevent slipping on oil or similar liquids
Chemical resistant soles to prevent melting etc…. by certain chemicals
Anti-static soles to prevent static buildup
In some situations they can also be electrically conductive for wearers that are working around electrical installations or insulated with thermal properties for use in cold conditions.
Some makes also have reinforcing along the metatarsal area (the top of the floor) for use in situations where there are objects being rolled along or heavy machinery operating.
Some other specialist designs include chainsaw shoes – these are made from special cut resistant material and can withstand contact from spinning blades etc… and also foundry shoes. For workers involved in the steel production industry, molten metal can easily spill on the floor. This molten metal is extremely hot and without suitable foot protection, serious injury can occur.
As with tops and trousers, quite a few high street manufacturers have now started to produce safety footwear lines, one such company is Dr Martens.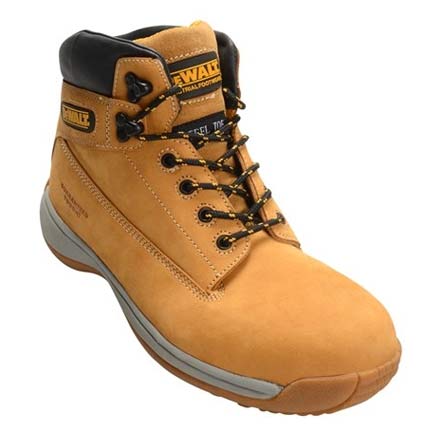 Hi-Vis or High Visibility Safety Clothing
As the name suggests, the aim of this type of clothing is to make sure that who ever is wearing it stands out and can be seen, even in low levels of light.
This means bright, luminous oranges, pinks and yellow colours and reflective bands – think 1980's "Day-Glo", but not quite as cool!
In terms of types of clothing of this nature, they are mainly focused around the outer garments such as coats, trousers, fleeces, overalls etc…. as these can easily be put on and taken off as and when required.
Despite this, they are also available as polo-type shirts and more commonly, waistcoats. The waistcoat is arguably the most common due to it's ease of use. It can be put on over almost all types of clothing including jumpers, coats, fleeces and is also very lightweight meaning it will not impede the user while they are going about their work.
In terms of the construction industry, many sites, especially the large ones will insist on the wearing of hi-vis clothing due to health and safety regulations.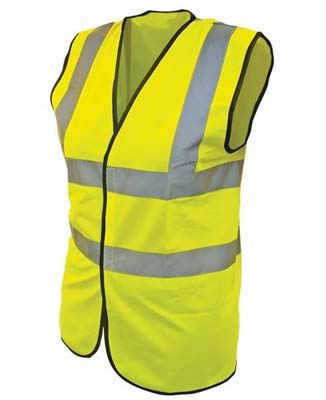 PPE – Personal Protective Equipment
This area covers all the additional items for personal protection, including the following:
Ear defenders and plugs
Goggles and eye protection
Knee pads
Face masks and respiratory protection
There are other items, but these tend to be a little more specialist so we will just stick with the most common ones.
In reality, many of the above items that we have already covered also fall under this category, such as hard hats, gloves, protective clothing, protective footwear, hi-vis etc…. but for the purposes os this project, we felt that they warranted their own specific information.
Ear Defenders and Plugs
Most will be familiar with the common ear defender. They feature a pair of cup-like objects connected with a head band that fit over the head with each cup sitting comfortably over each ear. Within each cup there are special sound deadening materials that help to protect the ears from high, potentially damaging noise levels.
Due to the damaging effect of high noise levels it was necessary for the government, particularly the HSE (Health and Safety Executive) to step in and set out some rules to ensure that anyone working in areas of excessive sound levels, have their hearing protected and through this The Control of Noise at Work Regulations 2005 were created. More specific details can be found on the HSE website.
There are several different types of common ear defender each with their own features:
Standard ear defenders – Many types available with different levels of noise protection. When selecting a pair for purchase, make sure that they are suitable for the conditions they will be used in. Available in a range of styles that include neckbands instead of headbands, fixed to hard hats and welding masks as a one-piece set and many other types
Electronic ear defenders – A small microphone mounted on the defenders plays back the external sound through speakers with each cup and when high sound levels are detected the circuit shuts off and cancels the external sound
Defenders with built in radio – Some defenders come with an in-built radio or music player allowing the wearer to play music or listen to the radio while they work
Defenders with in-built communication – A 2 or more way radio system is built in to the cups allowing the user to communicate with fellow workers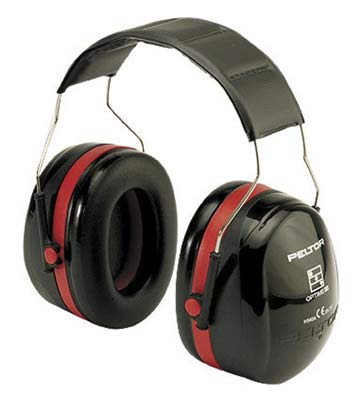 Unlike ear defenders, ear plugs are much smaller in size and actually fit in to each ear rather than over them. In general they do not provide the levels of protection to high noise levels that ear defenders do and are mainly geared towards use in lower to moderate sound level areas, but again, this does depend on t quality of the ear plugs as some are made specifically for use in high sound level areas.
Again, as with ear defenders, there are different types available:
Standard one use disposable – As the name suggests, they can be worn once and then thrown away
Reusable – Again, as the name suggests they can be used multiple times and simply cleaned
Moldable – Probably one of the best types, these are specifically molded to fit the user exactly, providing high levels of protection
Custom made – Again, great levels of protection as they are made specifically for the wearer but a specialist who normally takes a mold of the users ear to guarantee the best fit
The more expensive multi-use and custom made types are normally supplied with their own carry case or storage box to make sure they are kept in one place and not lost and also protected from dust and dirt.
Some are also supplied fitted to a band or attached to a chord so that they can be kept around the users neck when not in use.
The key ting to be aware of when purchasing ear plugs or ear defenders is making sure you have the correct level of noise level protection for the environment you will be using them in and also that they fit correctly. You should always check this before use!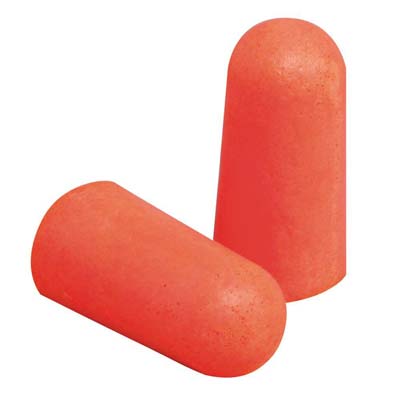 Goggles, Face Masks and Eye Protection
Generally available in a few different styles; the standard "glasses-style" and full face mask.
Glasses-style goggles themselves are available in two types; actual glasses with two lenses and arms that fit over your ears as a pair of glasses would and those with side protection that essentially encase your eyes providing all round protection. These are normally secured in place with a head band.
The second style mentioned at the top of this section, the full face mask, features a flip down transparent shield that covers the eye, face and most of the neck, and also wrap around the sides of the users head to protect the side of the face.
This design is usually worn by the user in that the mask section is fixed to a frame (similar to the suspension device found in a hard hat) that then sits on top of the wearers head. The mask can then be raised and lowered as needed.
This particular design can also come fixed to a hard hat instead of the frame so that the user gets full head and face protection.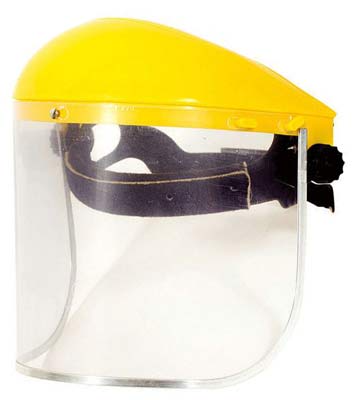 Knee Pads
These are pretty self explanatory and due to this we will keep it brief.
Available in a few different types; the slot in pads and strap on or pull on type.
The slot in type are literally just the pad section and these can be inserted in to a pair of work trousers, in to slots that are built in to each knee. These have a few advantages over the strap on type in that you do not have straps or "socks" around your knee which can get pretty annoying and sweaty.
The strap on or slip on type generally tend to offer a little more padding and protection as they encapsulate your entire knee, but as said, the straps or sock can get annoying.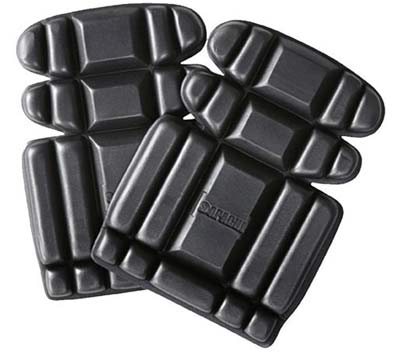 Face Masks and Respiratory Protection
Most will be familiar with the standard cup mask. These are designed to provide protection against dust and pollens and general non-toxic particles. They are relatively cheap to by and can be used to protect the wearer from dust when
Most disposable and should only be worn once, they are comfortable to wear and can be used in conjunction with goggle and hats.
The next level of mask, the FFP1 grade mask can be used for jobs such as loft insulation and sanding paint and certain types of timber. Again, they are to be used where only non-toxic particles are present.
Next up is the FFP2 mask that protects again particles between 2 and 5 microns. This includes brick dust, sanding wood and MDF and concrete and plaster dust
The FFP3 masks are slightly better and can protect the wearer against particles less than 2 microns in size which includes smoke fumes, paint and varnish fumes, mineral fibres, conceret and masonry dust, welding and toxic waste disposal.
The best protecting disposable masks are those that provide full protection against inorganic gases, ammonia and acid gases and carcinogenic dust.