Advertising on the DIY Doctor Website
DIY Doctor is committed to putting the very best in the way of home improvement products and services in front of its users. We do not flood our site with adverts for the sake of it; we are selective and ensure the user has the very best at their finger tips.

This builds on the trust and credibility we have established in the last 14 years. For our advertisers this is excellent news!
When a user sees your advert on the DIY Doctor website they already know they can trust you. They will be happy to use you.
Our users view almost 500,000 pages every single month.Putting an advert in front of them gives you access to one of the largest, and most efficiently targeted audiences in the UK.
82% of our users find us after a Google search which means they are already looking for the products and services you provide if you have a presence on that page.
Read the testimonials by clicking on the below link, then complete our advertising information request form below and we will send you full information on how you can advertise on DIY Doctor for as little as £30.00 per month. If you would prefer a bespoke campaign, please email on info@diydoctor.org.uk.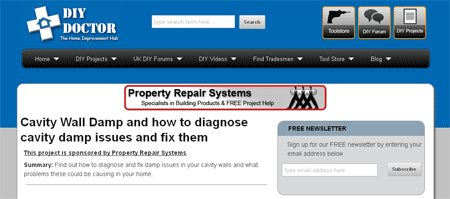 Find out what our current advertisers think by visiting our testimonials page.
Complete the form below and we will send you information regarding our advertising opportunities. Advertising costs start at £30 per month
When advertising with DIY Doctor you are agreeing to our advertisers Terms and Conditions - Click here for the DIY Doctor Terms and Conditions.
Making a Payment to DIY Doctor
At DIY Doctor we have a range of payment methods available. Click here to navigate to our Payments Page to view the various options or make a payment. Important Notes: There will be a 3% charge on all PayPal and Credit Card payments under £250.00.
Online Payment Security
Have you ever wondered how you can be sure that any personal or sensitive information you pass to a website is secure? If so, click here to find out.
DIY Doctor is also committed to the protection of all of our users personal information. Read our Privacy Policy for further information on this.