In this section we look at sheds and garages including advice on building a shed and before you get to that stage you need to know about building a shed base (which we also offer help and advice on doing). Then there is shed roofing, electrics for your shed and how to secure your shed by fitting locks to keep your equipment safe. We also have advice on converting a garage, as well as roofing and flooring, and help with garage doors.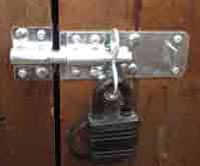 You have a choice of materials for your shed. Sheds are often made of wood, but you can also find metal sheds, or even composite materials such as upvc and other plastics. Sheds can also be built from bricks or blocks.
Traditionally shed roofs are made of plywood covered in roofing felt to keep the rain out, however there are also other roofing materials to chose from such as rubber, tiles, wooden shingles or even thatch if you are going for rustic appeal.
You might need a shed for storage, or as a home office, you may even use it as your workshop and lets face it, many men treat their shed more like a "man cave" than a cupboard. Every year there is an award for the Shed of The Year so if you want to be a contender why not let your imagination run riot?
If you are building a garage and you have space you may want to consider building a double garage, so you have room for all the other stuff that gets stored in a garage as well as the car.
We help you with choices about your garage doors including projects that walk you through fitting a garage door, and how to maintain and paint them. If you are looking for something new we also have a project on choosing a garage door.
We also have projects dealing with damp in your garage including coating the floor and plastering the walls. If your floor is uneven you wan help with leveling a garage floor.
If you are into garage music (see what we did there?) then you may want to check out our sound insulation section, that way if your teenager is learning the drums you can park them out in the garage to jam away with the band, to their hearts content.