This White Paper has been produced by Building Trade Experts.
Master Builders from 3 Building Companies have compiled a list of the most common tricks, frauds and lies used by cowboy builders and rogue traders.
They give you a low price to get you hooked, then, little by little defraud you. Our guys know these tricks.
You will not find this unique information in any other publication…. Unless of course cowboy authors have stolen it from us !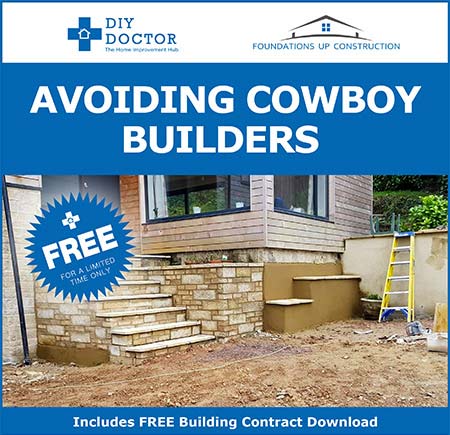 The DIY Doctor Working with tradesman whitepaper normally retails for £10.00, but we are offering it to you free for a limited period only.
Simply enter your name and email address below and we will email it to you.
By pressing the submit button it will be understood that you will be added to our newsletter list, however if you don't find our newsletters to be of interest to you, you can easily unsubscribe.
Other Resources for Working With Tradesmen
Working with tradesmen and finding the right builder for your home improvement project can be a tricky task, especially if this is your first project!
Fortunately, here at DIY Doctor, we are well voiced in all aspects of building and construction, it's our bread and butter, we know it inside out!
As you may also know, over the years we have attended a great many trade shows and other events where we are able to get out on the road and meet many of you in person and talk to you about the problems you have faced working with builders and other tradesmen.
This gives us a unique ability to be able to see "both sides of the coin" e.g. understand both the homeowners and tradesmans point of view. Through this we have been able to identify all the different problems and situations that can arrise that can cause relations between homeowners and tradesmen to breakdown.
With this unique perspective we have been able to create a set of products and information sources that work for both the homeowner and tradesmen to ensure that any and all constructions jobs are completed with the best possible outcome; Professional and reputable tradesmen get paid for the work they have done and the homeowner is left with a finished job they are happy with.
Further resources are as follows: