The following pages will take you through the safe use of electricity and electrical appliances, cables, wires, sockets, switches together with many forms of lights and their associated switches and circuits.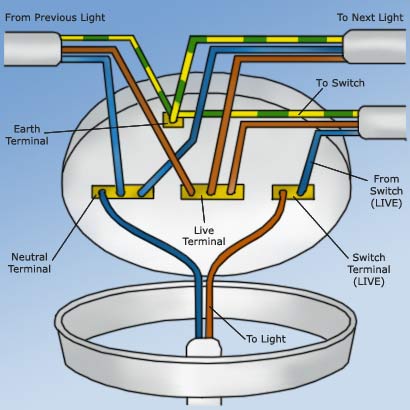 It is important to remember that Part P of the building regulations makes it illegal for DIY electrics in many instances and certainly in the bathroom and kitchen. More information about Part P is available in our pages and from this link to the National Inspection Council for Electrical Installation Contracting(NICEIC UK)
Electricity is dangerous but if sensible rules are followed home improvers can do much themselves. Changing a light fitting is covered in these pages, as is adding a light switch or spur socket. Two way lighting instructions are also shown and we tell you how to add a socket to a plasterboard wall.
We show you how to cut out chases for cables, how to use cables and how to fill the chases afterwards.
Low voltage lighting is covered as is outside and garden lighting. We have sections on consumers units and fuse boxes as well as information about your electricity metres, energy saving, how to wire plugs and sockets and even how to insert rubber grommets.
We talk about radial circuits as well as ring mains and show you how to work out Amps, Volts and Kilowatts. We also show you how to install a shaver point and an electric power shower. Electrical advice is focussed on safety on DIY Doctor and if you are in any doubt about your ability, or the laws pertaining to electrical installation, please contact us to get an expert.