Tiling is a very popular Do It Yourself task, because it is relatively easy to do and quickly gives a great finish. In this section we have tutorials on how to tile, and how to use tile spacers, we answer questions about tiling over tiles, and other surfaces such as tiling over plywood, or uneven walls.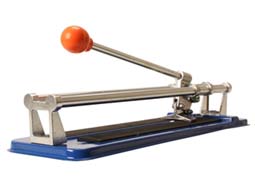 The tile choice in the UK is vast, and so we offer advice on choosing tiles and explain about different tiles. You can get so many shapes and sizes of tile, but you are always going to need to do some cutting and shaping, so we have projects and video tutorials about cutting tiles including using tile nippers. There is also help on preparing the surface to tiling, so how to remove vinyl and lino and tile adhesive remover, plus about laying tiles, including how to use tiles spacers, setting out a bathroom for tiling, using a batten to get tiles level, using tile tracker, applying tile adhesive and grouting properly to avoid leaks and black mould forming.
If you don't like the tiles you've got, but don't want to retile just yet, there is a project on painting ceramic tiles with specialist tile paint. If you have a damaged tile to replace we can help you with that and if your grouting or sealant is discoloured we have tutorials like how to remove grouting.
Ceramic Tiles can be used in any area of the house, they are a solid impermeable material which offer a great array of style and design alternatives
The benefits of tiles are that they are easy to lay, they come in a wide variety of colours, styles and materials, they are durable and easy to clean
The cons are that tiles used as flooring can be cold underfoot, they are very hard so if you drop delicate items onto a tiled floor they are likely to break, using tiles on a wall can look clinical if they are not mixed with other materials, tiles are produced in batches and usually for limited runs so they can be hard to match if you need to replace them.
We don't just advise you about ceramic tiles, we also help you choosing and laying vinyl tiles, and cork tiles. We have a guide to restoring quarry tiles and on removing polystyrene tiles