We want to thank our subscribers for making DIY Doctor so successful. The best way to do that is to give you stuff!
Every month DIY Doctor films tool reviews for major brands. We get to keep some of the tools – now we are going to give them away.
If you intend to, or have subscribed to our YouTube Channel, put your details in the box below to be entered into our huge tools draw. Every month a subscriber (who has entered the draw) will be sent the tool that has won our ″review of the month″. We review everything from power tools to drill bits….Whatever it is….It's free!
Sign up now – You have to be in it to win it!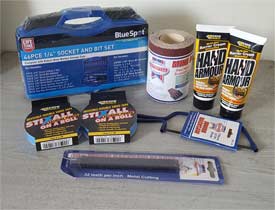 Find out More in our Video
It's easy; just follow these simple steps:
Watch any DIY Doctor video in YouTube – click this link to see the Subscribe for a Prize video
Underneath all the videos you will see a subscribe button – click it

If not signed into Google you will need to or create a Google account – just follow the screen prompts
Once you're sign into Google, click the subscribe button. That's it! You will see a tick appear on the top left of the video to confirm your subscription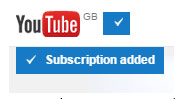 You need to get your YouTube name for our application. Click the button which is top right of your screen in YouTube. A box will open with your name in it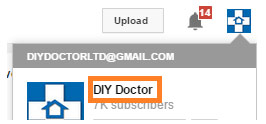 Add your YouTube name and your email address into the competition entry form above and you will be in every monthly prize draw we hold – nothing more needs to be done!
T&C's
You cannot win if you are not a subscriber to the DIY Doctor YouTube channel and Newsletter at the time of the draw. The prizes have been used (carefully) once for the video review. They come with no guarantee and DIY Doctor will not refund or replace any of the prizes. There are no cash alternatives. By completing this entry form you will be added to the DIY Doctor Newsletter list. To unsubscribe from the prize draw simply unsubscribe from the either DIY Doctor Newsletter or YouTube. DIY Doctor reserve the right to stop these prize draws at any time without notice. The date of the next prize draw will be published on the DIY Doctor website. Whilst subscribed you will be included in every prize draw held – there is no need to enter more than once to be included in every draw.
Like Competitions?
Why not head over to our competitions section to see what else you can win – Click here now!
A Little more about DIY Doctor:
We are an advice and information website that helps homeowners to improve their homes. However big or small the project is, we will have something to help you. We started in 1998 when the internet was a very new thing and have been publishing home improvement information and advice ever since. Initially it was all projects written up (by tradesman) which people could read online, and more recently we are making more and more video.
By subscribing to DIY Doctor, you are going to get a maximum of 3 emails per month which are designed to update you on home improvement news and ideas, introduce you to new products and any special offers that we might have. We'll tell you about competitions and any home improvement shows that are going on. There will be lots of tips, hints and tricks to completing a wide range of home improvement projects too.
We do have a few more things that might help you:
Tool Store; We have a fantastic range of tools at great prices that can be delivered to your door
Forum; If you have a specific question that needs an answer you can post it into our forum. We have a lively community of experienced DIY-ers and professional tradesmen that love to help and offer the benefit of their experience.
Free Building Contract; Download a free contract to use when having building work done. It is fair and in plain English so anyone can follow it. It comes with fantastic instructions about how to get through the project and keep a good working relationship with your contractor
Tool and Equipment Hire; book and have tools and building equipment delivered to your home. Sometimes it is much cheaper to hire rather than buy
If there is anything that you would like us to help with, please get in touch.