Chimella the Energy Saving Chimney Umbrella
DIY Doctor Discoveries
We like to find new innovations and bring them to your attention. Last weekend we were at the London Homebuilding & Renovating and Home Improvement Show, and we found a few cool things that we thought you might find useful, including the Chimella.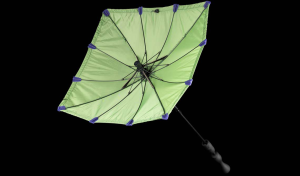 Image via Chimella.com
Chimella is basically a draught excluder for your chimney and it works like an umbrella – hence the name! It is a British Invention designed by Simon Wild and the company is based in East London.
Have You got a Minute?
Then you could spend it installing the Chimella into your chimney.
You wouldn't leave a window open in your house while you turn up the central heating would you? No, thought not. However I bet if you have a chimney in your house you don't block it off when you are not using it?
Having an open chimney is not so much of a problem in the summer, and in fact chimneys help with the ventilation of a house, but when it gets cold and windy you can end up with a lot of heat being 'sucked' out of the house via an unused chimney. In fact it could be the biggest cause of heat loss in your home.
Saving Energy Saves Money
We all know that saving energy means our bills will be lower, but if something is difficult, messy or time-consuming (let's face it) we are less inclined to do it.
This is why household recycling works when there is a doorstop collection – it's easy, so 'why not?'
Chimella takes less than a minute to install, and more importantly less than a minute to remove when you want to light a fire and get cosy.
No one wants to faff about for ages opening up a blocked fire, but if it's easy to do then it makes sense to close it up when it is not being used. Blocking off the chimney flue with the Chimella will reduce the air flow through your chimney, and doing so can save you over 0.583 tonnes of carbon per year.
This means an energy saving of 3066 kilowatt-hours per annum, which could equal cash saving of £200 a year.
These savings are per chimney, so if you have a few chimneys in your house imagine the fuel savings!
Now you can see why we got so excited when we saw it!
Solving Chimney Problems
So it solves the problem of energy loss when heat rises up through the chimney, but that's not all:
Chimella helps prevent the following:
– Down draughts letting cold air down the chimney
– Wind 'howling' down the chimney – not more scary movie moments in a storm
– Debris dropping into the grate
– Birds and animals dropping into your home from above
– Smoke coming in through shared flues
– Style mishaps – you can chose the colour of your handle to avoid interior design disasters!
Image via Chimella.com
Flue Safety
Obviously it would be very dangerous to light a fire in a room where the chimney had been blocked off. To make it obvious that there is a Chimney Umbrella in place the Chimella has been designed so the handle remains visible, so you don't forget the flue is obstructed.
Even more sensibly if some idiot (I know what you are thinking). . . if I . . . forget to remove the Chimella and light a fire anyway then as a further safety measure, the canopy will  harmlessly burn away, which will re-open the chimney flue to allow smoke and fumes to be drawn up the chimney. No harm done. Well, obviously you will need a new Chimella . . .
See the other innovations we liked at the show.
Chimella Video
See Simon Wild demonstrating his invention in this quick video – he installs and removes it in just over a minute.
Share your own discoveries with us on twitter @DIYDoctor using #DIYDoctorDiscoveries.
See some more information about Chimneys and Flues in the DIY Projects Section on the main site.