Sheep Wool Uses Around the Home
Say 'wool' and we immediately think of sheep, although it can come from other animals such as goats, rabbits, or alpaccas and similar camelids.
UK production relates to approximately 2% of global woolclip, after the big guys like Australia, China and the USA: Not bad for a little island on the edge of Europe, and perhaps it is this position on the cooler side of Europe which has accounted for us favouring the sheep as a means of keeping ourselves warm.
Britain has produced top-quality woolen products for hundreds, even thousands, of years, and it has been a major part of our export industry especially during medieval times. But it is not a material bogged down by its history, we still love it for its natural insulating, breathable qualities in clothing and as a building material.
You might not think of sheep wool being a building material but think about its properties and you will see that of course we do use it, sometimes without even thinking about it.
Below are some of the common, not so common, and even surprising uses for wool we have found:
You can share yours in the comments section below or on twitter using the hashtag #DIYDoctorDiscoveries.
Carpets and Rugs
Wool carpets have long been the mark of quality. They are long-lasting, hold dyes easily, and can be easily cleaned. Woolen carpets and rugs come in a mind-boggling array of colours and patterns, and prices vary depending on the quality and purity of the fibre. Wool blends often mix in synthetic fibres to make the carpet cheaper.
There are some handy guides and videos on the woolsafe website for advice on cleaning wool rugs and carpets safely.
Blankets
Obviously we have to mention blankets. In cold weather there is nothing more appealing than snuggling up under a traditional woolen blanket, like this beautiful Maeslyn Mill Welsh blanket we spotted on WelshBlankets.co.uk.
Clothing
Everything from warm winter coats, to woolly jumpers, down to socks and even thermal underwear can be made of wool.
Wool Underlay
Like this SilentWool Carpet will improve the thermal and acoustic insulation of your carpets. It will also help to preserve the carpet above from undue wear by cushioning the effect of walking on it.
Upholstery
Like clothing and carpets woolen upholstery comes in a wide variety of colours and patterns and is comfortable while being hard-wearing.
Try something in tartan to be on-trend this season – like this beautiful stylish plaid that we found on FabricsandPapers.com.
Pool, Snooker and Casino Tables
Did you know that the felt used on snooker and pool tables, and the card tables in casinos is also made of sheep wool? Called green baize it is mixed with a small proportion of nylon for strength, and in case you were looking to replace your green baize we even found an upholsterer that will supply it – see the image below.
Board Rubbers
In the days when teachers could throw board rubbers at you you always wanted to be hit with the woolen felt side! We felt this strong image from artist Matt Evens brought back the fears of our youth!
Hats
Knitted, crochet or pressed felt hats can be made of wool. We found this very chic example from Green Trunk Designs on Pinterest.
Cleaning
There are woolly versions of the feather duster, but perhaps most impressively wool pads are even used in the control of oil or hazardous material spills.
We could have shown you a picture of an oily rag, but how much better to see a penguin in a sweater? Wool is used to absorb the oil on the surface of the water so it can be scooped out and disposed of. More is knitted into a cute sweater to keep penguins warm, while their natural oils build back up following the intensive cleaning required to remove the oil from a spill.
Wool Slug Pellets
Ahah, another little-known use for wool – I bet you didn't know about these? A great idea if you want bio-diversity in your garden, but like leaves on your hostas!
When these Slug Gone Pellets are sprinkled around your favourite plants, the tiny fibres mat together to form a natural felt and are an irritant to slugs and snails. The mat also absorbs moisture from the slug's foot, making it hard for them to travel across, and forms a mulch retaining moisture for the plants. Click on the image above to see the 1 litre bag or here for the 3.5 litre bag in our DIY Superstore.
Piano Hammers
Of course there are lots of areas where you don't even see the use of wool, like the felt-covered hammers on piano keys!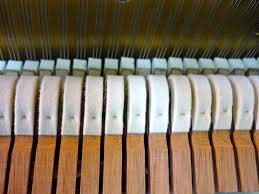 Thermal Insulation
Another place where you don't see wool working is in thermal insulation. Rolls of insulation material like this can be laid in the loft and between walls instead of synthetic fibreglass materials.
Sound Reduction Insulation
There are also natural products that can be fitted under solid wood or laminate floors like SilentWool Floor which helps to prevent the transfer of sounds such as the click clack of heels on solid floors above you.
These include this joist insulation which helps to reduce the transfer of sound through floors, especially when used in conjunction with the other insulating woolen products we have mentioned here.
Natural Wool Insulation images courtesy of SheepWoolInsulation.ie – see their range of insulating products in their online shop. We 'discovered' them at Olympia this year – read about our other Homebuilding & Renovating Show Discoveries.
Why buy sheep wool insulation? Well it's an outstanding insulator – just think of all those fluffy white beasts out in all weathers in the most windswept areas of Britain. They are perfectly at home in the climate because their fleece insulates and regulates their body temperature.
It is also a natural sustainable material, which can be recyled and composted easily.
What you may not know is that sheep wool can provide a healthy climate in a room too. It can remove many odours and even neutralise harmful substances like formaldehyde, and it can regulate humidity in your home, absorbing up to 33% of its own weight in moisture without losing its insulating properties.
See other information on insulating your home in DIY Doctor's projects section.