Epoxy Repair Mortar for Tarmac and Concrete by Rizistal
How to repair asphalt and Tarmac with RIZISTAL Epoxy Repair Mortar for tarmac and concrete:
When you have a Tarmac or asphalt driveway or path laid there are often patches around the edges of drains and along the edging stones at the borders that need to be finished off by hand. Laying paths and driveways with a roller is a heavy-duty job and it is difficult to do with any great finesse.
If you leave the edges rough, then over time water will cause damage to the surface, and driving a car over these weaker areas can cause the edges to crumble.
You can repair these areas using concrete around the drains and against edging stones but they will be prone to crack and let more water in. However if you use an epoxy system it will be much more durable. Rizistal Tarmac Repair Mortar is fully waterproof, will not shrink back. Use a trowel to apply it to the damaged areas and it can be feathered out and textured using a paintbrush – to match the existing Tarmac beautifully.
The Rizistal Epoxy Repair Mortar Repairs holes from 10 – 100mm deep. If the area to repair is deeper than 100mm you will need to apply a second coating.
Once mixed you must use the repair mortar within 20-40 minutes. After you have laid it, it will take light traffic after 3-4 hours depending on conditions. So while you may be able to walk on it we recommend that you try not to!
Keep it dry and clean. It will become hard within 8-12 hours but we would recommend avoiding full use for 18 hours to be sure the mortar repair is fully effective.
For small areas, and for repairs over 10mm deep, you can use the mix straight from the container, but for larger areas we recommend using the specialist primer Tack Coat first.
How to Use Rizistal Epoxy Repair Mortar
Read the instructions and follow the safety advice – wear the appropriate safety equipment
Work out how much you need and only mix the quantity you can use within 40 minutes
Open the mortar which is a powder and place into a suitable container if you are not going to use the whole bucket
Open the hardener which is a thick liquid and pour into the container containing the powder
Mix thoroughly with a paddle mixer attached to a drill to ensure it is thoroughly and evenly mixed
Apply to the area to be repaired with a trowel
Once you have covered the areas to be repaired go back over the entire surface and feather out with a paintbrush
Finally using the ends of the brushes' bristles tap, or 'stipple', the whole area to texture it so that it blends in with the surrounding Tarmac
When applying the Epoxy Repair Mortar to areas where a very thin application is required, Rizistal recommend that you apply a Tack Coat Primer first, but for repairs of 10mm thick upwards and the surface is relatively solid, no primer is necessary. If the area is a little damp, a tack coat primer can allow you to carry on with the job rather than wait for it to dry out. In poor weather this can really save the day.
Read our product review on DIY Doctor to find out what we thought of RIZISTAL Epoxy Repair Mortar for tarmac and concrete: Watch DIY Doctor's video about Rizistal on You Tube.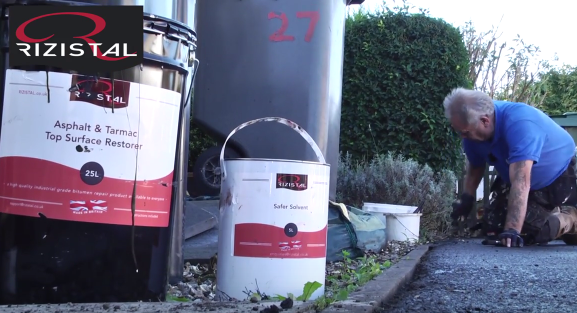 Save