I am in the process of creating a larger ensuite bathroom by removing a wall between a current shower room and storage room. The dividing wall has now been removed. It was a recent (1980s ) wall and the 2 rooms would originally have been one.
I would now like to enlarge the space more by moving the back wall into the roof space. The new back wall would be just in front of the purlin shown in the photos. The distance from the original back wall is about 100cm.
The first problem is that there are no floor joists in the new floor area. I realise that extra floor joists will be required, but how are these installed and is it straight forward for a professional to do it?
When the room was split into 2, I believe a new doorway was created (doorway is to the right of the wc in above photo). The photo below shows this, and another purlin above it. The purlin stops at that doorway. As can be seen, this has obviously reduced the support for this purlin.
The previous owner seems to have got round this by using a long piece of angle iron fastened across the floor joists, with vertical members attaching to both purlins. This metal work is currently in the middle of the space and will have to be removed. Photos below show metalwork.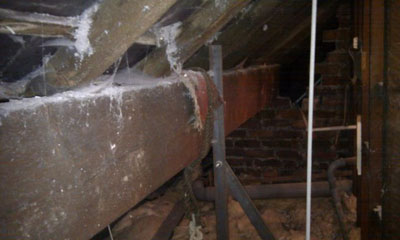 If the newer doorway is bricked back up, will this reinstate the support for the purlin and allow the metalwork to be removed?
Finally, which tradesman do I need to carry out this work? Builder or Roofer?
The aim is to end up with something like this..
Can anyone point out any flaws with this layout?