On Site Test of the new DMs Lite Industrial Safety Boot
We had a full days work planned for the DMs. Concreting, filling skips and a hundred other site duties. We (two of us) were on our feet all day and the DMs did not let us down.
Lets take a look at the several advantages, including comfort, safety and features, to wearing the new DM Lite boots on site, find out what we thought below.
Safety Boots Vs Comfortable Boots
So many safety boots focus so much on the safety aspect of the boots that they forget someone has to wear them all day! The new DMs have managed to get every safety feature possible into their boots.
With a composite toe cap and no metal involved these boots are really light. Site boots get covered in mud, concrete, rubble and just about every other form of rubbish there is but these boots stayed light and very comfortable for the whole day.
The cushioned midsole is sculpted to shape instead of just being a flat cushion. These mid soles actually "hug" your feet which add to the comfort in other ways.The boots do not slide about on your feet and there is no need to wear 3 pairs of socks with them just to keep them feeling that they fit properly.
Safety Boots and Comfort
With a removable smart foam footbed and breathable linings the boots can be washed and cleaned out regularly. As well as keeping the boots cleaner and more fragrant, this stops tiny bits of cement, mortar or concrete building up in the lining and forming nasty lumps to rub away at your feet.
This idea takes safety boots well into the 21st century and the feeling of wearing trainers onto site is almost there with these boots.
The padded tongue and collar also hugs your feet, making movement easy with no rubbing. Combine these two benefits with a strong arch support and you have one of the most comfortable safety boots on the market.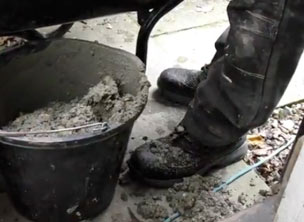 Work Boots and Safety Soles
The soles are slip resistant and heat resistant so even when winter conditions leave ice on paths and brick stacks or summer conditions leave the new tarmac red hot, the Doctor Martens New Lite Industrial Safety Boots will not let you down.
Despite the revolutionary way these boots are put together they stay really flexible and are a pleasure to wear. As the video shows, even after a hard days graft, it was easy to forget we were wearing safety boots and endorsements do not get a lot better than that!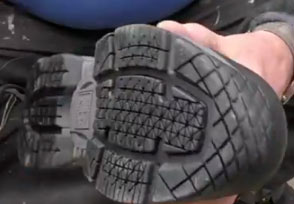 The Doctor's Rating
Reviewed by: Mike Edwards

(5 out of 5 stars)