Who are Gorilla Glue?
Gorilla are an American company, a little over 10 years old and based in Cincinnati.
Their original glue was used for mending furniture but it did not take long for consumers to realise that Gorilla Glue was one of the most versatile and strongest glues on the market.
DIY Doctor have been aware of, and have been using Gorilla Glues and Gorilla tapes for some while now but were delighted when Gorilla sent us some of their new Heavy Duty Grab Adhesives to try. As always, we took it straight out onto site.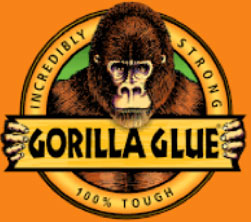 On site Test of Heavy Duty Grab Adhesive From Gorilla
After discussions with Gorilla, and a look at their website we decided to put their claims to the test. The product page on their grab adhesive claims the Gorilla Grab Adhesive:
Withstands Extreme Temperatures
Grabs Fast
Is Flexible
Fills Gaps
Can be used Indoors and Outdoors
Is paintable
Has Ultra High Strength
Will bond underwater
Only one thing to do and that is to use it under all these circumstances.
The first thing to do however, is to offer a word of warning. However good Gorilla Grab Adhesive is (and it is very good indeed) the surface you are sticking things to must be a very solid surface.
If you stick anything to a plastered wall for example, and the plaster in that wall is loose, then the plaster will fall off along with anything you have suck to it.
This is not the fault of the adhesive and if you are in any doubt about any of the surfaces you are about to apply Gorilla Grab Adhesive to, please also use a couple of screws to ensure everything stays in place.
Preparing Gorilla Grab Adhesive for use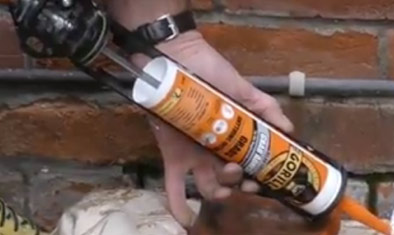 Gorilla Grab adhesive comes in a 290ml tube, ideal for the domestic 310ml mastic or sealant gun application.
The end of the tube should be snipped off, as with any tube adhesive, sealant or mastic, and it should be pushed into the gun.
A tight fitting nozzle cap is supplied with each tube which keeps the air from getting in the nozzle after use.
In turn this stops both the sealant dripping out and the air getting in to cure the adhesive. Next time you use the tube, the adhesive can be as fresh as the first time.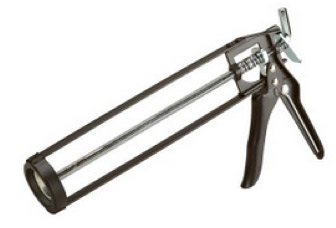 Sticking Skirting Boards, Architraves, Pelmets and Picture Rails to Walls
One of the things that impressed us immediately about Gorilla Grab Adhesive, is the smoothness with which it flows from the tube.
Many of the other adhesives such as Pink Grip or Gripfill, can be a little lumpy unless first warmed on a radiator. Another thing is that Gorilla Grab is a gap filling adhesive, not just a stick-one adhesive.
No wall, in any house, anywhere, is completely flat. Sticking architraves, Pelmets, Skirtings and picture rails to the wall almost always leaves a gap, no matter how small, between the back of the workpiece and the wall.
This is not a problem with Gorilla as the gaps can be filled as you go. Not only that, but if you are not a world class joiner and your mitre gaps are a little larger than you would like, you can fill those too!
Applying the adhesive in a wavy pattern on the back of the workpiece offers greater coverage than straight line application.
We pushed the (Pelmet and Skirting in this case) against the wall and rather than just straight forward pressure on the piece, we wiggled it a little from side-to-side. We then let go.
The pelmet we used was a piece of 6 x 1 inch timber (150mm x 25mm) so it was not light but the grab adhesive held it in place, without sliding down the wall, long enough for us to get a couple of security screws in. That, by anyone's standards, is good grabbing!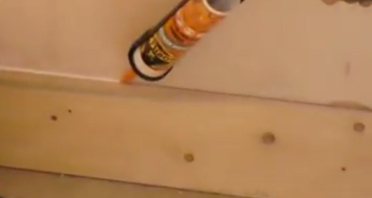 We then stuck some skirting board using the same method and filled all the gaps between the skirting and pelmet and the walls. Gorilla Grab scores so many points when used as a filler because it flows just as easily as most decorators caulks and fills gaps well.
Fixing Doors and Other Furniture With Gorilla Grab Adhesive
We then took Gorilla Grab adhesive back to its roots in Cincinnati and fixed some window blinds with it. As you can see, stretching the blinds hinges had forced these window blinds to break their beautifully tennoned joints.
We opened the joints a little wider, squeezed in the Gorilla, clamped the blinds overnight and in the morning it would have taken heaven and earth to break the bond we had created.
This is seriously good stuff and the tighter you can clamp the workpiece parts together, the better the grab adhesive will work.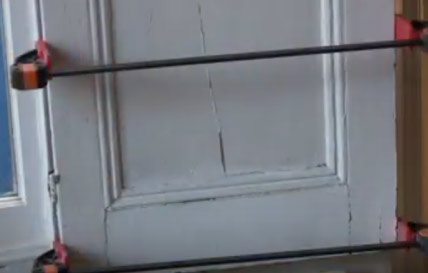 Mending Metal Bath Legs, Fixing Timber Battens, Attaching Tile Trims, Toilet Roll Holders, Roof Tiles and Shower Screens
Now you are getting the idea! This stuff is really versatile. It really didn't matter what type of surface we applied it to, it stuck fast. So much so that we gave it what we would consider not one, but three ultimate tests at the end.
We used it to mend a 100 year old clay roof tile, a shower screen which spends most of its life under water and finally we used it to stick battens to a wall in order to hold up a worktop ……….. Without using screws!
We had plastered the wall ourselves so we knew it to be sound and this really is a massive test for any adhesive. It passed everything superbly where, it has to be said, many of it's competitors failed miserably.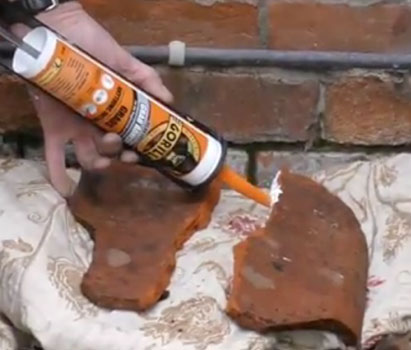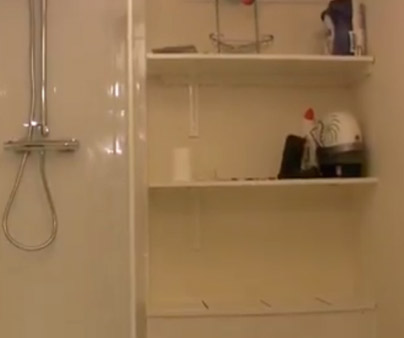 Doctor's Opinion of Gorilla Grab Adhesive
To be honest there is nothing else to say. Our site test, the images and the video say it all. This is a seriously strong adhesive that lives up to every single one of it's claims and, if that were not unusual enough in itself, it even surpasses them!
We used it on many more things that we simply could not get into the video. Plastic flower pots were stuck together to form a garden ornament, bricks and blocks were stuck together just to see if we could.
A saucer was glued back together in a washing up bowl full of water and we got so excited we even glued our heath and safety officers office door shut for a laugh…….Please don't do that at home!
All in all it must surely be enough to say that our workshop has now got a shelf on the sealant rack especially for Gorilla Grab Adhesive. Top marks.
The Doctor's Rating
Reviewed by: Mike Edwards

(5 out of 5 stars)