As autumn is truly underway, there is no better time to introduce to you Haverland's range of Wi SmartWave Electrical Radiators. With five different models, you are sure to find a radiator (or radiators) to fit your needs.
Haverland has more than 40 years' experience in the manufacture of electric heating systems and is the leading company in the production of electric radiators.
They've partnered with Electric Radiators Direct as their sole supplier of the Haverland range and we were pleased to receive the call to review this rather brilliant heating range.
What is the Haverland SmartWave?
The SmartWave is truly the next generation of smart home heating, with a built-in sensor and Wi-Fi capabilities, the SmartWave not only learns and adapts to your patterns but allows you complete control and peace of mind.
Using the built-in infrared sensor, the SmartWave tracks your movement in and out of a room and begins to create a pattern of your daily schedule, coming on only when you are going to be in the room and turning off after you leave. This means that you're not wasting energy and money heating a room that no one is in.
The Wi7 SmartWave – named as such for its seven panels – is one of five models ranging from the smallest, Wi3 (three panels – 450W) to the largest, Wi11 (eleven panels – 1700W). This gives you a good range of sizes to choose from to fit in virtually any space.
How does the Haverland SmartWave Work?
The Haverland SmartWave, in our opinion, is a very clever design; sleek and slim, this stylish design blends into the background allowing for comfort without any added bulk.
As stated above, the SmartWave utilises an inferred sensor to keep a track of your movements, meaning that once you turn it on, there is virtually no programming needed, the SmartWave does it all for you!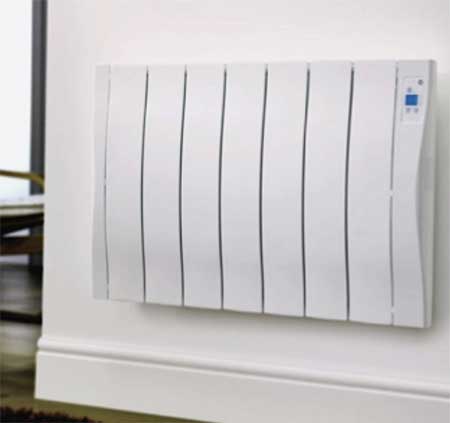 The display panel shows you at a glance exactly what the radiator is doing, using a set of five different LED lights which flash or change colour in accordance to what temperature the radiator is set to and what mode it is currently in.
It will also tell you whether the radiator is hot or cold and tells you the ambient temperature of the room that it is in.
The display panel can also be locked (manually on the panel itself, or remotely with the app) so that no accidental touches interfere with the radiator's settings.
A very useful feature if you have small children who are prone to playing with things they shouldn't.
The SmartWave comes with three different temperature setting known as Comfort, Economy, and Anti-Frost. These temperatures are factory set at 20°C for Comfort, 16°C for Economy, and 7°C for Anti-Frost.
The temperatures can be changed to suit your preferences and the season if needed as, for example, during the winter months you might want the comfort temperature set a little higher than in the summer months.
The only setting that can not be changed is Anit-Frost as this is to ensure that should temperatures drop below 7°C the radiator will turn on to that setting even when you are not at home to prevent anything from freezing.
Of course, the radiator will only start to heat up when it senses that the room temperature is below that of the pre-determined temperatures set.
So if let's say, you walk into a room, triggering the radiator to switch to Comfort Mode, and your Comfort temperature is set to 20°C but the room is at an ambient temperature of 24°C, then the radiator will record your movements and set itself to Comfort, but will not generate any heat as the temperature of the room is higher than that of the radiator's settings.
Along with the different temperature settings, the SmartWave comes with three different programs, or modes, that help regulate when the radiator turns on and off.
Self-Learning Mode allows the radiator to track your movements in and out of the room so that it can program itself to come on before you enter the room, meaning you don't have to wait for the heater to turn on and can walk into an already warm, cosy space.
During the first seven days in Self-Learning Mode, the radiator will learn your movements and begin to create a pattern for the following weeks, predicting when you will be in the room and turning itself on and off accordingly.
The SmartWave will continue to do this for the rest of its life, continuously recording and adjusting itself to your movements. Should you need to switch the radiator off for any reason, or switch between modes, the self-learning mode keeps a record of the current schedule in the battery-powered memory core and will resume your saved programmes once switched back onto learning mode. This also protects your heating programmes from being deleted in the event of a power cut.
This allows you peace of mind, knowing that not only does the radiator not need any additional programming, but also that you are not wasting time, energy, or money on an empty room, which is great for both the environment and your wallet.
Sensor Mode is similar to Self-learning in that it tracks your movements and reacts to that information, but unlike Self-learning, this mode does not remember and is purely reactive, rather like a sensor light you might have in your garden or driveway.
This mode is tailored for those who have a more erratic schedule which would make it difficult for the radiator to "learn" and predict your patterns.
With both Self-learning mode and Sensor mode, the radiator will turn itself on to the Comfort setting when it senses movement and will begin heating to the predetermined temperature.
After a period of thirty minutes where there is no movement detected by the sensor, the SmartWave will drop from Comfort to Economy, keeping the room warm so should you be somewhere else in the house it does not cool down completely, but cooling enough so as not to waste any excess energy.
After a further 12 hours of no movement, the radiator will then switch to Anti-Frost.
The third Mode is the Schedule Mode, which is exactly what it sounds like. If your schedule is the same week-in, week-out, there is little need to rely on the sensor to react to your movements when you know precisely when you will or will not be in the room at any given time.
This mode is particularly useful for offices and business' where work hours are the same every week. Schedule mode allows you to program the SmartWave day-by-day, hour-by-hour so that you can control exactly when the radiator will come on, and what temperature setting it will be set to.
You can also, if you wish, program the radiator manually yourself if you desire a more "hands-on" approach. This can be done on the radiators display panel (which is a little fiddly, in our opinion) or more easily with the Haverland SmartWave App.
What is the Haverland App?
As if the SmartWave wasn't intuitive enough, another great feature about this radiator is that it incorporates i2control Smart Heating Technology, which is to say, that with the i2control Smartbox you can connect your radiator to your smart device through the Haverland app, be it a smartphone, tablet or computer, and not only control the different settings and modes but also access the records and monitor the usage and power output of your radiator.
Through the Smartbox, your radiators can also be connected to smart-home assistants such as Amazon's Alexa, which with certain phrases and commands grants you hands-free control.
The Haverland app allows for multiple radiators to connect to the same app, as well as multiple locations, or "houses", which means that you can keep an eye on all your radiators all from the same app!
Once in the app, you can name all your radiators, and locations, so that you know precisely which is which. Each radiator can then be programmed individually, room by room for instance, or all together by selecting one and copying its settings to the others.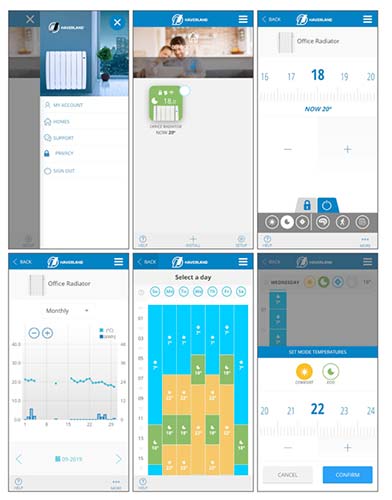 The app works in conjunction with your radiators, allowing you to switch easily between the different modes should you need to, and adjust the Comfort and Economy temperatures to suit your preferences, as well as allowing you to control your radiator(s) remotely.
A wonderful addition which means that should you deviate from your usual schedule unexpectedly, you can make sure that the radiator is still working for your benefit.
We have put together a short video explaining these features in further detail, click here to view it.
How do I install the Haverland SmartWave?
Installing the radiator in your home or place of business is very easy to do. We have another video here which explains how to do so if you wish to do it yourself, or you can hire an electrition to do it for you.
The SmartWave comes with a mounting template and wall brackets for easy installation and you can also purchase radiator feet for a free-standing radiator.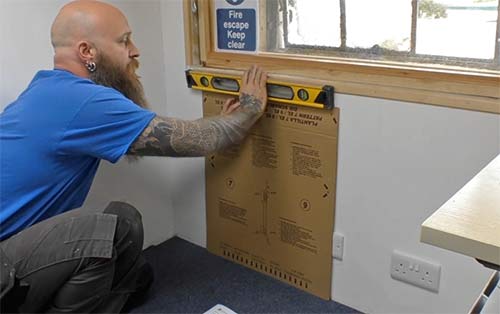 The main thing to remember when installing the SmartWave – other than making sure you don't accidentally drill into any pipes or cables, of course – is to position the radiator in a way that allows a clear line of sight to any movement in the room.
If, for instance, the radiator was fitted behind a sofa or similar, the sensor would be unable to detect any movement and thus would render the Self-Learning and Sensor modes redundant.
Similarly, the SmartWave radiators should never be covered with clothes, towels or radiator cabinets as this both blocks the sensor and may impede any heat generation which could pose a dangerous safety hazard.
Any SmartWave radiators that you wish to install in a bathroom must be installed by a professional electrician.
The SmartWave should only be installed in Zone 3 of your bathroom as per standard safety regulations, and if your bathroom is not large enough to have a Zone 3 area, then we would advise choosing an electric towel rail instead.
If you are installing multiple SmartWave radiators in your property, please take care so as to avoid overloading the main ring circuit, and if you are unsure then it is best to contact a professional to make certain that no damage or safety hazards occur.
DIY Doctor's take on the Haverland Wi7 SmartWave with i2control and App
In short, we think it's great! We haven't been able to stop singing its praises.
Intuitive, adaptable, and smart, this radiator is the one to beat all others.
The different features allow for in-depth precision and control, and with the addition of the app, regulating your home heating system is as easy as it gets, whether you are at home or elsewhere.
This is a system we highly recommend, and we should know – we have one in our own office space. Great work!
The Doctor's Rating
Reviewed by: Mike Edwards

(5 out of 5 stars)