On Site Test of Home Strip
Home Strip is safe. It is solvent free and will not harm your skin or other parts of your body. Care should be taken of course, but Home Strip is water based and can be washed off, and away, very easily with no detrimental effects. For a really scary alternative read on………………….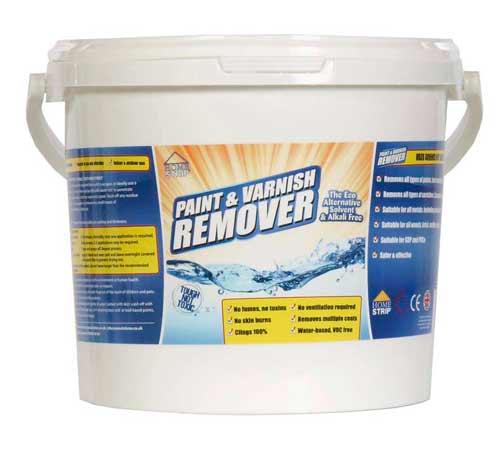 Home Strip and Health and Safety
The greatest competitor to Eco Solutions Home Strip is the solvent based Nitromors which was introduced by Henkel. We reviewed a copy of their datasheet from 2005 and it shows a toxic and harmful warning signs with the added note, in section 3 that……
(Nitromors shows…….) Limited evidence of a carcinogenic effect. Harmful by inhalation, in contact with skin and if swallowed. Harmful: possible risk of irreversible effects through inhalation, in contact with skin and if swallowed. Product will cause irritation or pain due to strong defatting action on skin. Will irritate eyes.
None of this applies to Home Strip, a water-based, non toxic, solvent free paint stripper which will not harm you in any way.
Applying Home Strip to the Surface
We applied Home Strip to a small section of painted matchboard taken from a renovation project which had been painted at least 4 times! The Home Strip was laid on quite thick to allow maximum penetration and to see if we could get all 4 coats off in one go. The video shows this process in action.
Using Home Strip in this way you can expect to strip about 4 square metres with 1 litre.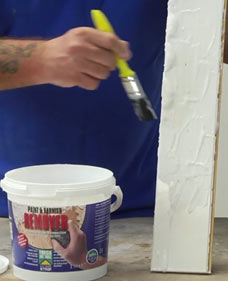 Removal of Paint and Varnish From Timber
Leave the Home Strip on the surface for about 40 minutes and then test a small area to see if the paint is ready to come off. The scraper you use should simply slide under the paint or varnish and a little elbow grease may be needed. The video shows an extensive test where we tried to remove 4 coats of paint in one go but by applying a little less Home Strip and being a bit more patient, you can remove the 4 coats in two attempts.
Home Strip and Lead Based Paints
Home strip works well with lead based paints as it binds all the lead pigments in the mulch which results in a liberal coating. If the paint does contain lead, please dispose of it carefully. Home Strip can be used safely on all the following surfaces.
All types of timber, both hard and soft.4
Stones, polished and treated rock such as marble
All types of brick
Concrete and plaster
Bathroom and kitchen ceramic and quarry tiles
Plastic (uPVC) windows and doors
Composite doors and windows
All metals, including soft metals such as Brass and Aluminium
Benefits of Using Home Strip to Strip Paint and Varnish
Safely applied with a paint brush
No toxins or solvents to harm your skin
No preparation required
No solvent smells or watering eyes
Excellent for removing lead based paints as all dust is absorbed in liquid
Easily disposal of in buckets
Strips all types of paint and varnish including polyurethane's and rust proof paints
Docs Opinion of Home Strip
Removing Lead based paints has been a problem for years. Not any longer. The lead pigments are kept stable in Home Strip and along with other paints and varnish, is stripped easily from the surface with no damage done to the surface. This really is an excellent product and we are very pleased to be able to sell it. Well worth the 5-stars we're happy to award it.
The Doctor's Rating
Reviewed by: Mike Edwards

(5 out of 5 stars)