Hand Tool Review of the Irwin Marples MS500 All Purpose Chisels
The Irwin Marples MS500 all-purpose chisel has a few features which set it apart from other chisels. Our review focused on the relative abuse an all purpose chisel gets during the course of its life and it stood up very well.
All purpose chisels are used for any number of jobs. With proper sharpening (which takes a little longer, but is no more difficult, with the MS500 because the blade is hardened so well right up to 25mm from the handle) these chisels can deal with delicate joinery tasks such as rebating and cabinet hinges while at the other end of the scale they can literally "hack" out notches for joists and huge knots in form work timbers.
It is a fact that not many tradesmen use a wooden mallet for carpentry any more. The chisel handles are build in a much more robust way and can withstand constant use of an ordinary steel claw-hammer. This is the case with the Irwin Marples MS500. The steel striking cap, while not directly connected to the blade as with the MS750 transfers every bit of strike straight down to the blade while the ProTouch handle allows you to feel in perfect control of the chisel at all times.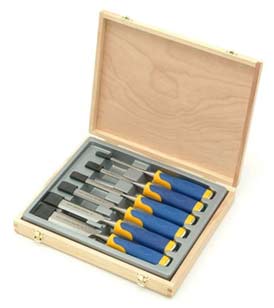 How the Irwin Marples MS500 Chisels Work
The ProTouch grip is something Irwin are famous for throughout their excellent range of hand-tools and the Marples MS500 chisels are no exception. From the 6mm chisel right up to the 32mm chisel the handle alone makes you feel in full control of the blade.
The blade itself is hardened steel and keeps the cutting edge alive a lot longer than most chisels. Of course, if you hit nails and screws it will suffer, but in the normal course of both trade and hobby carpentry these chisels will serve you well.
The metal striking plate gives you confidence to hit hard if required for some work, while a delicate touch, for cabinet making etc, still transfers every bit of energy right down to the end of the blade where it is needed.
Features and Benefits of the Irwin Marples MS500 Chisels
Sharp, hardened steel blade
ProTouch grips for full control and sensitivity
Available individually in 9 different widths from 6mm chisels to 50mm chisels
Available in kits with one kit containing sharpening stone also
If you would like to find out a bit more or even purchase these chisels check out our DIY superstore.
The Doctor's Rating
Reviewed by: Mike Edwards

(5 out of 5 stars)