When Keter asked us to test these sheds we were understandably dubious. A plastic shed – really!
Despite this, we were very surprised.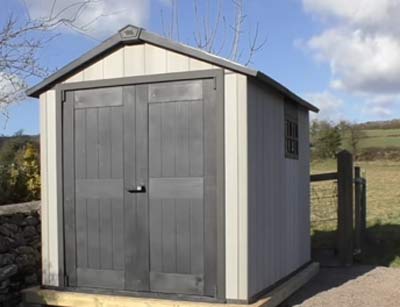 There are two things that make wooden sheds so popular. One is that wood is very easy to work with so whatever the size of the design it is generally pretty easy to erect.
The other thing is that wood sheds look great and can be painted or treated to fit in to their surroundings. How could a plastic shed come close to this?
An Open Mind and DUOTECH Technology
We kept an open mind as much as possible – like most people we are sceptical about fancy sounding technology, particularly when used in conjunction with a humble garden shed. So when Keter described their DUOTECH material we were understandably dubious.
In fact, it turned out to be surprisingly good. Despite being a robust plastic it actually looks very sympathetic and would suit almost any garden setting.
While it does not look exactly like wood, this is actually a good thing as it has a look and feel of its own, not pretending to be something it isn't. We had every intention of painting it (which is one of the key benefits of DUOTECH) but once the shed was up we rather liked it and decided to keep it in its original colour.
The biggest benefit is that there is no maintenance required for this shed – and when we say none, we absolutely mean none because it is plastic.
As anyone with a wooden shed will tell you, there is a fair amount of work to keep it looking great, and if this gets away from you the shed will need major work and eventually replacing.
For us down here in Somerset where we get a little more than the average amount of rain and weather, this is a concern. Wooden sheds don't last long, so these sheds from Keter are a welcome alternative. Of course, time will tell.
There is plenty more information about the DUOTECH material here. We have not been brave enough with our new shed, but you can cut it, drill into it and paint it as we mentioned. Not bad for a plastic shed!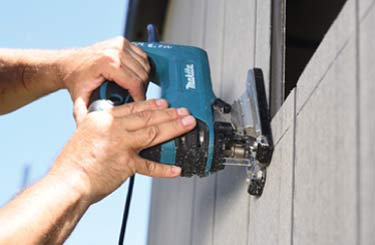 Erecting a Keter Plastic Shed
The big thing about a wooden shed it that they are easy to erect. Most DIY enthusiast are familiar with wood and working with it, and like most we felt a little uneasy about straying from it too, but as you can see from the video, it was very easy to build. The instructions are clear and all the parts marked.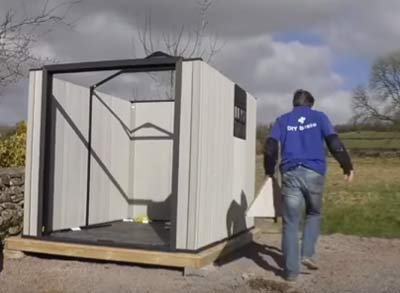 The whole build took only 4 hours, including a few stops for close up shots during the filming (and the odd cup of tea).
All the parts slot together and are screwed where necessary. Being plastic each part fitted precisely, although there was enough play to get the pieces to connect.
There are a lot of screws used to hold the panels together, particularly the floor, but when you consider the amount of fixings the cladding on a wooden shed requires this is certainly no worse.
Where strengthening is required there are metal supports which provide added rigidity.
In short, this is a very easy construction process – possibly too easy for those of us who are used to putting up wooden sheds!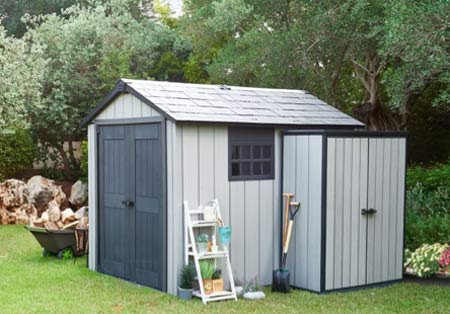 The design of the DUOTECH material is the big thing for Keter. It is certainly very impressive; to have a material that needs no maintenance but have most of the benefits of woods is certainly something to shout about.
We loved the little touches; the clear light strip in the roof to let in natural light, the slide in window frame giving more light and the large double doors making access very easy. It is very well thought out from start to finish.
Like other reviews we were less happy about the raised lip at the door, which makes it slightly harder to sweep clean, but as Keter pointed out to us, this also stops water getting in so we understand their thinking.
Fixing to the DUOTECH walls is something we have not yet tried. This is probably more about us and our familiarity with the material, as it can be done and works very well going on other information we have read.
Keter proved special D-clips for making these attachments also, as seen in the image below.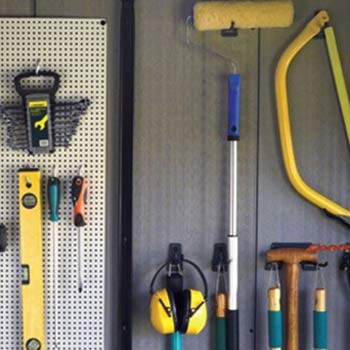 Being used to heavy lumps of wood to make our sheds, it is hard to believe that the relatively thin plastic floor is robust enough to form a shed floor, but it is – we tried it.
The same applies to the doors which are much lighter than their wooden couterparts. The catches are metal and so security is not a problem.
Our Opinion of the Keter Garden Shed
As much as we were sceptical about these newfangled plastic sheds, they have grown on us. We're now used to the DUOTECH material that they are made of and are seriously enjoying the prospect of not have to do any maintenance again!
If you're looking for a challenge, erecting one of these sheds is not going to do it, but as a quick project you will be very satisfied.
Keter say that they are a two man build, but in reality you could probably do build them on your own if needed.
As much as we wanted to loath these plastic sheds, we most certainly can't! The little quirks and the lightness of the material are all eclipsed at the idea that there will be no ongoing maintenance.
The clever design touches simply add to the admiration for these sheds.
The Doctor's Rating
Reviewed by: Mike Edwards

(5 out of 5 stars)